ADMINISTRATIVE ASSISTANT GIFTS
Secretaries, receptionists, and all administrative assistants are the backbone of companies. They work tirelessly to make schedules, reorder supplies, and generate reports— to name a few. Without them, who would keep track of the day to day information to keep your company running smoothly? This April, honor your hard-working administrative assistant with any of our thoughtful administrative professionals' day gifts.
The Best Administrative Professionals Day Gifts
This Administrative Professionals' Day, Baskits is excited to provide a wide variety of professional gifts for men and woman. Don't let your valued secretary or receptionist think their hard work is going unnoticed! If you're looking for administrative assistant gift ideas, choose from our wide assortment of gift options to show your appreciation. From relaxation-themed gift boxes to gourmet chocolates, we have it all! Regardless of what you choose, your administrative assistant will feel loved and appreciated for their tireless work being recognized.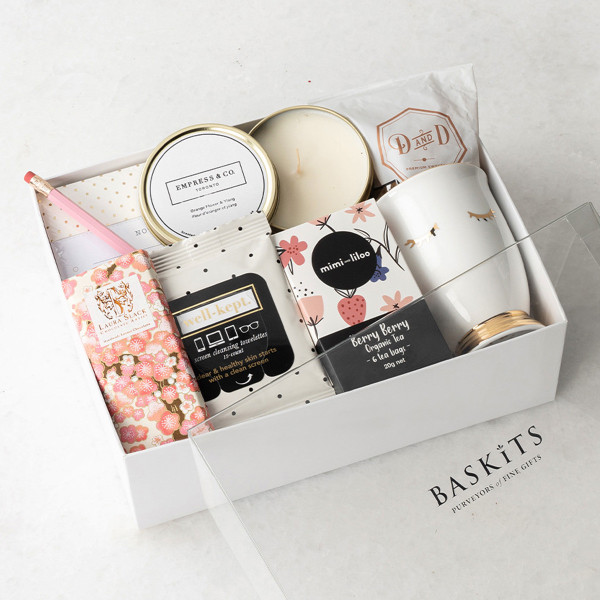 #BOSS: For the admin assistant that deserves a little extra for their hard work. #Boss includes a stylish mug for your morning brew, a notepad and pencil to capture your moments of inspiration, delicious snacks and more. With a pink, white and gold colour theme and presented in a sleek white gift box, this gift is sure to please! The perfect gift when a thank you card just isn't enough.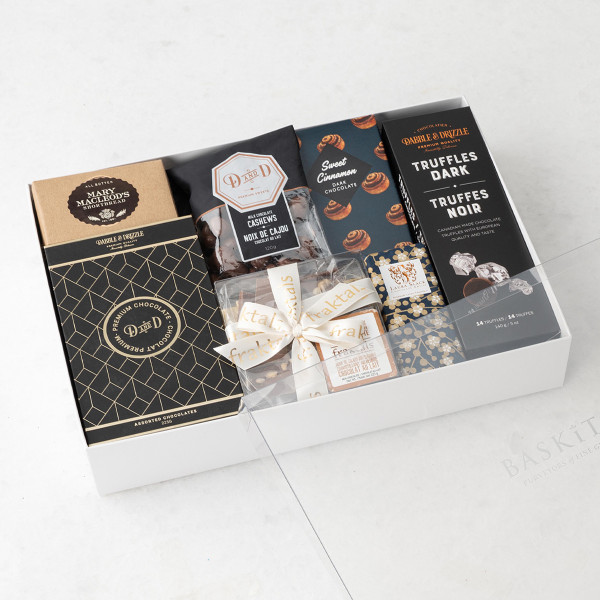 Art of Chocolate: This Art of Chocolate makes a fantastic gift for administrative assistants. Some of the best Canadian chocolatiers are included in this sleek gift box, including our signature Dabble & Drizzle Dark Chocolate Truffles, Toronto based artisan chocolatier and pastry chef, Laura Slack's Pure Dark Chocolate Bar and Fraktals Non GMO Milk Chocolate Buttercrunch. Chocolate-lovers will rejoice and love this wonderful Administrative Professionals' Day gift box!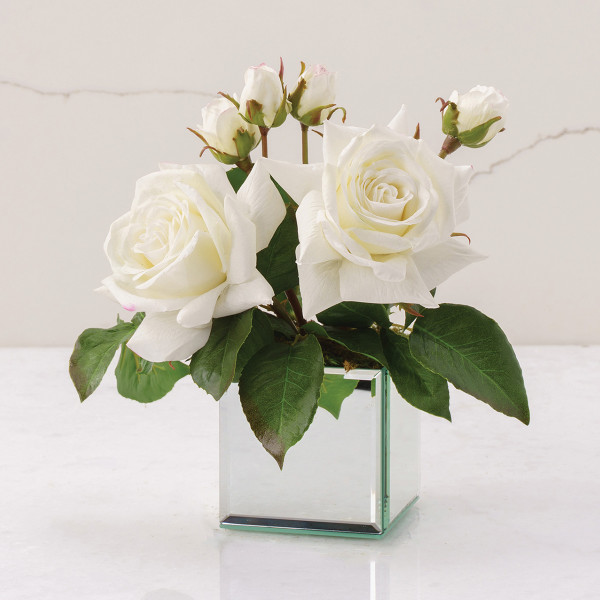 Audrey: Send our beautiful faux flower arrangements for a unique Admin Day gift idea! A whimsical vision of timeless beauty, our Audrey arrangement, features two colossal, white Tamora roses in dual stages of bloom and comes arranged in a classic metal vase. This stunning piece is sure to bring just the right touch of both style and grace into any office space.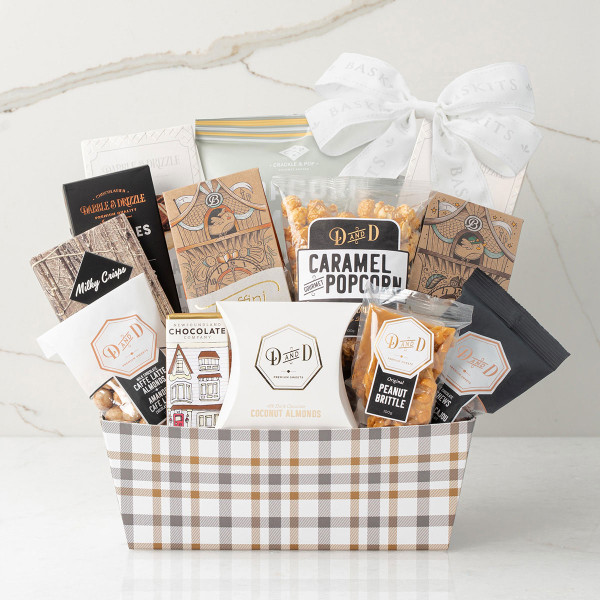 Champlain M: As one of our best-sellers, Champlain M makes a great gift sure to impress your administrative assistant. Packed with premium goodies, the lucky recipient will enjoy mouth-watering exclusive Dabble & Drizzle Café Latte Almonds, Canadian made Fraktals buttercrunch, two flavours of Kosher certified Truffini truffles and much more. A great Admin Gift idea to share in the office! * Available in 4 sizes: S, M, L, XL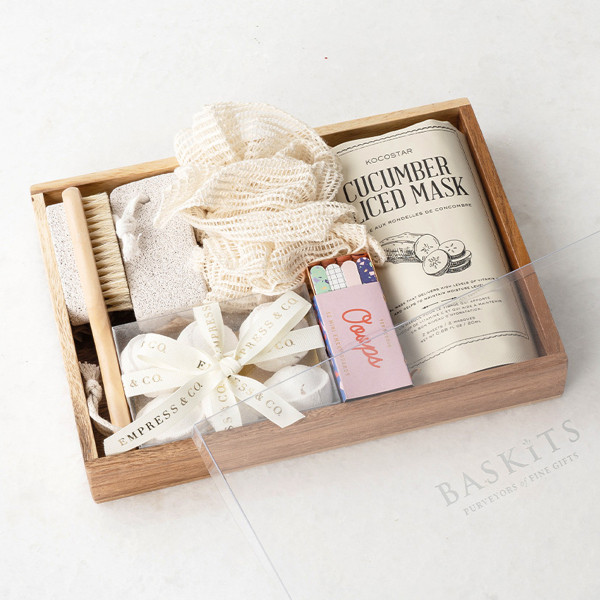 Spa Essentials: This beautiful Spa Essentials gift box is filled with quality self-care products that will have your administrative assistant relaxed from head to toe. Enjoy a luxurious foot scrub, while sporting a Cucumber Face mask after a luxurious bath with our Empress & Co. bath bombs. A unique gift box idea for Administrative Professionals' Day!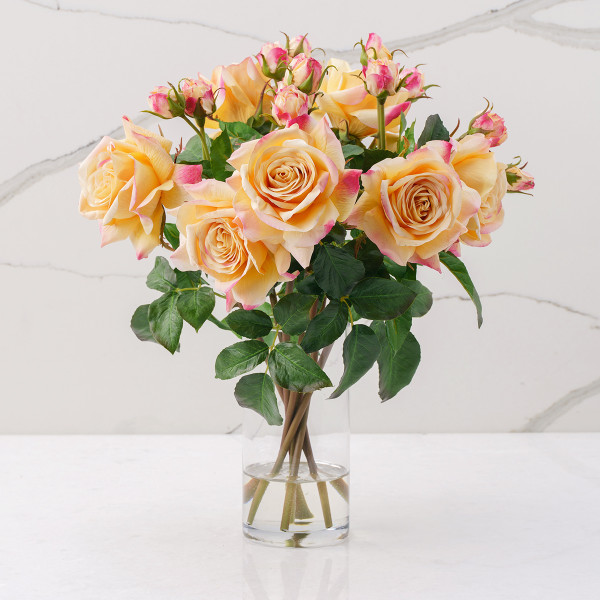 Marylin: Prepare to take their breath away with our faux floral arrangement, Marilyn. Both enchanting and timeless, this long-stemmed bouquet of large Tamora roses will steal the spotlight in any office space. Make this Admin Day gift even more heartfelt with a personalized message to show your appreciation.
Personalized Gifts for Assistants Day
Formerly known as Secretary's Day, Administrative Professionals' Day is all about showing your admins appreciation for their contributions to the office. They somehow know the answers to all of your questions and can find any file or paper that has traveled through your doors or your hands! Administrative assistants deserve only the best for making life easier for everyone in the office. Creating a personalized gift for your assistants adds an extra thoughtful touch. We offer gifts for administrative assistants that can be personalized and we are sure to have gifts that can match the personality of anyone in your office!
Design your own Administrative Professionals' Day gift box with Design A Gift! With Design A Gift you can create a beautiful and unique gift they will love in three easy steps:
Step 1. Choose your gift box
Step 2. Select the items to include in your gift
Step 3. Write a personal card message, then check out!
That simple!
Create your own Administrative Professional's Day gift that is elegantly wrapped and delivered worry free across Canada and the US.
Choosing the Right Administrative Day Gift
Choosing the right gift for your administrative assistant can be quite difficult. Whether you're a small business with one secretary or a large corporation with several receptionists, a thoughtful gift will serve as a reminder that they are valued at your company. Some great business gifts for your assistant include desk accessories or spa gifts to unwind with a personalized message to add a personal touch to your gift.
If you're on the receiving end, start brainstorming boss day gifts to show your appreciation for your boss! They are kind and fair throughout the year and keep the company running smoothly on a daily basis, so make sure they feel valued by their employees as well. Regardless of the occasion, Baskits is proud to offer hundreds of gift ideas and personalized options for those in your life who deserve to be thanked and celebrated!
Thoughtfully curated, premium quality Admin Day gifts from the #1, award-winning Admin Day gift basket company. Admin Day shopping online made simple, for all your last-minute online Admin Day gifts. We are your leading source for impressive gifts for Admin Day. With Admin Day gift delivery options, gifting Admin Day gift boxes and Admin Day gift baskets, is simplified! The best Admin Day gifts delivered across Canada & USA.