The moving process may easily become daunting, whether your loved ones have moved to a new apartment or their first home. However, a thoughtful present can make the transfer easier for the renter or homeowner by reawakening their enthusiasm for the new home or apartment. Celebrate this milestone with some of the best housewarming gifts that are unique and thoughtful! There is something for everyone.
Giving housewarming gifts to friends or to clients who have just moved into a new residence is a considerate and practical approach to make them feel at home. Don't pass up the opportunity to commemorate this significant achievement, whether they choose to host a lavish soirée or a modest gathering . We have the top gifts for Real Estate agents
New homes come with new beginnings. Welcome your family and friends to a new chapter of their lives, or celebrate closing a listing, with unique Housewarming and New Home Gift Baskets from Baskits! We've compiled the top housewarming gift baskets available online right now for friends, family, new neighbours, and anybody else who is commemorating this significant accomplishment.
But before you spend your money, take into account their sense of style and individuality, the general layout and size of their new place, and, maybe most importantly, your financial situation. From gifts under $30 to a few items for those looking to go out on a luxury housewarming gift for a loved one, this list covers selections at various price points. Regardless of what you decide, the special person in your life will undoubtedly feel a little more at ease making a new beginning in their new home!
Here are some of our top picks for the Best Housewarming Gifts:
Personalized Bathrobes: Our robes wrap - literally - warmth and luxury into one.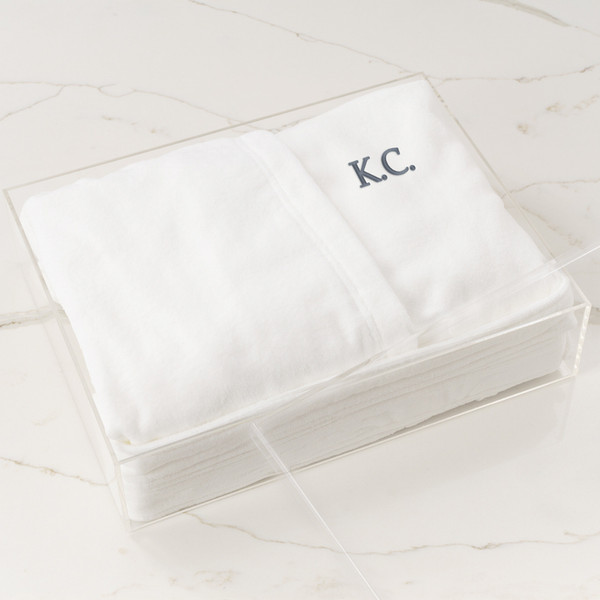 The perfect combination, as the days get colder. And, to take your gifting one step further, our luxe bathrobes come in sizes for all. The perfect gift for your better half, little ones, or the entire family to get cozy in your brand-new home!
Eastwood: Help fill their pantry with delicious, gourmet treats found in our Eastwood gift!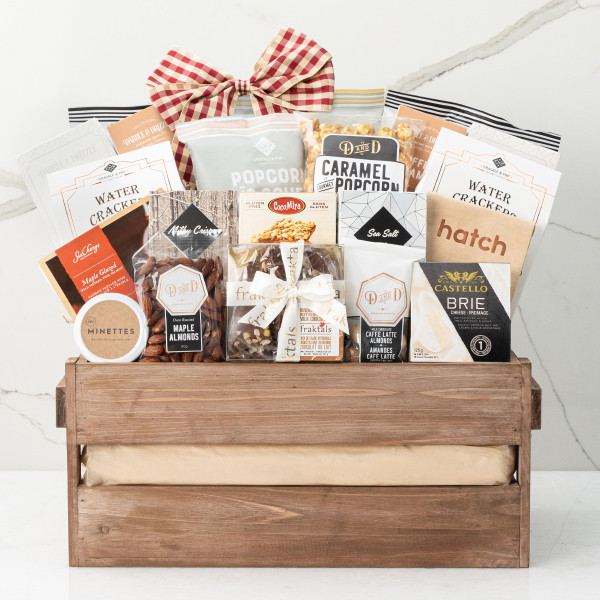 Overflowing with goodies such as Brie cheese, crackers, Fraktals milk chocolate buttercrunch, Hatch coffee, SeaChange maple glazed salmon, cookies, chips and so much more and wrapped up in a reusable keepsake wooden base that can be used for decoration or storage.
Faux Flowers: Gift our faux-ever, statement piece, faux flowers.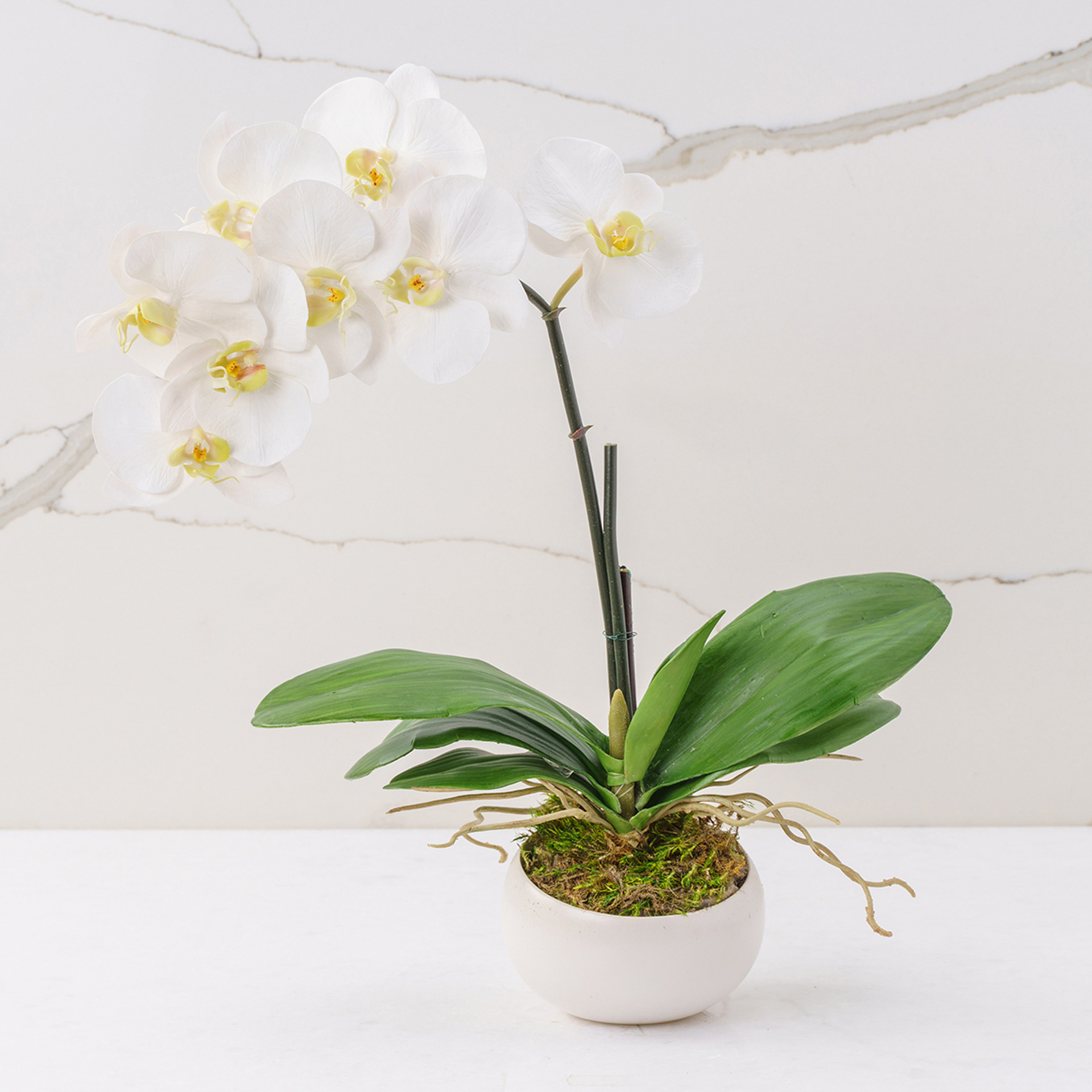 The perfect addition to anyone's kitchen counter, hallway credenza, powder room or at-home office space - because everyone needs some blooming for their new home. And with our large variety of florals, you can match any home aesthetic.
Let's Do Brunch: But first, breakfast! This morning favourites inspired basket is all about the most important meal of the day.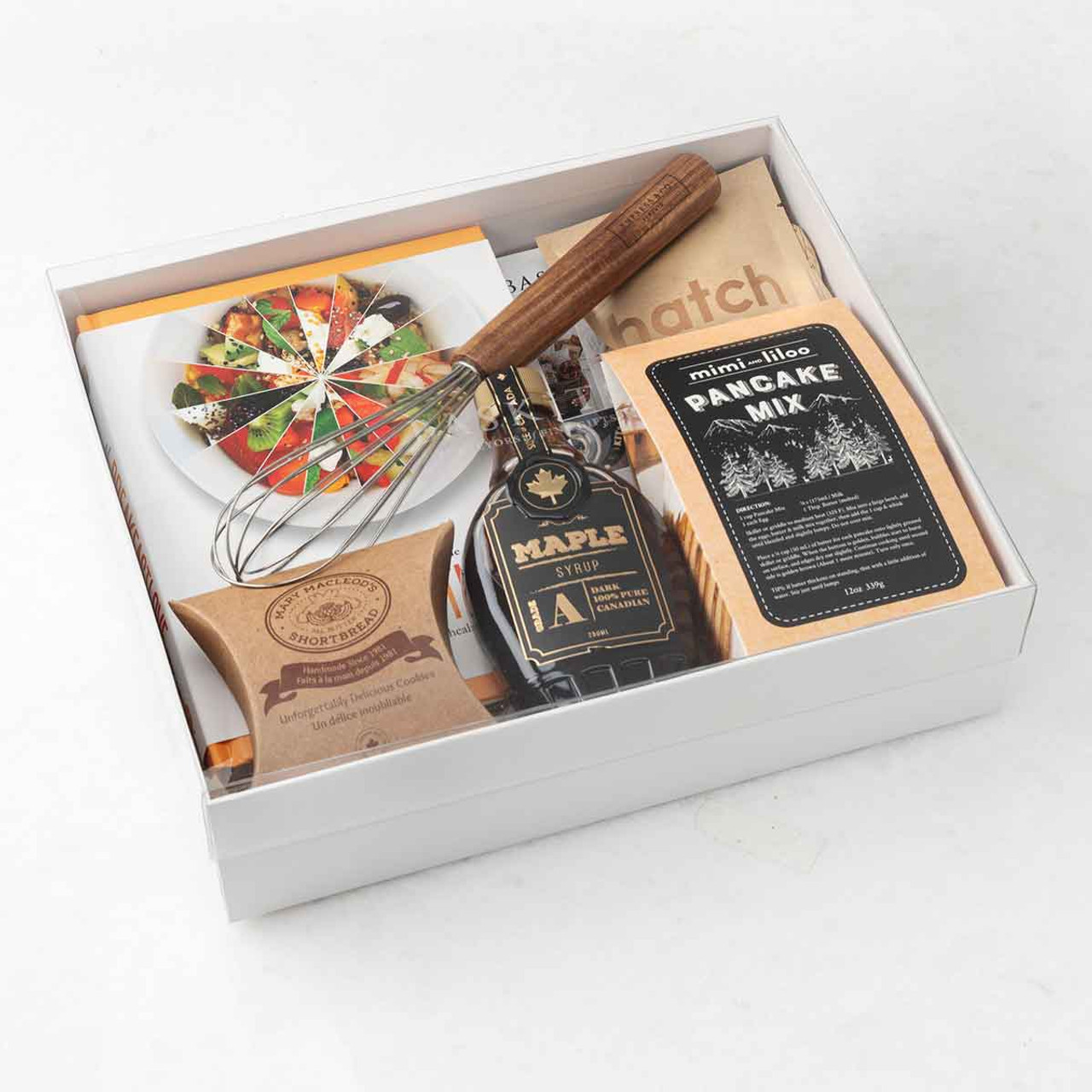 Featuring a breakfast cookbook, 100% pure Canadian maple syrup, and the most delicious pancake mix around, that are not only perfect for saying welcome home, but will surely fill up their new homes with sweet mornings and breakfast aromas.
Pasta Night: The perfect way to bring a taste of Italy to their new kitchen table.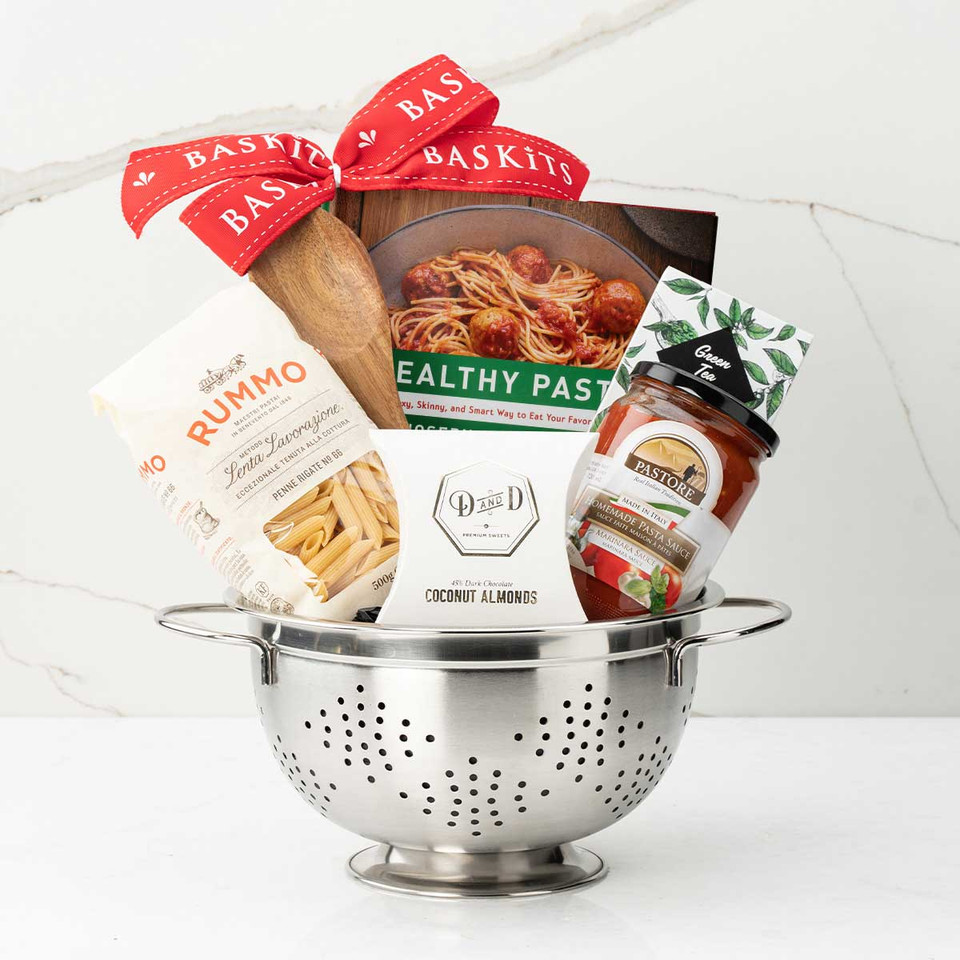 And, allows for your new homeowner to go one night without needing to hit the grocery store. With an Italian cook book, tongs, and a stainless-steel colander - not only are you gifting their first home cooked meal, but you are also giving them kitchen essentials we all need.
Movie Night: Jam packed with goodies for a Baskits night of fun in your new home!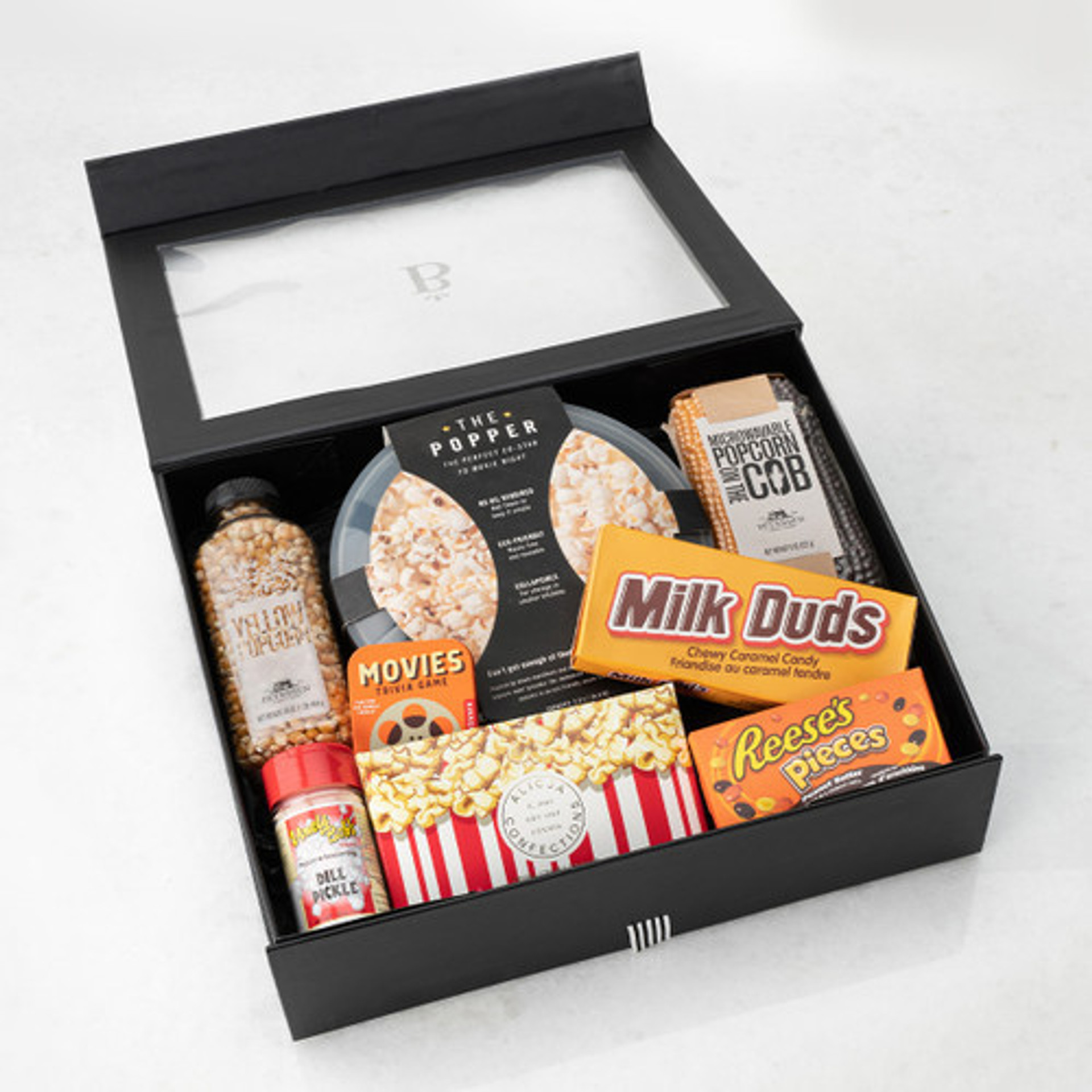 From microwaveable corn on the cob to Movie Night Trivia and lots of sweets, the movies have never tasted so good, from the comfort of your own home.
Not Too Sweet: Available in Red or White, this sophisticated gift box displays a beautiful bottle of wine, Maple Glazed Smoked Salmon, Brie Cheese, Artisanal salami, and a gorgeous acacia cutting board, from Empress & Co, that will make a perfect addition to their new kitchen.
Rosedale: is a sure show-stopper that will blow anyone away!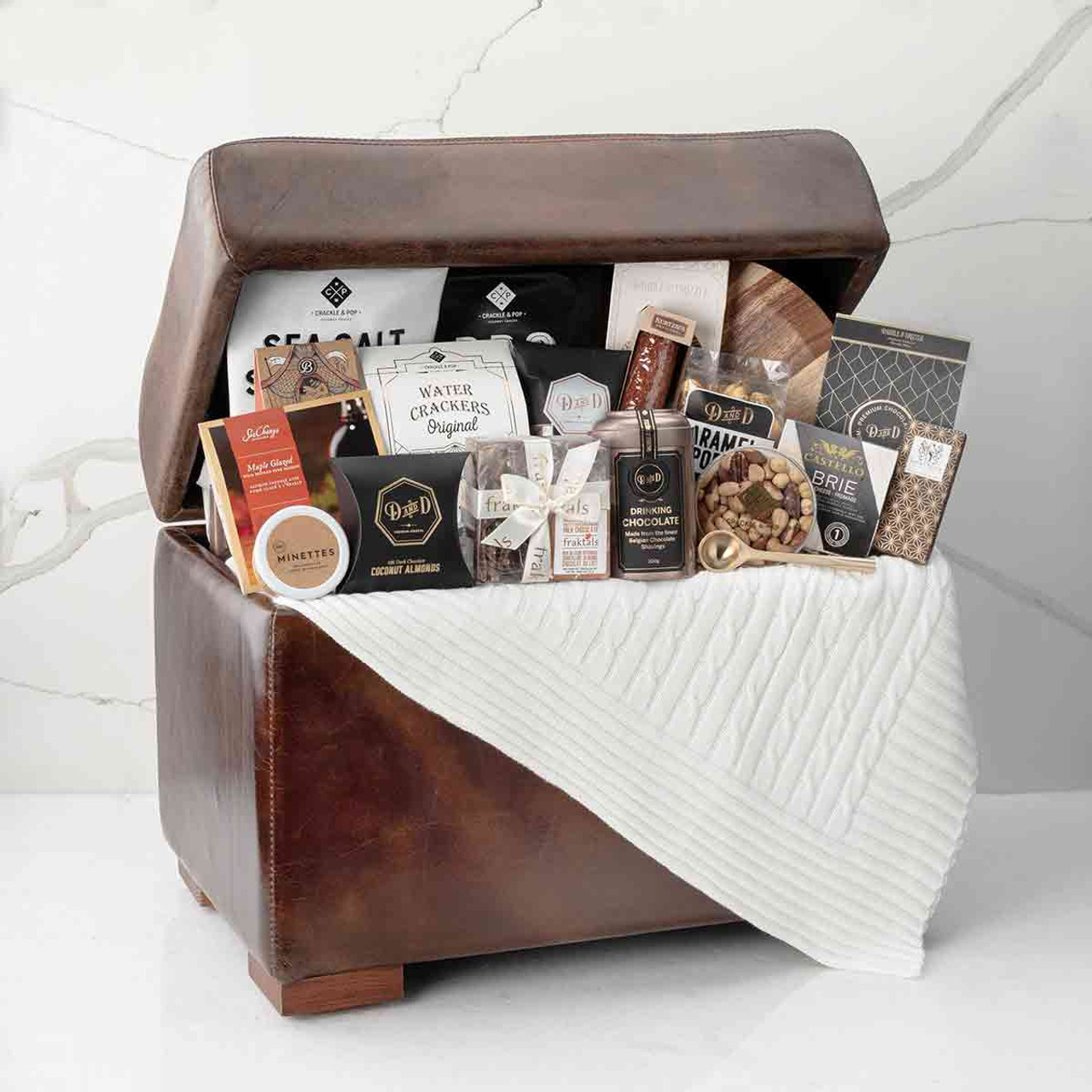 Arranged in a gorgeous storage ottoman and brimming with fabulous items for the home and hand selected premium treats. Impressive home items from our exclusive Empress & Co. brand.
To see our entire collection of new house gift baskets or housewarming gift options, visit us online for great gifts for real estate agents, lawyers, friends, and family to congratulate the new homeowner on moving to a new house. For any celebration, let Baskits share in the joy!