Looking for the perfect gift for a foodie or someone who loves gourmet treats? Check out our selection of sweet and savory gourmet gifts that will satisfy any palate. From artisanal cheeses to decadent chocolates, our curated collection has something for everyone.
We are constantly searching Canada and the rest of the world for top brands with the highest quality products. We taste and try everything to ensure you get nothing but the best. When we can't find what we're looking for, we're unwilling to compromise. So, instead, we search for the top manufacturer in the world of that item and work with them to create products ourselves to meet our very high standards. There is no limit to what we will do for our customers! Baskits Inc has created their very own gourmet brands - Dabble & Drizzle, Crackle & Pop, and Mimi & Liloo
Searching for sweet gourmet gift ideas? Look no further! We offer the best sweet gourmet gifts for them. Baskits offers beautifully arranged sweet gifts that are perfect for any occasion. There is nothing better than a sweet gourmet gift basket that includes premium chocolates, delectable shortbread cookies, mouthwatering chocolate truffles and more.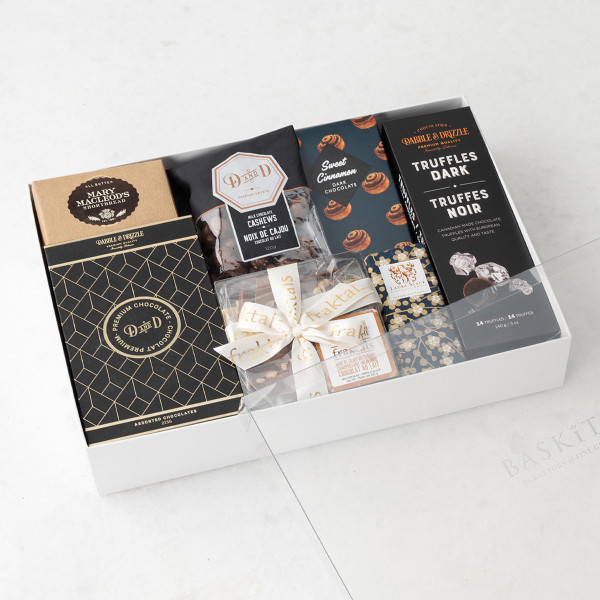 This sweet giftbox makes a fantastic gift for chocolate lovers. Some of the best Canadian chocolatiers are included such as our signature Dabble & Drizzle Dark Chocolate Truffles, Toronto based artisan chocolatier and pastry chef, Laura Slack's Pure Dark Chocolate Bar and Fraktals Non GMO Milk Chocolate Buttercrunch.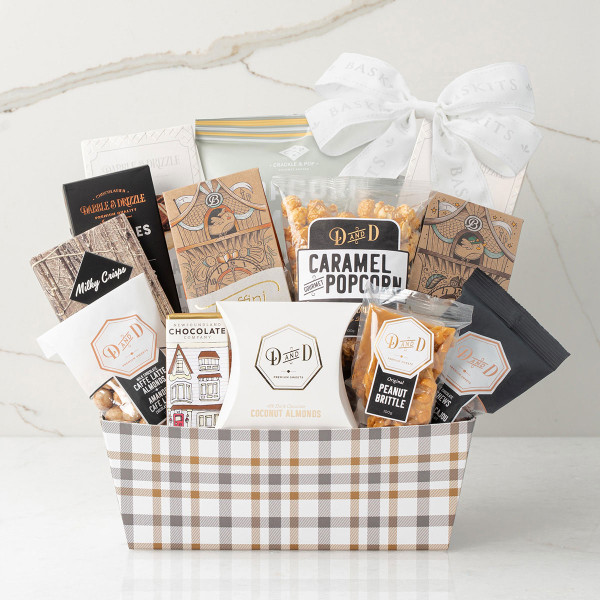 Champlain M makes a great sweet gourmet gift sure to impress. Packed with premium goodies, the lucky recipient will enjoy mouth-watering exclusive Dabble & Drizzle Café Latte Almonds, Canadian made Fraktals buttercrunch, two flavours of Kosher certified Truffini truffles and much more.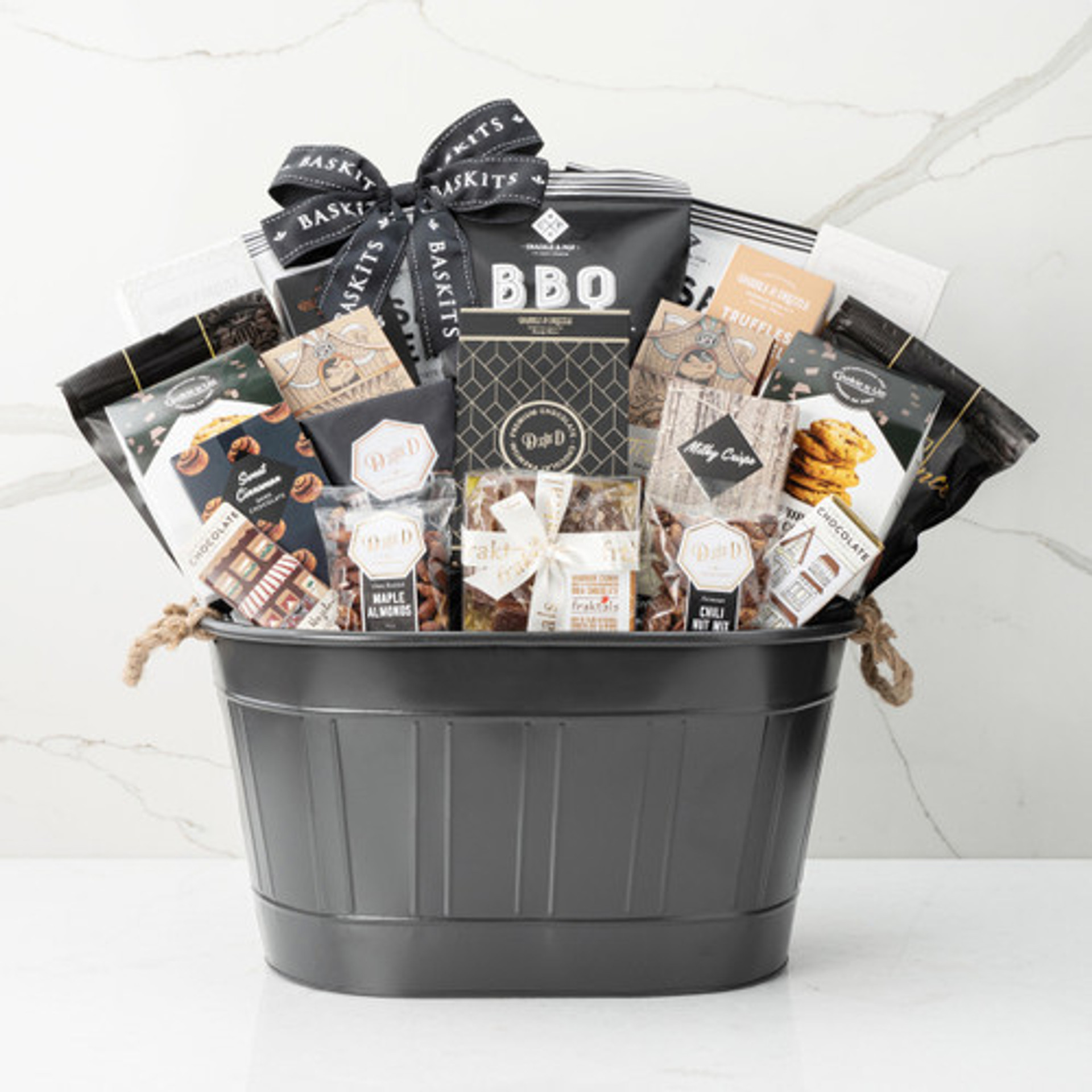 Make a statement with the Balmoral. This gorgeous gourmet gift basket is brimming with all of our most decadent sweet treats. A few of our favourites include Newfoundland Chocolate, Fraktals' Buttercrunch and our own Dabble & Drizzle's mouth-watering assortment of chocolates and so much more!
Our savoury gift baskets features wonderful flavours and savoury items that can be enjoyed by a group or a family. Filled with an assortment of mouth-watering treats, these wonderfully arranged gifts come in a variety of sizes and presentations and are suitable for any occasion. The best snack gift baskets delivered across Canada and the USA.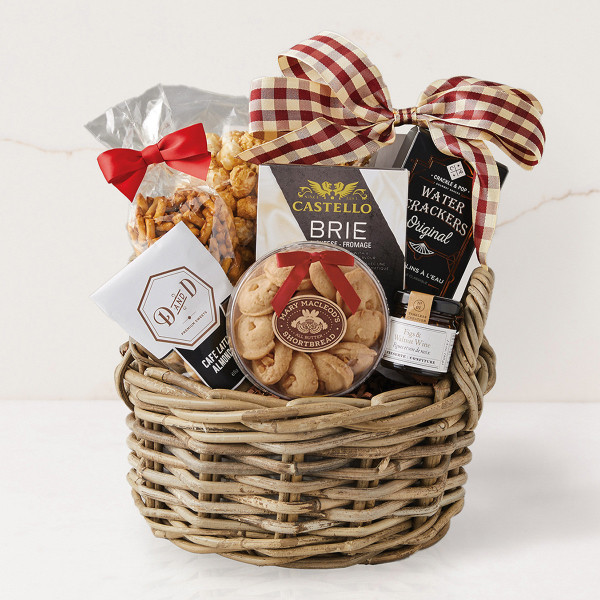 Our Stratford gift basket comes in a beautiful rattan basket base and is overflowing with a variety of savoury, gourmet products to enjoy. Featuring Castello Brie Cheese crafted in Denmark, Crackle & Pop Water Crackers and more!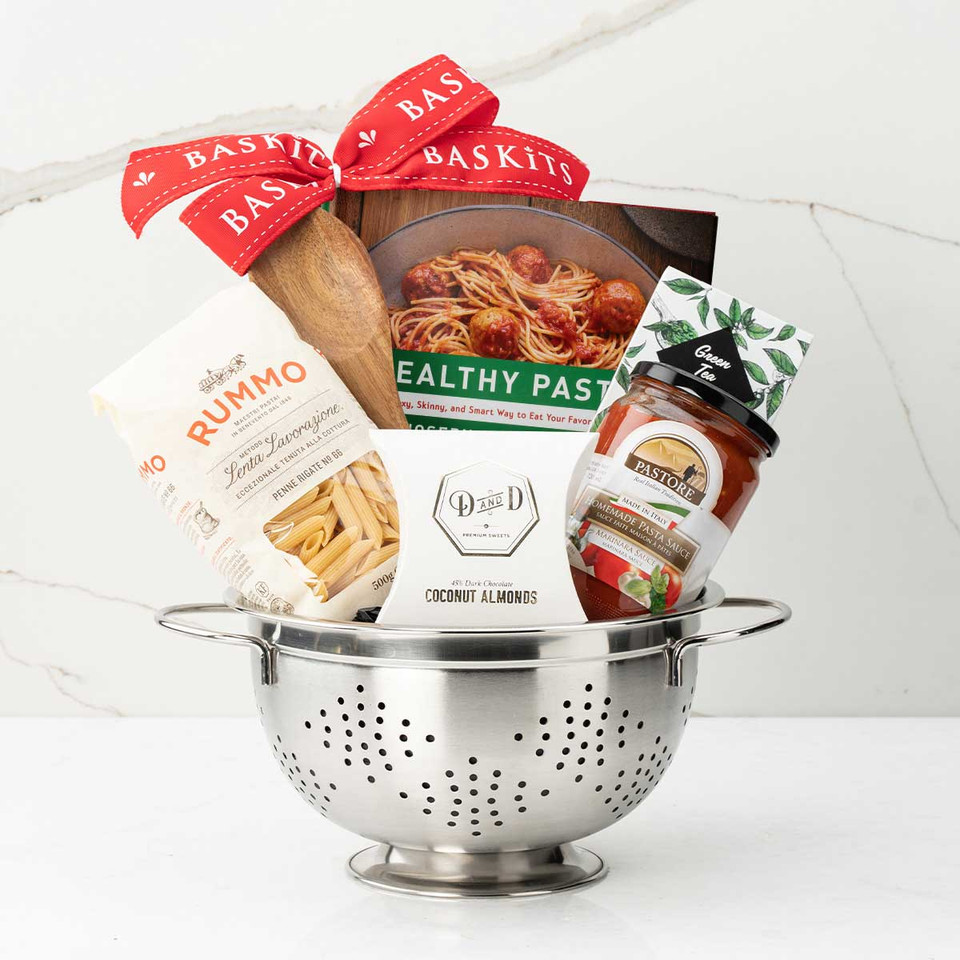 Our Pasta Night Gift Basket has all you need for a lovely Italian gourmet gift experience! This savoury gourmet gift basket everything you need to prepare a beautiful Italian pasta dinner. Perfect for house warmings, university send offs and more!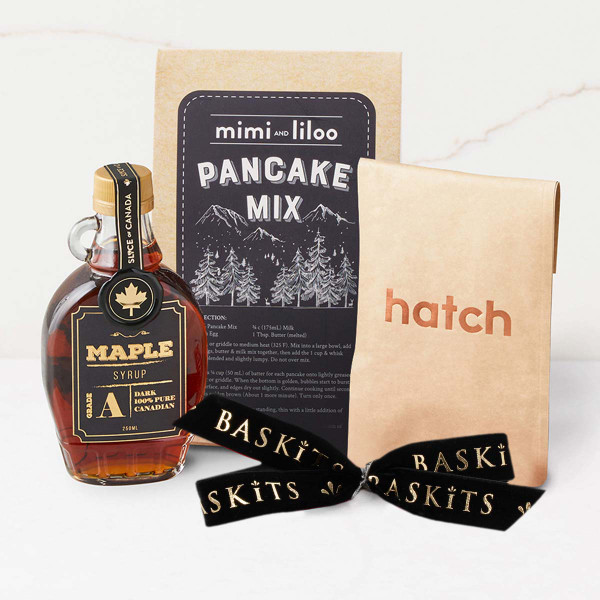 Rise and shine to the sweet smell of breakfast with this lovely trio of Canadian-made products. Featuring traditional pancake mix, 100% pure Maple Syrup and Toronto's Hatch coffee, Canadian Breakfast is the perfect start to a cozy morning with a little taste of the great white North.
Our Gourmet Gift Baskets are made from best gourmet food items you can find in from within Canada and globally. Smoked salmon, crackers, brie cheese, compote for cheese, pastas, to premium sweet treats such as chocolate truffles, shortbread cookies, gourmet chocolate bars, assorted chocolates, these are some of the products we use to make sweet and savoury gourmet baskets.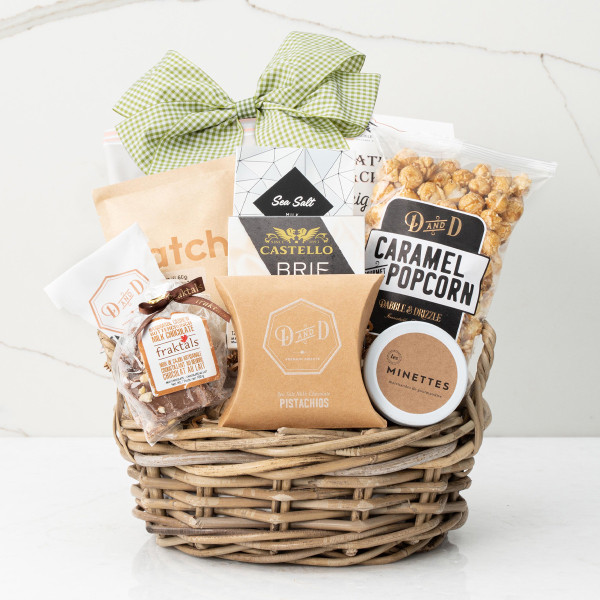 Offering a combination of timeless favourites, Avenue gift basket is a great choice combining sweet and savory gourmet treats. From gourmet cheese, artisanal crackers to decadent milk chocolate butter crunch and mouth watering shortbread cookies, this sweet and savoury gift basket has it all!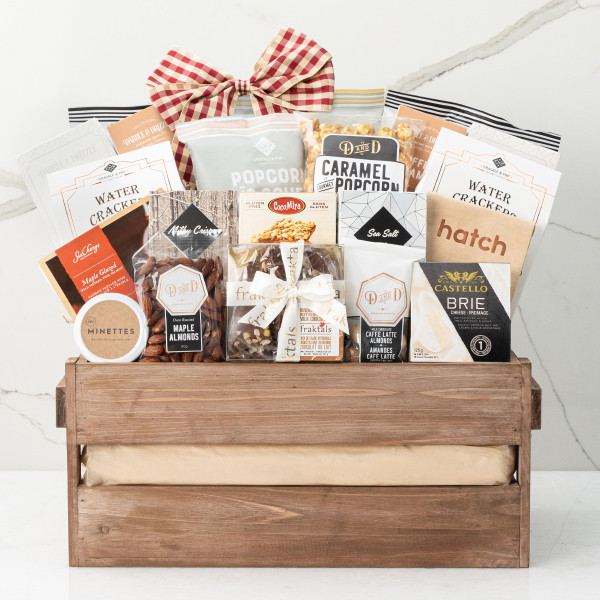 This gorgeous handmade wooden crate is filled with an abundance of indulgent and delectable sweet and savoury treats. With exclusive products like caffe latte almonds, chocolate truffles, crackers, gourmet cheese and more, there is something to satisfy every craving. The Eastwood gift basket makes a great gift ideal for sharing with family, friends or colleagues.
Mark any special occasion for family, friends, co-workers or colleagues with a classic gourmet gift with wine. Along with a good quality bottle of red or white wine, there is a selection of upscale gourmet treats that are sure to please any palate. *Delivery in Ontario Only.
A sophisticated and thoughtfully curated wine and cheese gift box that will wow and delight family and friends. The Not Too Sweet (Red or White) makes the perfect gourmet gift for any occasion including Birthdays, Retirement, Anniversaries, Housewarming or Closing Gift, or just to say "Thank You".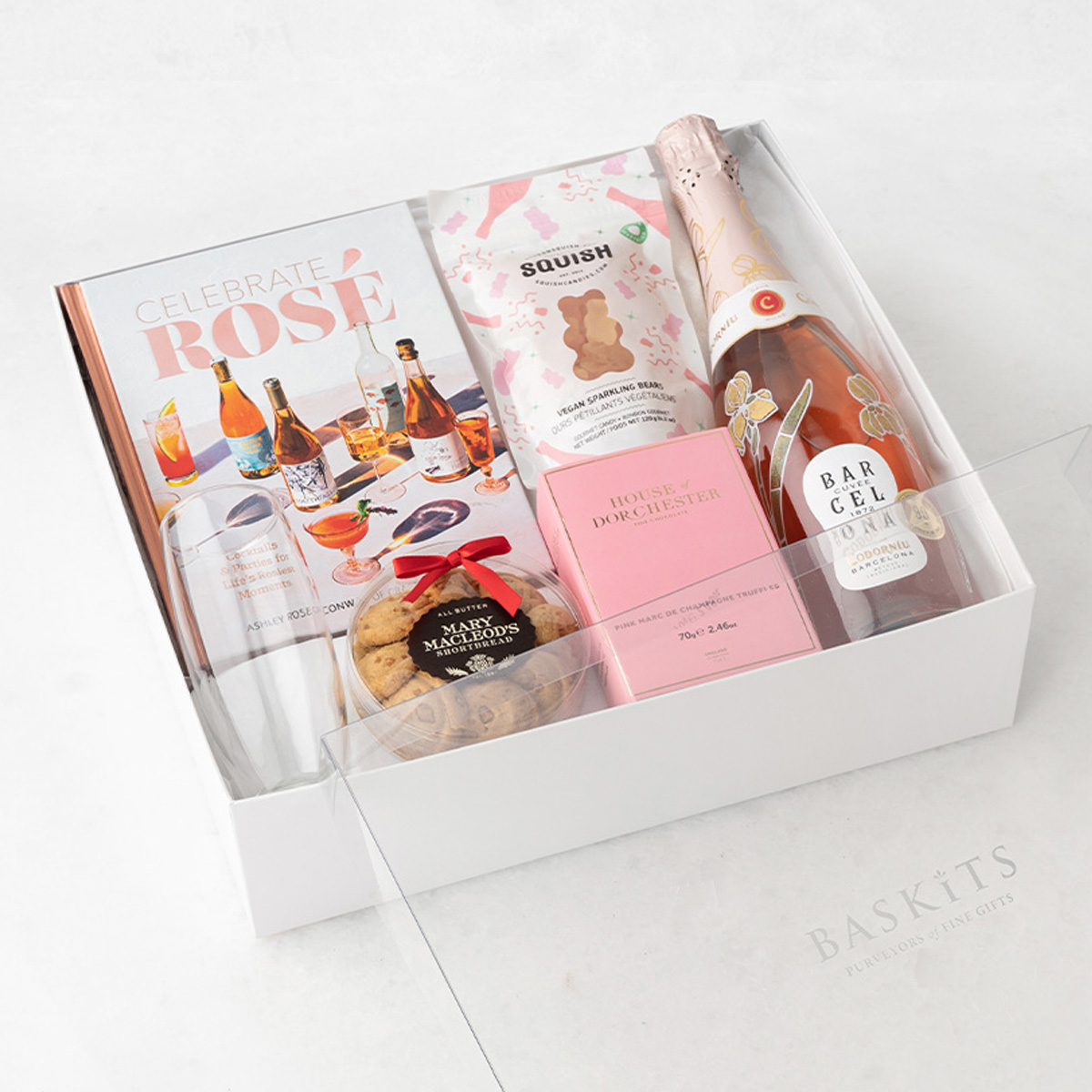 Let's celebrate with Rosé! Beautifully designed to celebrate any occasion, perfect for a birthday, an engagement or just because. Celebrate Rosé features Squish Sparkling Gummies, Canada's Mary Macleod's Cookies, House of Dorchester Champagne Truffles, and more! A great gourmet gift with wine!
Baskits.com provides an online shopping experience that strives to offer the best quality gourmet gifts for delivery to celebrate any occasion. In addition to gourmet gift delivery across Canada and the USA, we also offer same-day delivery for gourmet gift baskets in Toronto and the GTA. From birthdays and anniversaries to funerals and get well, find the perfect gourmet gift basket for any occasion.