Our Gourmet Gift Baskets are filled with only the finest selection of gourmet foods that will surprise and delight your friends or family, colleagues, employees or clients. Whether for a birthday, anniversary, congratulation, sympathy sentiments, holiday celebration, corporate event, employee or client appreciation gift, we have the best selection of gift baskets for your needs.
Gourmet snacks include artisanal cheese and crackers, deluxe nuts, fine chocolates, and so much more. Select gourmet gift baskets also include exclusive Canadian products from across Canada, or alcohol and non-alcoholic options, themed gifts ideas and special dietary gift baskets including kosher, gluten-free, nut free and vegan options too.
We have curated the ultimate Gourmet Gift Guide to help you find the best gifts that everyone will enjoy.
Some of the best Canadian chocolatiers are included in our chocolate gifts such as our signature Dabble & Drizzle brand, Toronto based artisan chocolatier and pastry chef, Laura Slack, Fraktals and more!
Chocolate Delights - Indulge in a Chocolate Delight with our exquisite gift box, perfect for all chocolate enthusiasts, regardless of age! A great chocolate gift idea to satisfy any sweet craving.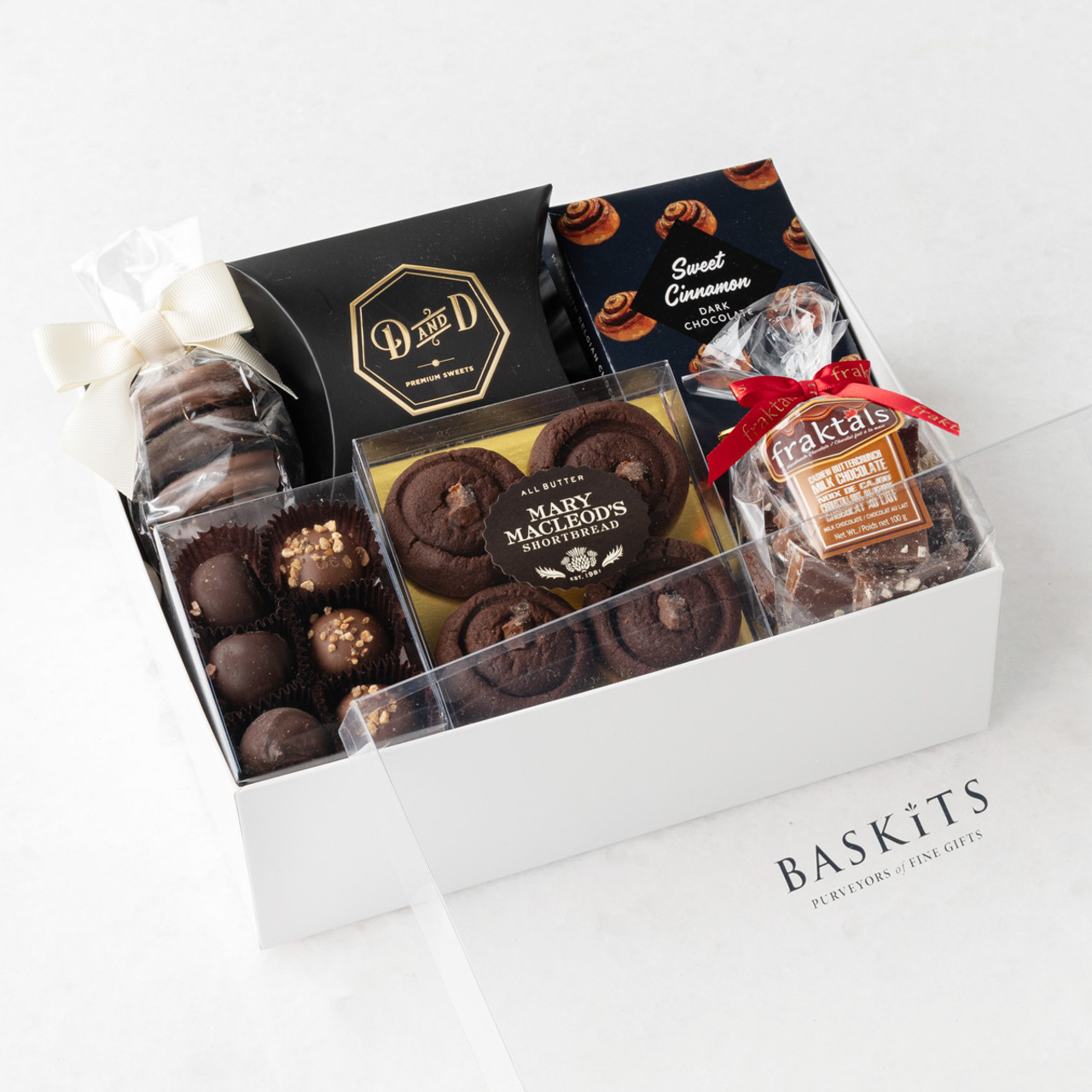 Art of Chocolate - A must-have for all chocolate lovers! Packed with love and featuring some of the best Canadian chocolatiers, this sleek gift box is a true indulgence.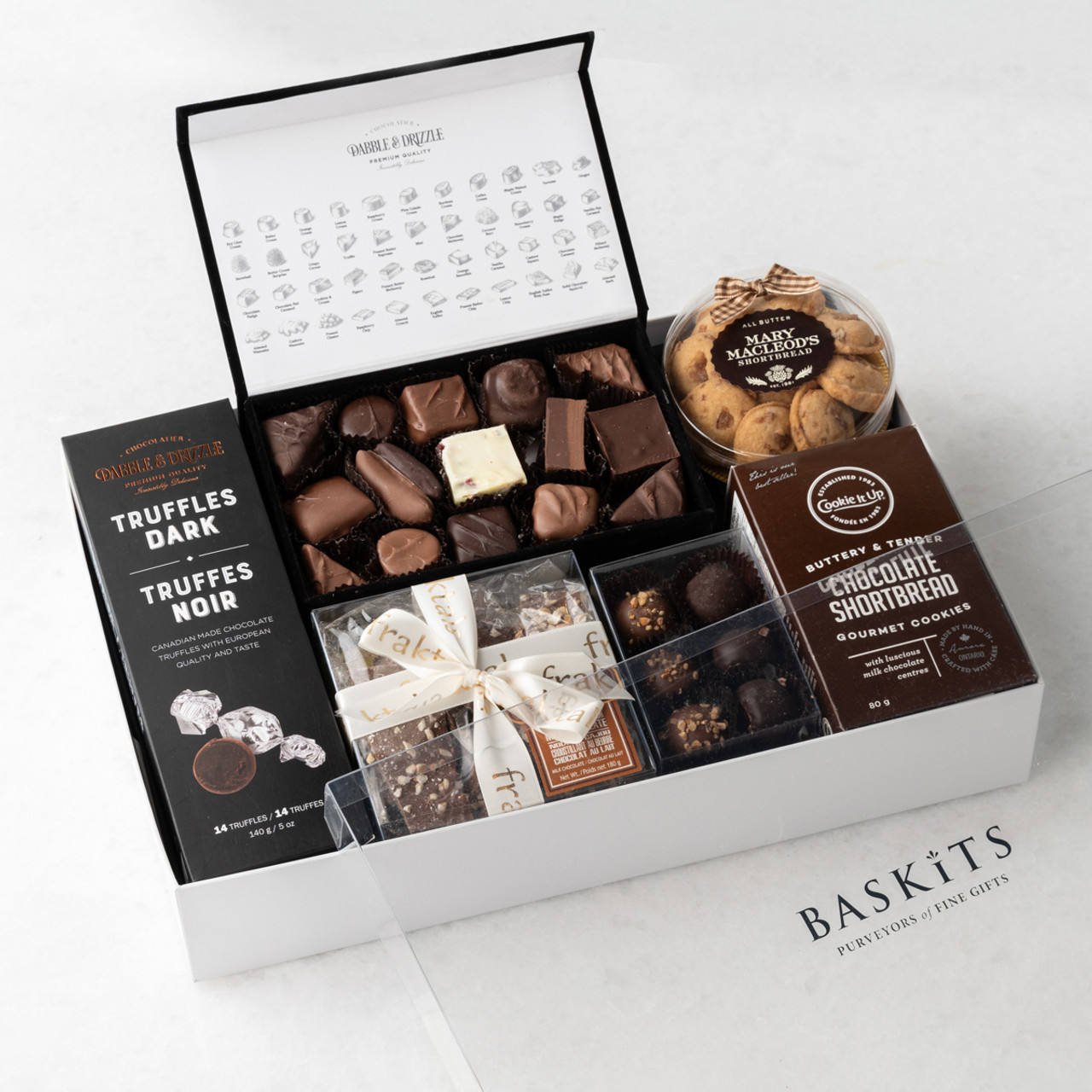 Know someone who prefers salty over sweet? We got you! Our Not Too Sweet gourmet collection is filled with gourmet treats such as brie cheese, water crackers, mixed nuts, coffee and more. We offer the best variety of savory and snack gourmet gift baskets and gift boxes that are ideal for anyone who enjoys a gourmet treat. Each gift is curated by our team of experts to ensure the perfect amount of salty and savory.
Not too Sweet - Send gourmet treats, artisanal cheeses & meats, and savory nuts to your loved ones who prefer savoury over sweet.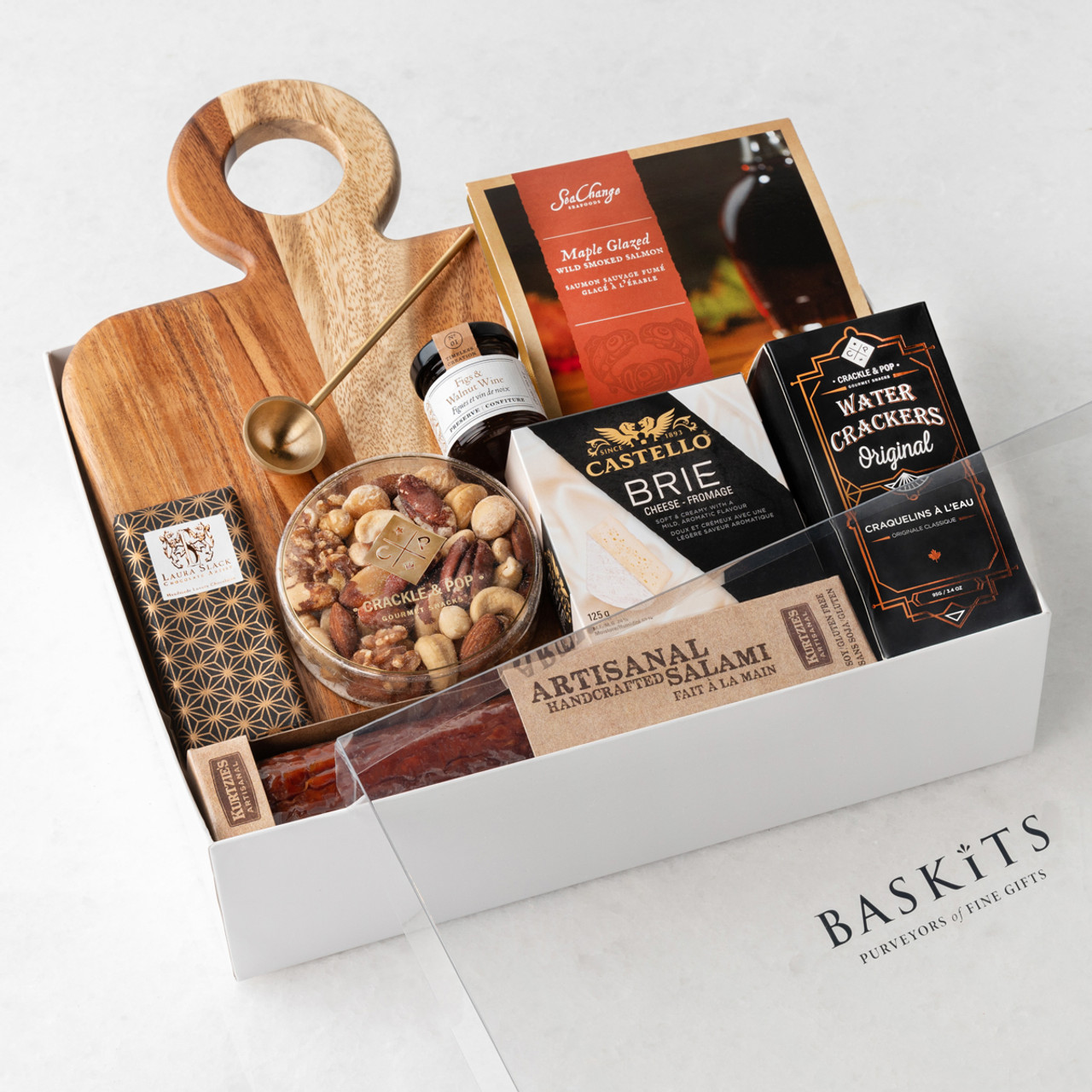 Avenue - Offering a combination of sweet and savory treats, this delightful assortment is perfect for any occasion and is filled with irresistible sweet and savoury treats.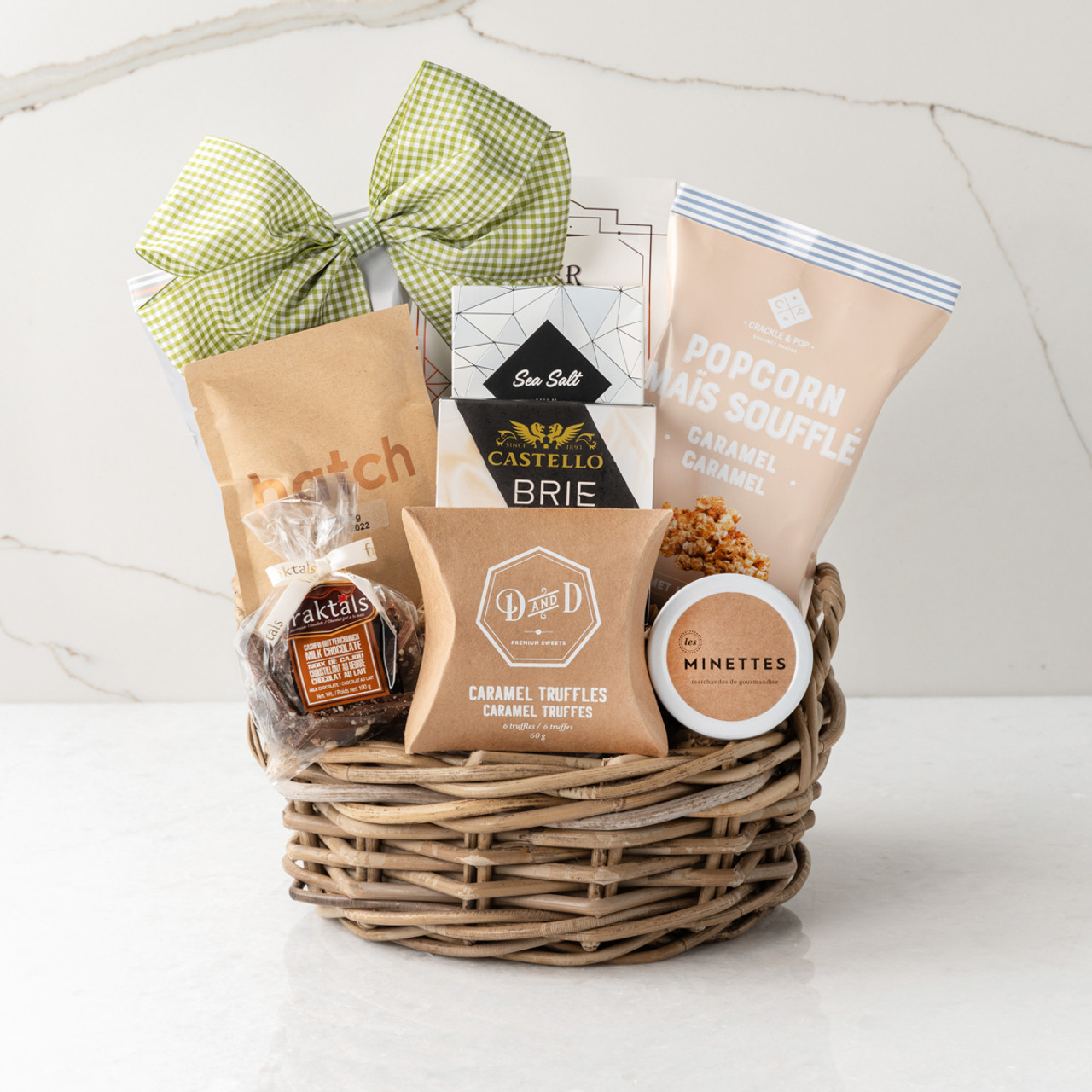 Alcohol Gourmet Gifts - available in Ontario Only!
Our liquor gift baskets are made to celebrate all of life's special moments! Choose from a premium selection of gifts containing wine, champagne, rose and spirits. Here is our guide for the best alcoholic gifts for the right occasion.
Gifts with Wine
Not too Sweet (Red or White) - makes the perfect gift for any occasion including Birthdays, Retirement, Anniversaries, Housewarming or Closing Gift, or just to say "Thank You"
Gifts with Gin
Perfect Night In - Great for anniversaries, weddings, Valentine's Day, date night in or any special occasion!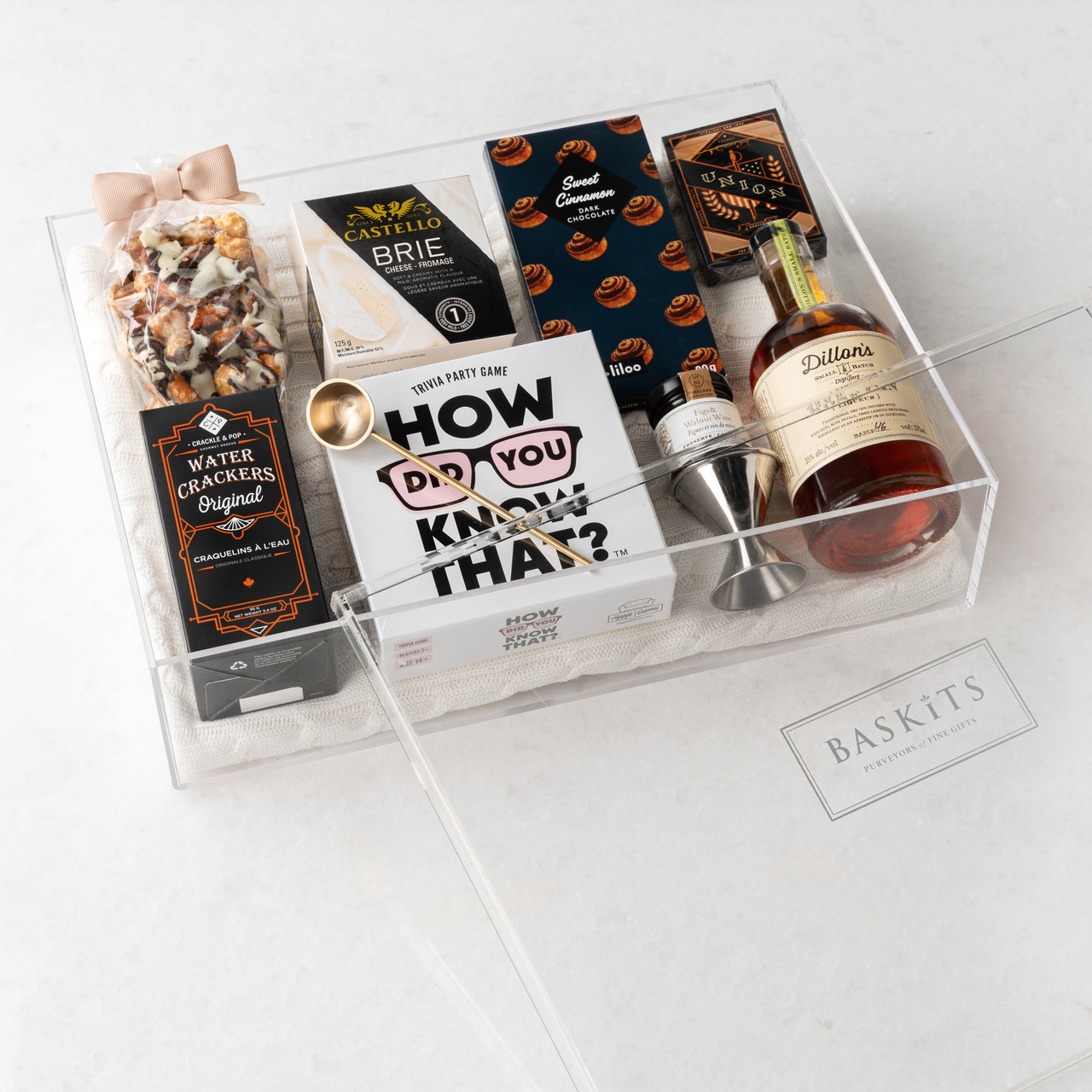 Gifts with Champagne
Celebration with Champagne - From graduations, engagements, weddings, birthdays and more, celebrate all of life's important milestones with the Celebration with Champagne Gift Box.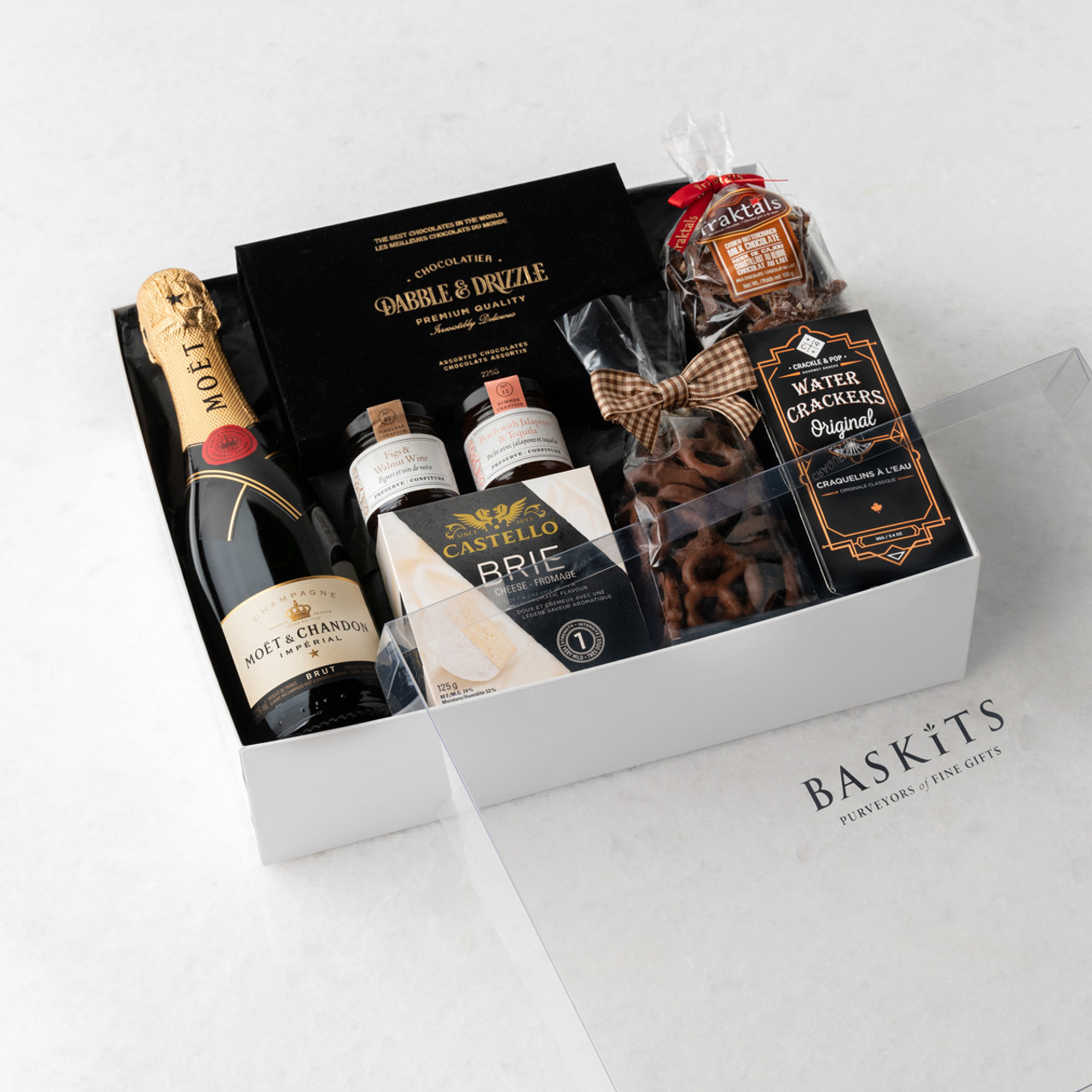 Finding gifts for someone with dietary restrictions can be challenging. However, there are plenty of thoughtful and delicious options available for people with different dietary needs. Learn some great gift ideas for people with dietary restrictions with our special dietary gift guide!
All our nut-free gifts baskets are made in a peanut-free facility so you can safely send to anyone who is allergic to peanuts. Not only are these nut-free gift baskets allergen-friendly, they are also delicious! Gift our nut-free gift baskets to kids, schools, teachers, offices, and other gatherings where you know there may be a nut allergy. Our nut-free gifts are perfect for any occasion or celebration!
Whether you are celebrating a birthday, Jewish holiday, corporate event or just because, send unique and elegant kosher gift baskets that are sure to impress the recipient. These gift baskets are stocked with many certified kosher gourmet treats that will delight everyone on your list.
When you send one of our handcrafted gluten-free gift baskets for a birthday, an anniversary, congratulations, or just because, smiles and satisfaction are guaranteed. Bursting with the best quality sweets and savories, our gluten-free gift baskets offer a great selection of quality treats you won't find anywhere else! If you are looking to treat someone special with delicious great tasting gluten-free products, you've come to the right place! Shop our best gluten-free gift baskets today and surprise your family and friends with a gift they'll love.
If you are looking to treat someone special with delicious great tasting Vegan products, you've come to the right place! Baskits' has a delightful collection of Vegan Gift Baskets that are the perfect gift options to suit your dietary needs. Our vegan-friendly gift baskets are an excellent gifting choice for vegans or for those following a plant-based lifestyle. Whether you are looking to a gourmet vegan food gift or want to look for something unique such as self care, we have got you covered!
Shop Baskits.com for the best gourmet gift baskets