Searching for the perfect gift for that person who is hard to buy for? We've put together a list of great gift ideas for that person who is impossible to buy for. Fool-proof gifts that will impress anyone. Gifts for sharing, personalized gifts, mens gifts, womens gifts, baby and kid gifts, and more!
We have a gift basket or gift box for everyone in your life, whether they are hard to buy for or already have everything. In fact, we're sure that every person on your list will want one of these gifts. Baskits makes it easy to shop for anyone and everyone, even if they are difficult to shop for.
1. Rosedale: Rosedale is our most luxurious gourmet basket - a real conversation piece and sure show-stopper that will blow anyone away. Arranged in a gorgeous storage ottoman for the home and overflowing with gourmet treats, this selection is the absolute perfect gift when only the very best will do.
2. Hot Stuff: Prepare for a gift with a kick! This unique gift box is perfect to spice up your gifting game – includes hot sauce, a pair of stylish hot sauce socks, spicy treats, and more!
3. Simply the Best: Gift our Simply the Best gift box as the name says it all – when you want the best for that special person. Featuring our Empress & Co. 100% cashmere socks, scented candle, delicious Fraktal's chocolate butter crunch, Mimi and Liloo tea and more!
4. Faux Flowers: Prepare to take their breath away with our faux floral arrangement, Marilyn. Both enchanting and timeless, this long-stemmed bouquet of large Tamora roses looks so realistic, you'll want to water them!
5. Step Up Stools: Make any child feel special with a personalized step stool with their name on it! Available in pastel or primary colours, these step-up stools make for wonderful keepsake gifts. Check out our new Bee themed step stool that make excellent baby and kid gifts!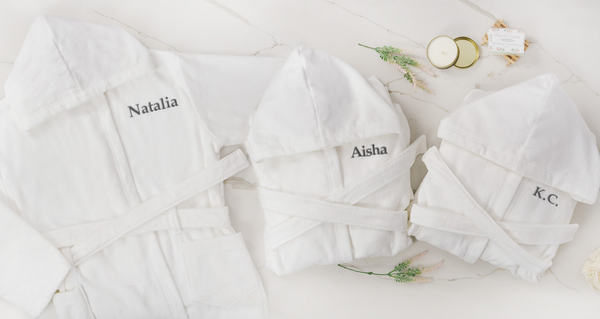 6. Luxe Bathrobes: These robes wrap - literally - warm and luxe in one. The perfect robe, in ALL sizes, making for the perfect matching family set. With a hood, pockets and wraparound belt, this robe is the complete set for comfort. Personalize the robe to make it an extra special gift. *Available in sizes from babies to kids to adults.
7. 100% Cashmere Blanket Grey: Our Empress & Co.100% cashmere blanket is the ultimate in luxury. Makes for a beautiful décor piece and is perfect to wrap them up for a cozy feel. The blanket boasts a beautiful cable knit design and comes presented in a clear lucite box. A perfect gift for someone who has it all!
Whether you are looking to buy a gift for a birthday, anniversary or for any occasion, our collection of gourmet gifts and gifts for them are sure to impress even for the one that is hard to buy for! Shop at Baskits.com to view our full collection of gift baskets and gift boxes for worry-free delivery across Canada and USA!.