For over 35 years, Baskits Inc. has been trusted by top corporations, professionals and individuals from around the world to deliver impressive gifts across North America on their behalf. No matter where you are, or the time of day, Baskits' easy-to-use and mobile-friendly website makes it seamless to send the perfect gifts, for any occasion, from anywhere! But now we want to leave the gift designing to you. You can customize and create your own unique gift for any occasion! With a custom and personalized gift designed by you, your recipient will be sure to love their gift. Create your own gift that is elegantly wrapped and delivered worry free across Canada and the US. Whether you are looking for a unique birthday gift, custom baby gift, or custom wedding gift, we have got tons of high quality products to create the perfect gift box.
Design your own gift in 3 easy steps!
Step 1. Choose your gift box

Step 2. Select the items to include in your gift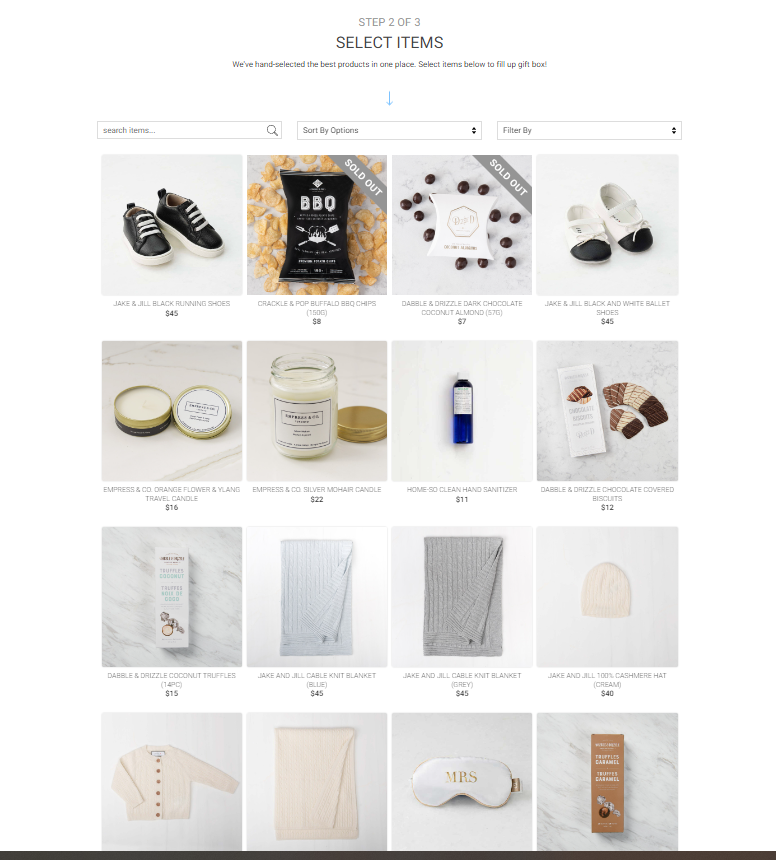 Step 3. Write a personal card message and check out!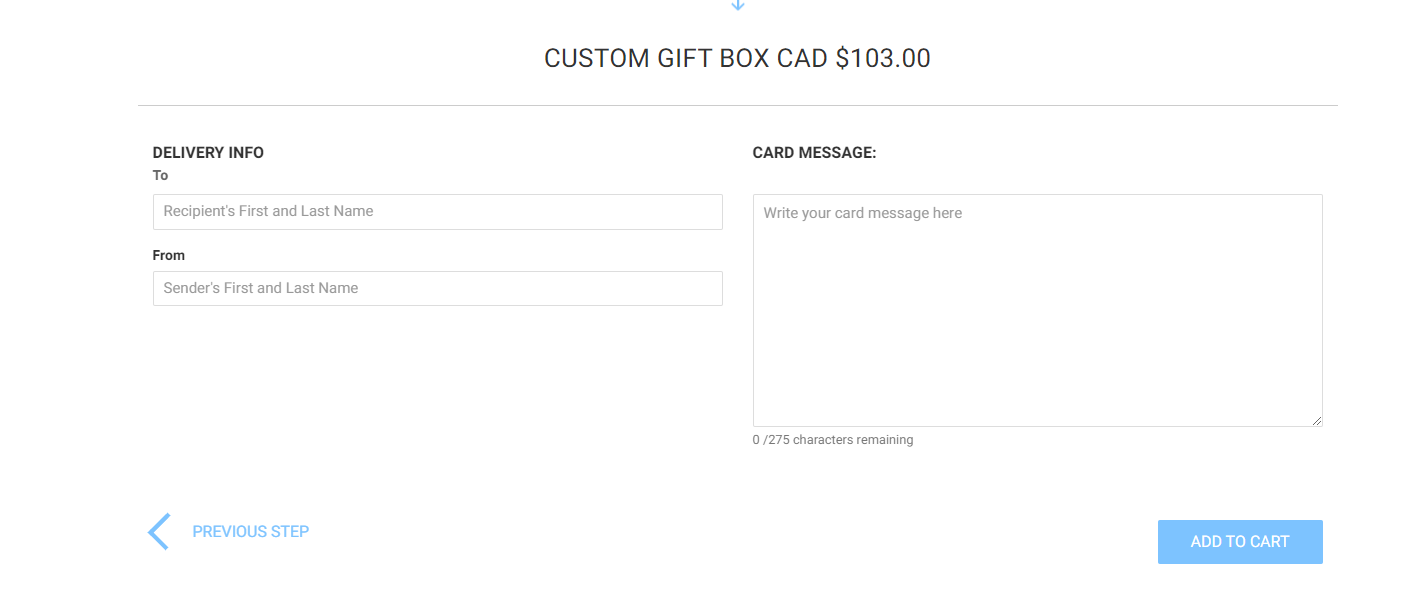 That simple!
Create your own gift that is elegantly wrapped and delivered worry free across Canada and the US.
From baby gifts, to birthdays, anniversaries or just because, create a beautiful gift to celebrate any occasion in minutes.
Design your own custom gourmet gift with premium treats from Baskits very own brands! Looking to create a sweet gift box for the sweet tooth in your life? Include treats such as our mouth watering Café Latte Almonds, Milk Chocolate Wafers, 100% Pure Canadian Maple Syrup and more! We also have options for sweet and savoury custom gourmet gifts! Include savoury treats such as Crackle & Pop Thai Chili Chips, Mimi & Liloo Cheeky Chai Tea, with crackers that pair well with brie cheese. Include our Acacia Cutting Board for a charcuterie inspired gourmet gift idea.
Looking to create and design your own custom wedding gift? Look no further! Create a personalized wedding gift box with Design A Gift. Add a cozy element to your custom gift basket, with a set of cashmere socks and matching luxe bathrobes and throw in some Empress & Co. candles with the sweetest aromas. To top it off, add our beautiful acacia wood cutting board that doubles as a charcuterie board. Truly defining the perfect night in for the newly weds!
We have everything you need to design your own baby gift basket. Celebrate baby girls first birthday's with our adorable Jake & Jill ballet shoes, complete with a white bow and elastic band to keep the shoes in place. The cutest addition to the baby's wardrobe. Or include our Jake and Jill Black High Top Running shoes that are durable and lightweight. Perfect for style and function to help babies as they take their first steps. Add in a cable knit blanket, sweater and hat set that will keep them cozy all year round!
Include a little treat for the new parents or new mom with our self care line or gourmet line! Include an Empress & Co scented candle to create a calm atmosphere or Luxe Bathrobes to keep them cozy and well rested, or add in a little bottle of bubbly to help celebrate the new addition! We've also got an adult sized cable knit blanket and Cheeky Chai tea for providing comfort on those long nights as a new parent.
Design a luxury baby gift box with Baskits! Include our 100% Cashmere baby blanket or 100% Cashmere hat and sweater set that is soft and delicate against baby's skin. Pair it with our Goat Hair Brush, with ultra-soft bristles made ideal for the sensitive skin of newborns and toddlers. A great custom baby gift idea perfect for baby showers, welcome home gifts and more!
Sending a personalized birthday gift is a great way to send your well wishes for their special day! Create a unique birthday gift with items they are sure to love such as our Luxe Bathrobe, Scented Candle, and tasty treats including Sea Salt Milk Chocolate and Sweet and Salty Popcorn. Add a festive touch with Happy Birthday strong lights and colourful confetti!
Custom Self-Care Gift for Them
Design them a custom self-care gift basket or gift box to help them unwind and to let them know you care! Check out our favourite items to include in self-care gifts! Include an Empress & Co Orange Flower & Ylang scented candle that is long-lasting and mood-lifting. A luxe bathrobe that will keep your loved one cozy and shows how much they mean to you, a collagen infused lip mask, and a so-clean hand sanitizer. The options are endless when designing your own gift box!
Customize and design your own gift basket today! Start by choosing the size of gift box and include your favourite items you cannot find anywhere else. Create and personalize your own gift to be as special as the person receiving it! Design it today and have it shipped at a later date within Canada and USA! Only at Baskits.com