We love providing you all with detailed guides into our Passover gift basket collection. We take our role as gifting experts very seriously, and there's not one step we want to miss in ensuring you have a seamless gifting experience. Our mission is to work hard, so you don't have to. And, to get ahead of the gifting game. Although we're still in March, April is quickly approaching. We want you all to be as ready as can be for the holidays coming!
We are less then a month away from Passover. We know that with this holiday comes 8 nights of dinners, most of which you will not be hosting. That being the case, it is customary to bring a gift - we suggest a Passover gift basket - to those hosting you, especially when they are providing you with a feast. Each night you'll be saying, pass over the food, whilst passing them the gifts!
For a special holiday focused on celebrating liberation and freedom, we needed our gift selection to mirror those sentiments. Which is why we chose to share a collection of faux florals. From small to large, and with a variety of flower types and colours, we've ensured that you can gift those you are close with, and those you're simply meeting for the first time. Variety is our middle name. Serving you with everything you need.
Our faux florals are meant to symbolize the everlasting bloom. These arrangements, beautifully poised, serve as a constant reminder of freedom, as they stand tall, and will forever remain that way.
These are the perfect gifts for your hosts/hostesses, as having a table set and perfectly put together is a huge part of having a beautiful dinner, with family and friends. Floral centerpieces serve as a focal point, a conversation piece, and as an elegant decoration for all to admire. Added bonus with faux flowers is that while they sit beautifully on your table, you don't have to worry about petals dropping everywhere. No maintenance required, nor clean up!
Check out some of our favourite faux flowers to send for this Passover holiday season: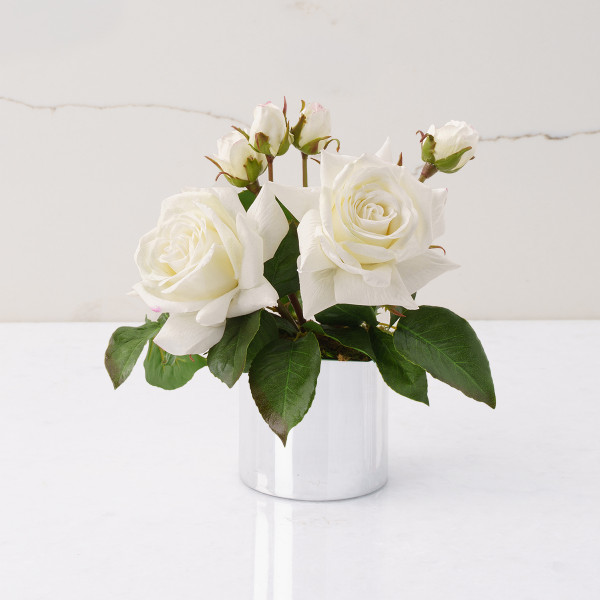 Audrey: A whimsical vision of timeless beauty, our Audrey arrangement, features two colossal, white Tamora roses in dual stages of bloom and comes arranged in a classic metal vase. This stunning piece is sure to bring just the right touch of both style and grace and makes a great choice for a Passover gift.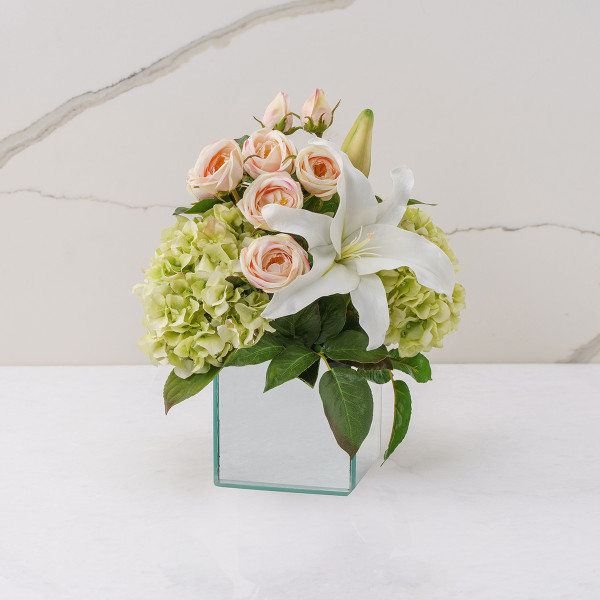 Amelia: A classic beauty, our faux flower arrangement Amelia features a collection of blush Heritage roses, large hydrangeas and stunning Stargazer lilies in different stages of bloom. This gorgeous selection comes in a mirrored vase and is a beautiful choice for a Passover gift.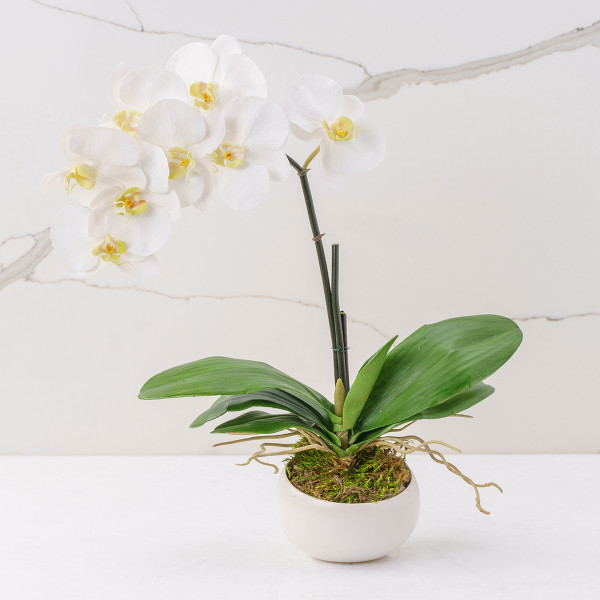 Grace: Bring fresh energy into your desired space with our faux floral arrangement, Grace. A stunning single stem white Phalaenopsis Orchid in full bloom - a vision of pure elegance and a thoughtful gift for your host/hostess during Passover. Enjoy the permanent beauty of an orchid, without the high maintenance.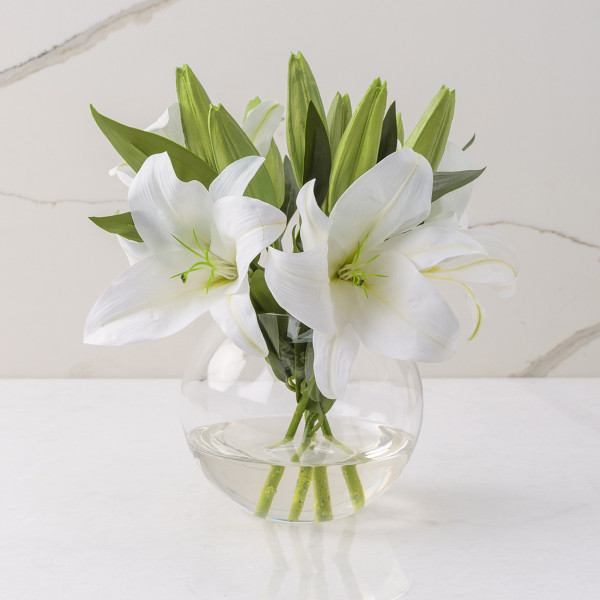 Jacinda: Have everyone thinking these were freshy pulled from your garden! A beautiful array of Casablanca Lilies in a stunning Fish Bowl Vase, Jacinda will be the topic of conversation during Passover dinner.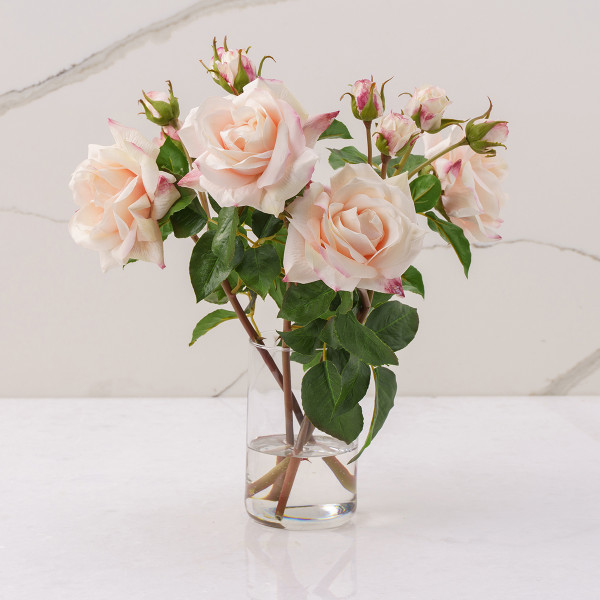 Serena: Both enchanting and timeless, Serena is a long-stemmed bouquet of Garden roses inspired by the sports star and power house herself and will steal the spotlight in any room. Send a bouquet of faux flowers across Canada & USA for a show-stopper Passover gift.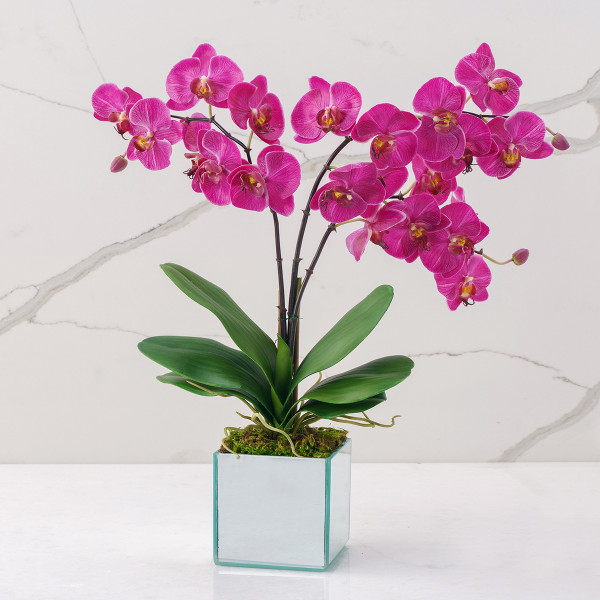 Coco: Style is what our faux floral arrangement, Coco, is all about. Grand and eloquent, this triple-stem fuchsia Phalaenopsis Orchid in full bloom is as chic as they come - just like world-renowned fashion icon Coco Chanel! Designed to add sheer elements of classic beauty along with a pop of color to any space. A great conversation piece during Passover.
This Passover, pass them a beautiful arrangement or bouquet of faux florals. A forever gift for them to keep (and, remember) for years to come.