Thousands of companies rely on Baskits to enhance their business development efforts and strengthen their connections. Baskits understands that these organizations trust us with their hard-earned reputations - we take that responsibility extremely seriously and it impacts everything we do. New employee welcome gift baskets and gift boxes can be as simple or elaborate as you like because effort counts more than money when it comes to these gifts.
Why is Employee Corporate Gifting so Important and why you should get started?
Employee Gifting is an important strategy for any company. Corporate gifting can help motivate and inspire your team and let them know you appreciate them. Your employees are your most valuable asset, so going the extra mile with a thoughtful and heartfelt corporate gift can go a long way. Send unique gifts to new employees to make them feel more welcome and it can help relax the first day on the job nerves!
According to gifting trends:
Most popular business gift-giving occasions are: 51% holiday, 34% customer appreciation, 27% employee recruiting, appreciation, or milestone.
Research has shown that "Twice as many employees found gift boxes or baskets memorable compared to a charitable donation or a gift card".
And adding personalization was the leading component of success in a gifting strategy.
Gift baskets and gift boxes have become increasingly popular and are a great way to recognize your employees.
Employee recognition is an important part of any corporate structure and culture. Baskits has many options for providing impactful gifts to employees that reflect their daily efforts. Baskits recently took on a massive gifting initiative for UHN that sent thoughtful packages to their healthcare workers in honor of all that they do.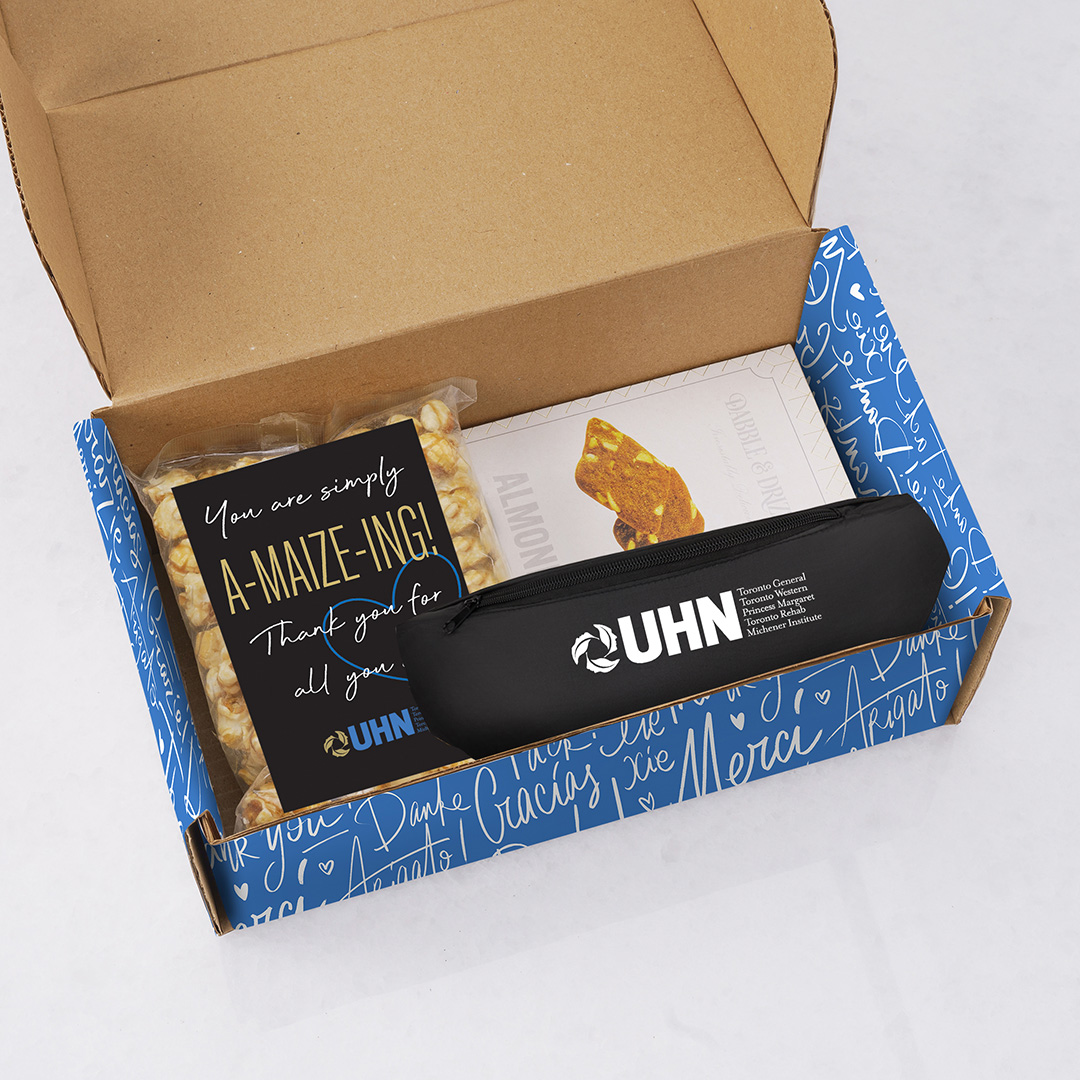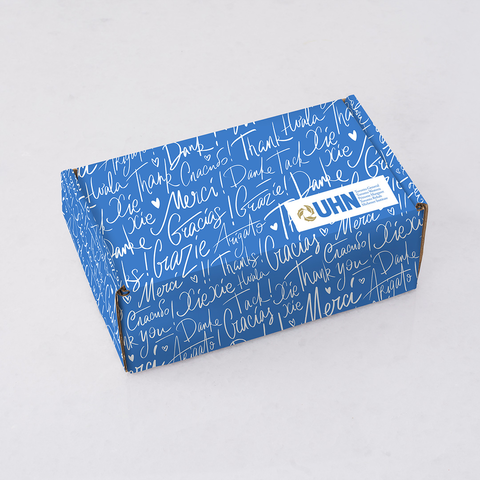 "We worked with the UNH team to create and send out 17,000 custom thank you boxes for their healthcare workers as a small token of thanks for the dedication and hardwork they provide every day. Our send out included a beautifully printed box with "thank you" written in different languages and the gift included a delicious box of cookies and branded fanny pack. Baskits was able to deliver all 17,000 units seamlessly and truly enjoyed being apart of such a wonderful initiative."
Here is how you can get started
New employee gift baskets serve as a symbol of your company's values and our corporate gift specialists are ready to assist you from recipient gift lists and shipping dates, to Semi-Custom Options or Fully Custom Designs, order placement, tracking and delivery.
Tell us about your company goals and values! What is the occasion, who is the recipient and what are you aiming to achieve, and we can help you create the perfect experience for your budget.
Our team of experts holds a wealth of knowledge and creativity and will always make sure to bring you the latest trends, so your gifts will be innovative and fresh. With our multiple address checkout feature, our gifting platform enables you to send gifts to a large group of people easily and quickly.
Complete our Large Order Inquiry form to get started today: https://baskits.com/large-order-inquiry-form/
The most common types of new employee gifts that recipients favour are wine, food, spa treatments, and branded gifts. Baskits has got you covered as we offer a variety of new employee gift baskets and gift boxes that best suit your needs. Elevate your corporate gifting program and make a statement by choosing a fully customized gift that focusses on your brand.
We offer corporate gifting concierge services to make it quick and easy to send impactful gifts that will surprise and delight your new employees and have them feeling excited to start with the company. With three customization services available, you can choose gifts from our Ready to Ship Collection for quick gifting solutions, or Semi-Custom Options and Fully Custom Designs for additional branding and personalization. Create a strategy for gifting that makes your employees feel valued, and go above and above to stand out in their minds with gifts from Baskits.
What better way to mark the occasion of a new job than with branded logo gifts? There are no limitations when it comes to size. We offer logo branded mugs, logo ribbons, logo branded cards and more! Semi-custom new employee gifts can aid in the development of a vital emotional bond between new employees and the business. Our corporate gift specialists can advise you on the best gift options and help manage the entire process making it easy and stress-free.
Surprise employees with gifts that tell them how much they are appreciated and create a positive experience for new employees joining your company. Here are some of our favourite Employee Gifts from our Ready to Ship Collection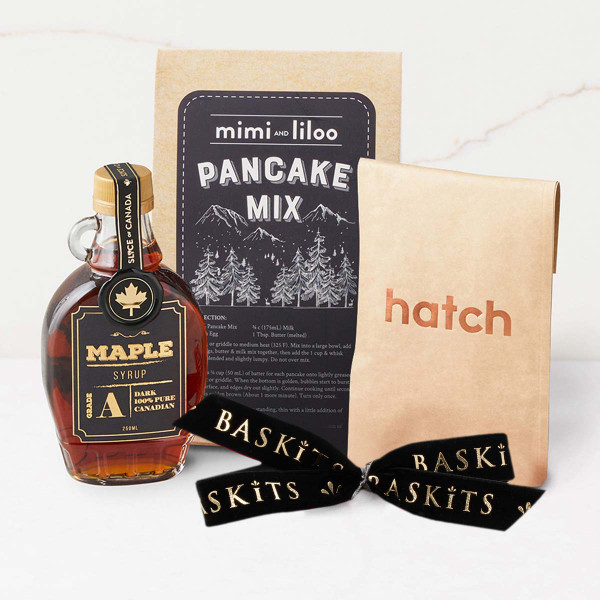 Canadian Breakfast: Rise and shine to the sweet smell of breakfast with this lovely trio of Canadian-made products. Featuring traditional pancake mix, 100% pure Maple Syrup and Toronto's Hatch coffee, Canadian Breakfast is the perfect start for the first day on the job.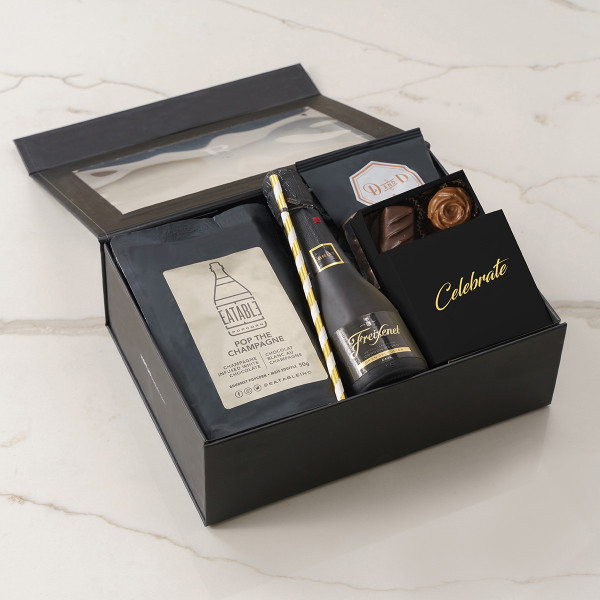 Cheers!: The perfect way to celebrate a new job! This gift box includes Canadian crafted 'Pop the Champagne' popcorn from Eatable, signature artisan Dabble & Drizzle chocolates, Friexenet Brut Cava for toasting and more! Also available in a non-alcoholic version.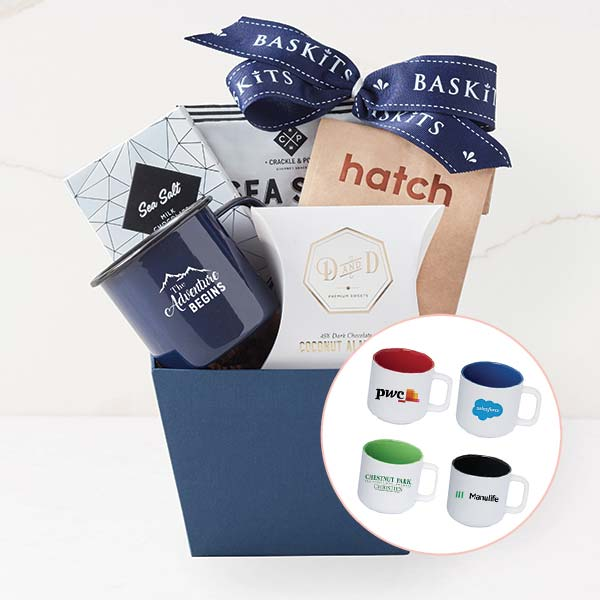 Just for You: This gift basket features a thoughtful assembly of Baskits signature Crackle & Pop and Dabble & Drizzle sea salt chocolate, kettle chips, coconut almonds, plus a "The Adventure Begins" mug to enjoy the premium Toronto hatch coffee. A great option for employee gifts! *Swap the mug with a branded mug option available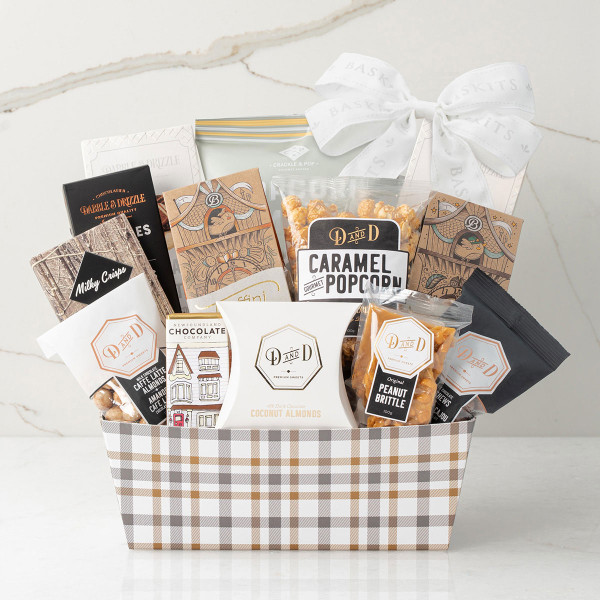 Champlain M: As one of our best-sellers, Champlain M makes a great gift sure to impress. Packed with premium goodies, the lucky recipient will enjoy mouth-watering exclusive Dabble & Drizzle Café Latte Almonds, Canadian made Fraktals buttercrunch, two flavours of Kosher certified Truffini truffles and much more. Finish the gift off with your company's logo ribbon!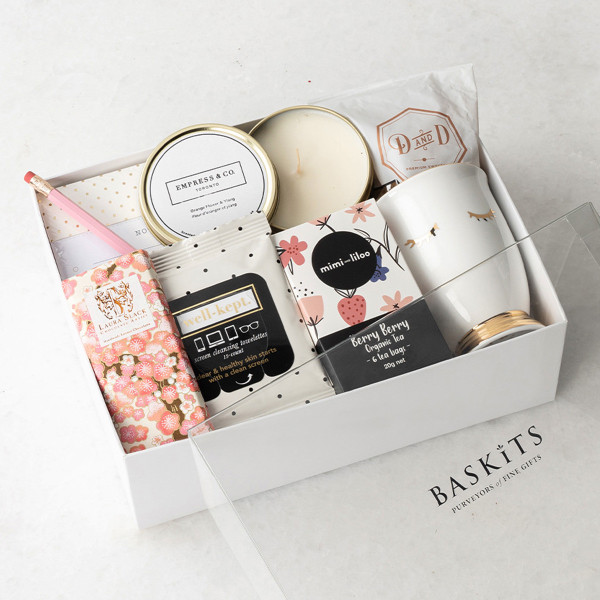 #Boss: For that boss that deserves a little extra for their hard work. #Boss includes a stylish mug for that early morning brew, a notepad and pencil to capture moments of inspiration, delicious snacks and more. This gift is sure to please any boss in your life! *Swap the mug with a branded mug option available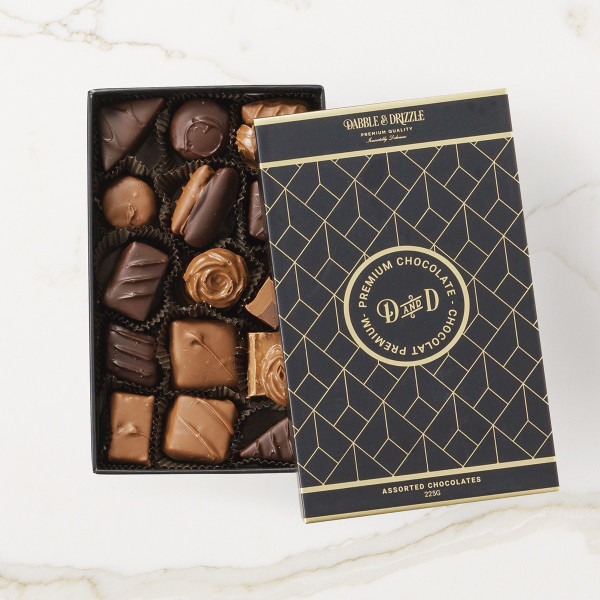 Heavenly Bites: Looking for an affordable new employee gift? This beautiful gift features over a dozen of the most decadent assortment of milk and dark chocolates. Our exclusive Dabble & Drizzle Heavenly Bites are handmade in Ontario and are perfectly rich and creamy - finish this gift off by adding branded logo ribbon or a branded card! *Available in two sizes (S & M)
Audrey: A unique employee gift idea, our Audrey faux flower arrangement, features two colossal, white Tamora roses in dual stages of bloom and comes arranged in a classic metal vase. This stunning piece is sure to bring just the right touch of both style and grace into your room of choice.
Celebration with Champagne: Let's get poppin'! Celebrate hiring a new employee with the Celebration with Champagne gift box. This sleek handcrafted gift box includes an elegant arrangement of champagne, brie cheese, crackers, truffles and more. Send your best wishes with this wonderful gift sure to deliver happiness and joy! *Delivery within Ontario only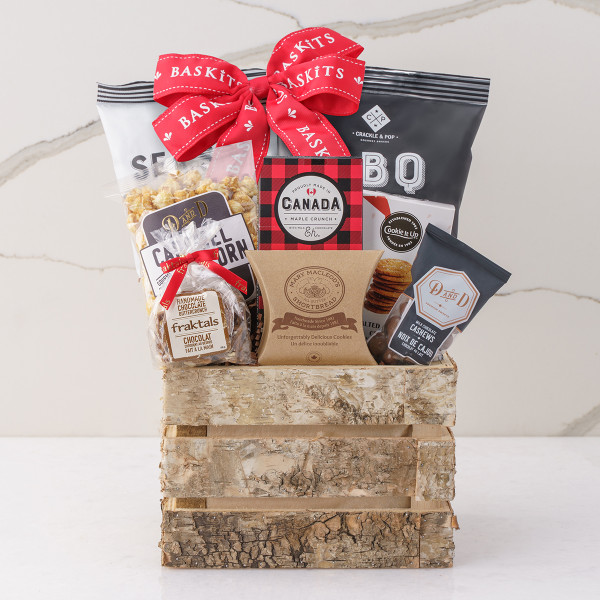 Canadiana L: The quintessential all-Canadian gift to send to new employees in the US! This classic arrangement arrives in a rustic, handmade birch bark base and showcases indulgent treats made in Canada, including products from our exclusive brands Mimi and Liloo, Crackle & Pop and Dabble & Drizzle. A great new employee gift basket! *available in L & XL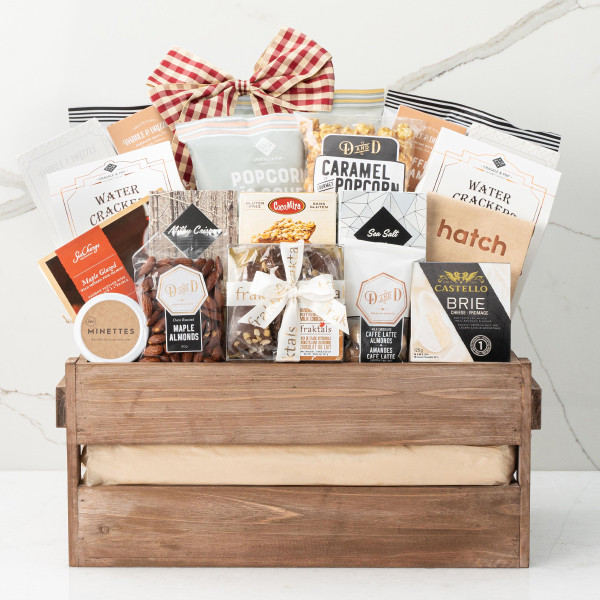 Eastwood: This gorgeous handmade wooden crate is filled with an abundance of indulgent and delectable treats. With exclusive products like café latte almonds, chocolate truffles, delicious sweet and salty popcorn, crackers, gourmet cheese and more, there is something to satisfy every craving. The Eastwood gift basket makes a great gift ideal for new employees.
Searching for employee gift ideas? Look no further! We offer the best new employee gifts. They are thoughtfully curated, high quality gift baskets from Canada's #1, award-winning gift basket company. We are your top source for impressive gifts, new employee gift boxes or employee gift baskets! The best gift baskets delivered across Canada & USA.
Our corporate gifting specialists are ready to work with you to find the perfect gifts that will be impactful and create a memorable gifting experience. With over 35 years of experience, our expertise in large order fulfillment and our commitment to exceptional hand curated gifts delivered with unparalleled customer service, trust our corporate gifts experts to deliver a memorable gifting experience for you and your clients!