Searching for a housewarming gift or new home gift ideas? Look no further! We offer the best new home gifts for them. Realtors work tirelessly to find their clients that perfect house. This so that they can build memories, and make it their home. Every house closing requires a celebration, and of course, a gift! The bigger the house, the bigger the gift! And, maintaining relationships with your clients, in the years to come, is also key. Because, some make it a habit to never stay in one place too long. But as the creatures of habit that we are, once you love a realtor, you will always go back to them.
That being said, when in sales, the service you provide, before, during and after the sale is essential. And, we here at Baskits, want to ensure that we help you share a gift basket that is thoughtful, long-lasting, and sure to impress. Because in the end, it's the thought that counts.
With every celebration, comes the desire to gift those celebrating alongside you. For the gifts to congratulate your clients - you must go above and beyond! Show your clients how much you appreciate their business with a premium & luxurious gift basket or gift box from Baskits.
Corporate Branding Realtor & Client Gifts
What better way to celebrate a housewarming with branded logo gifts?! There are no limitations when it comes to size. We offer logo branded mugs, logo ribbons, logo branded cards and more! Semi-custom realtor & client gifts can be a great way to form bonds with your clients and will create brand recognition. Our corporate gift specialists can advise you on the best gift options and help manage the entire process making it easy and stress-free.
Create a strategy for gifting that makes your clients feel valued, and go above and above to stand out in their minds with gifts from Baskits. Our corporate gifting specialists are ready to work with you to find the perfect gifts will be impactful and create a memorable gifting experience.
Introducing our best of the best gift basket gift guide that has us as the #1 Realtor Gift Basket Company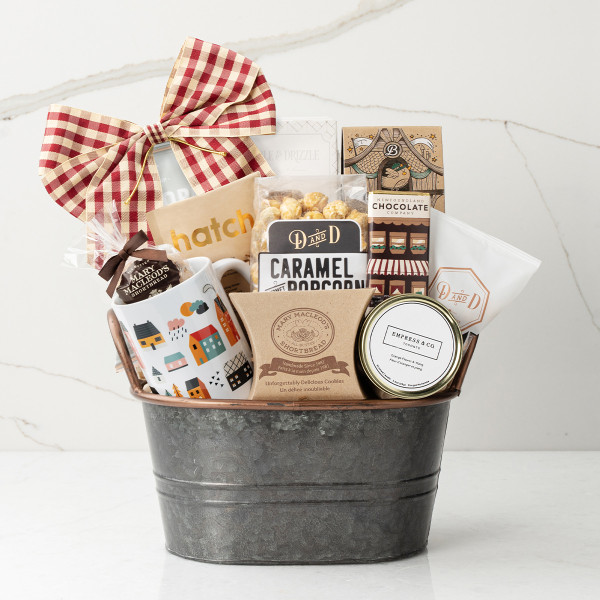 A beautiful house warming, real estate closing or new home gift idea. Featured in a rustic reusable storage container, nothing says 'Welcome Home' better than this wonderful assortment of cookies, coffee and treats. Send your best wishes and help them feel right at home with the Home at Last Gift Basket.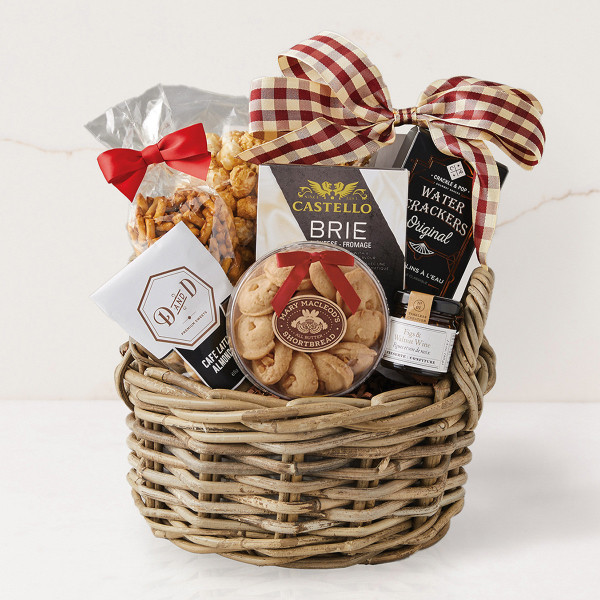 Our Stratford gift basket is a little bit sweet, a little bit salty – a classy choice for this occasion! Overflowing with a handsome selection of savory, artisan products for their whole family to enjoy.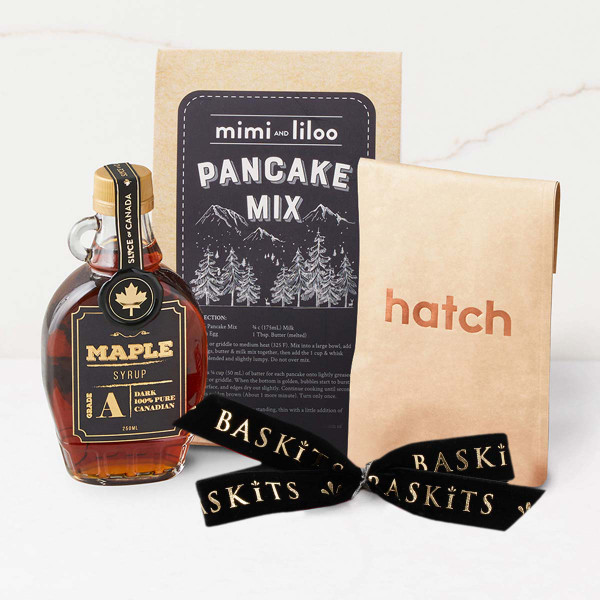 Looking for an affordable house closing gift idea? Canadian Breakfast is a great realtor gift idea featuring this lovely trio of Canadian-made products. Featuring traditional pancake mix, 100% pure Maple Syrup and Toronto's Hatch coffee, Canadian Breakfast is the perfect start to a cozy morning, in their new home, with a little taste of the great white North.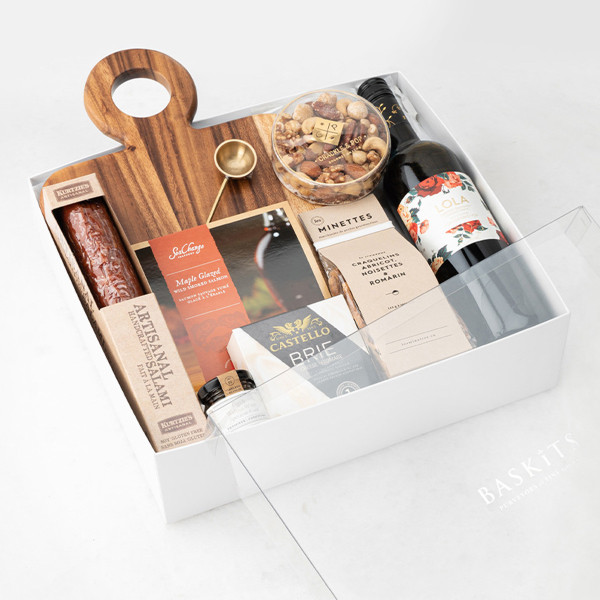 With their brand new, empty kitchen, why not give them the gift of elevated snacks? Our Not Too Sweet gift boxes - with red or white wine options - are perfect for those charcuterie lovers and those with a taste for the finer things. The Not Too Sweet gift box makes the perfect gift for realtor clients. *Delivery within Ontario only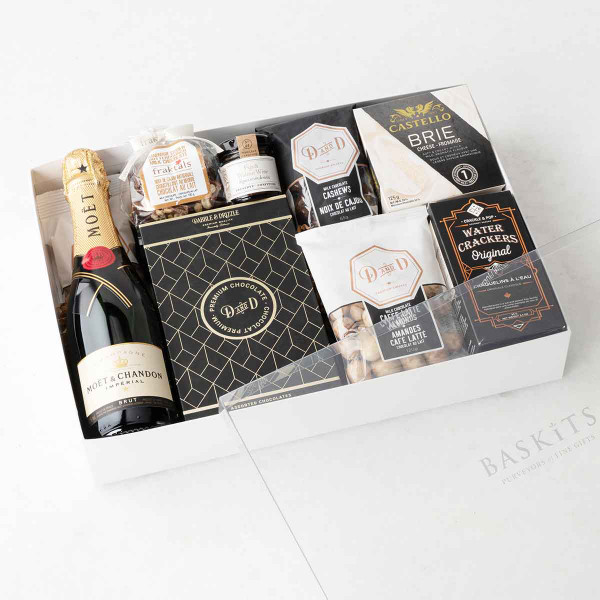 Celebrate closing on a home with our Celebration with Champagne gift box! This sleek handcrafted giftbox includes an elegant arrangement of champagne, brie cheese, crackers, truffles and more. Send your best wishes with this wonderful gift sure to deliver happiness and joy! *Delivery within Ontario only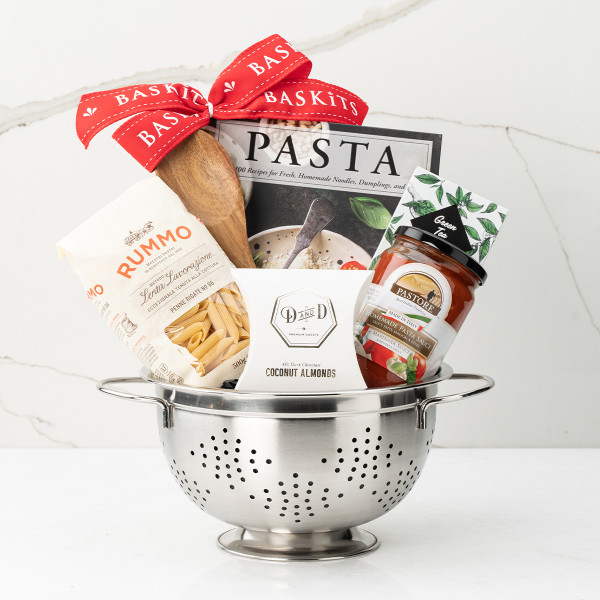 And finally, provide them with their first home-cooked meal. An activity and meal, all in one gift basket. Our Pasta Night gift brings a taste of Italy to their kitchen table! Spruce up their recipe knowledge with an Italian cookbook, and then put that knowledge to work with gourmet penne and pasta sauce. Complete with tongs, a stainless steel colander and some extra sweet snacks, this gift is bellissimo!
Our Eastwood gift basket makes a great gift ideal for house closing and realtor clients.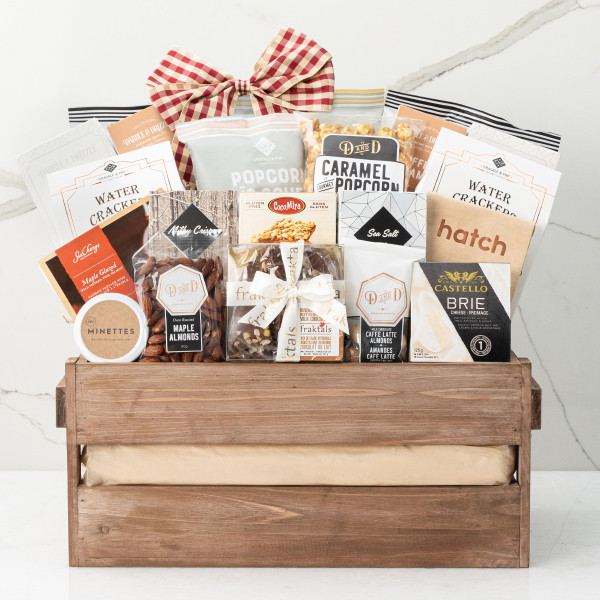 This gorgeous handmade wooden crate is filled with an abundance of indulgent and delectable treats. With exclusive products like café latte almonds, chocolate truffles, delicious sweet and salty popcorn, crackers, gourmet cheese and more, there is something to satisfy every craving.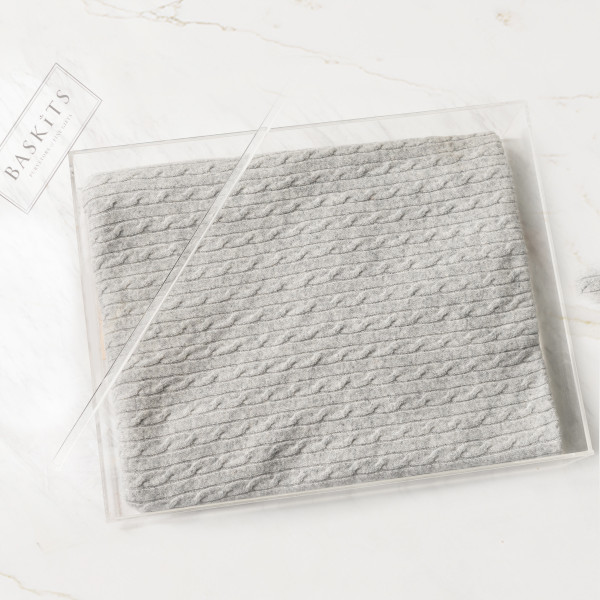 Cashmere Adult Blanket is a luxury realtor gift to welcome your clients home! Sourced directly from Mongolia, this 100% cashmere ultra soft grey adult-sized blanket is perfect to wrap themselves for that cozy feel. The blanket boasts a beautiful cable knit design and is an unforgettable realtor gift for that special client.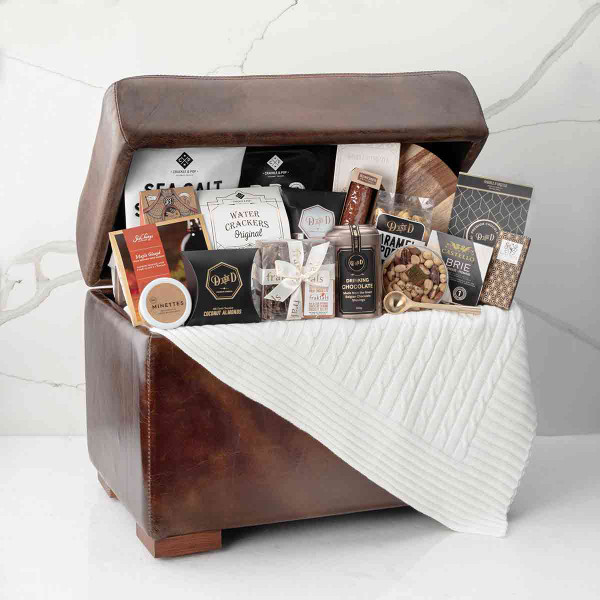 Our most luxurious realtor gift basket! Rosedale is a sure show-stopper that will blow anyone away. Arranged in a gorgeous storage ottoman and brimming with fabulous items for the home and hand selected premium treats. Impressive home items include our exclusive Empress & Co. Acadia wood cutting board, luxuriously soft 100% cotton white cable knit blanket, and our Empress & Co. brass spoon.
Getting them to say yes isn't the simplest task, but once they do, your job still isn't done! What we've done is simplified your job. With us, you simply have to sit back, and wait to receive their raving review.
Moving is hard work, but gifting doesn't have to be. With a new key, and a new place, we've got the perfect Baskit for their new space. Shop our Housewarming and Realtor Gifts on Baskits.com