Share the happiness of a new bundle of joy with a thoughtful newborn baby gift. Our whimsical baby gift baskets are sure to bring smiles to proud parents. Whether looking for personalized baby boy gift baskets, baby girl gifts, or a gift basket for the new parents, we have something for everyone! Congratulate the new parents with an adorable newborn baby gift basket they're sure to love!
Send your congratulations and share in the joy with perfectly handcrafted baby gift baskets that will surprise and delight new or expecting parents!
That being said, shopping for infants can be quite the challenge! With so many options, price ranges, and wee-bittie growing beings the task isn't always simple. But at Baskits, we make it easy to do your baby gift shopping! We've put together our Top 5 Best Selling Baby Gifts Baskets to make it easy for you to shop for baby and new parents will love!
Congratulations! Your loved ones are expecting a baby. What better way to commemorate the couple's first pregnancy, which is a momentous occasion, than by giving them a great baby gift for new parents?
With a suitable gift, you have the exceptional chance to help and celebrate the new baby's arrival at the same time. We're confident that the newcomers in your life would appreciate your help with areas they might have overlooked while juggling all of their new obligations.
Little Lady: A beautiful gift for celebrating the arrival of a precious little lady.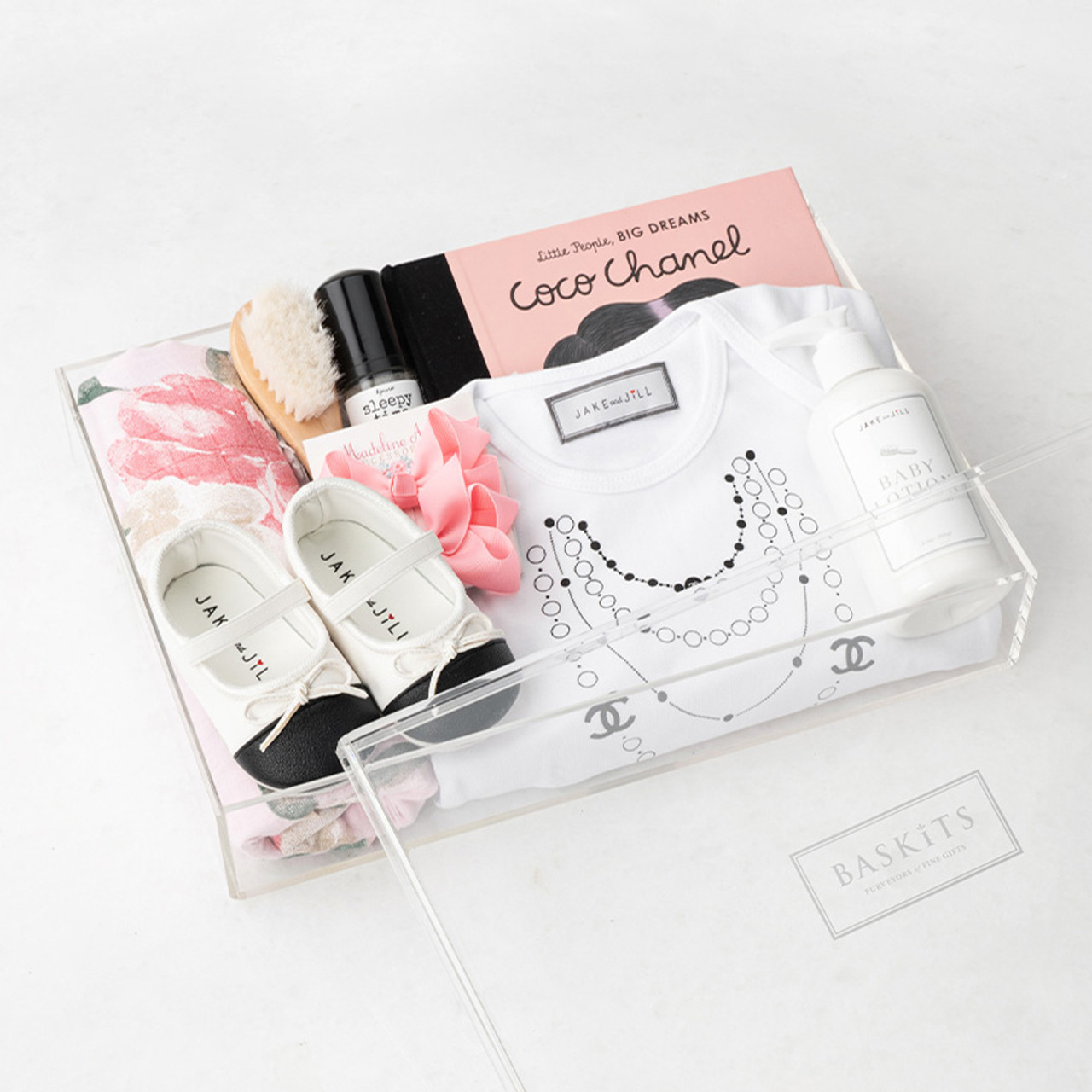 This adorable giftbox features the cutest couture inspired onesie alongside a floral print cotton muslin swaddle that is gentle on skin and breathable, yet completely cozy for babies. Includes the K Pure Foaming Baby Wash that is handmade and cruelty free.
Cool Dude: Send a big congratulations to welcome the newest and coolest little dude!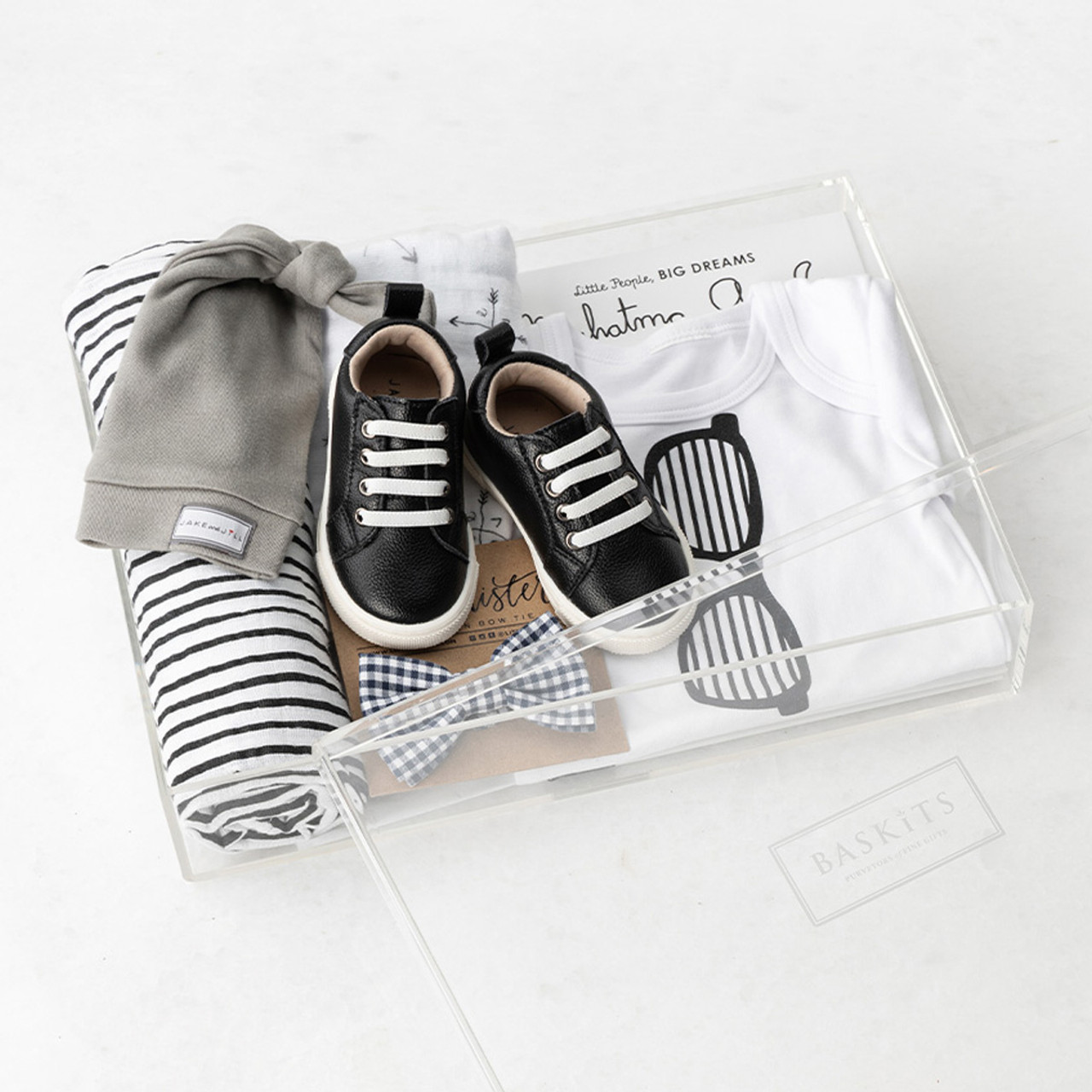 The gift includes a sporty high top sneaker, our exclusive Jake and Jill Beanie, sunglasses onesie and a stylish gingham bow tie to round it off.
Baby Bear: The sweetest and most adorable giftbox to welcome the little one.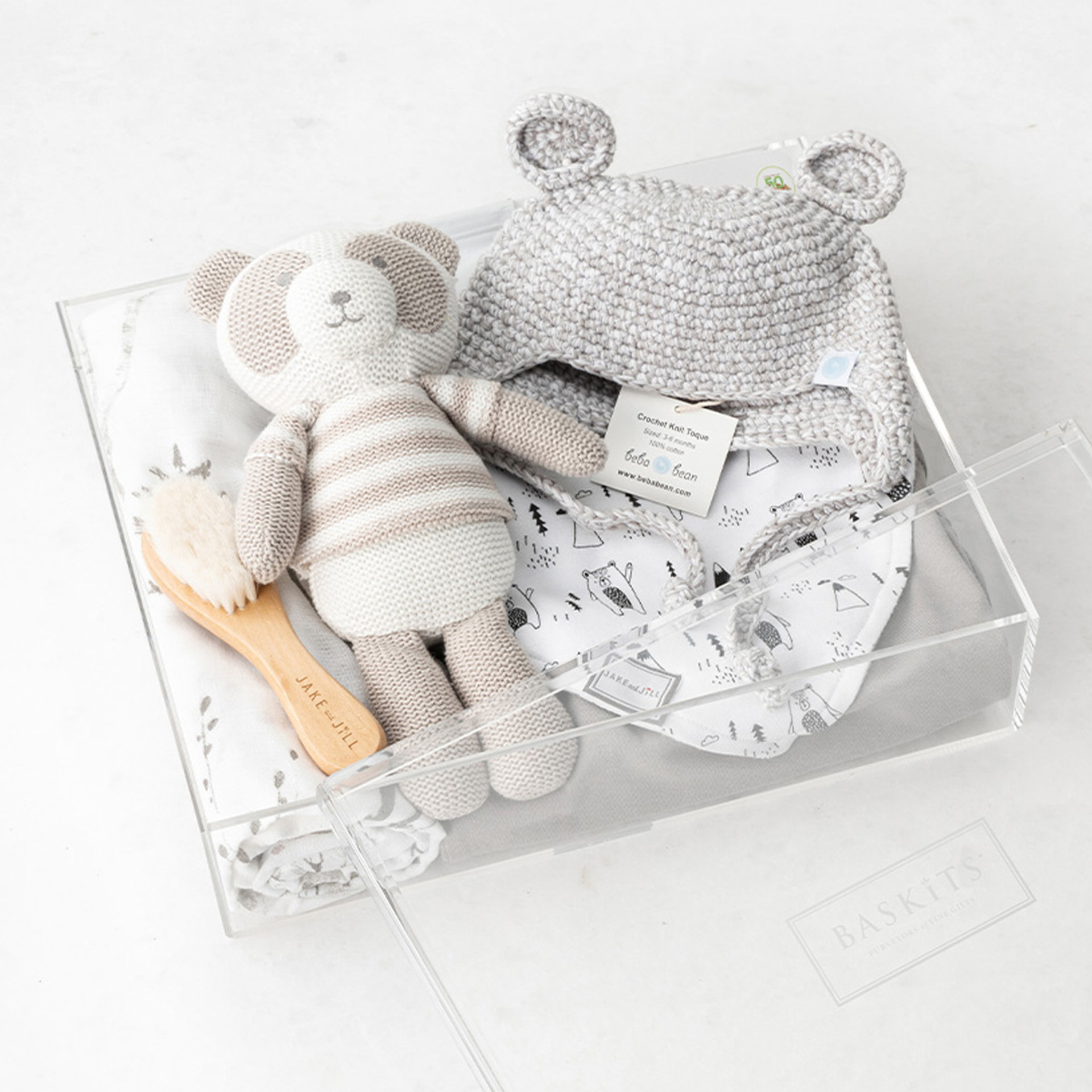 This baby bear inspired giftbox comes with premium products you can be excited to gift.The perfect gift for the newest little cub in town!
My Little Bunny: Send big welcome wishes on the arrival of a new baby girl with a gift as cute as her!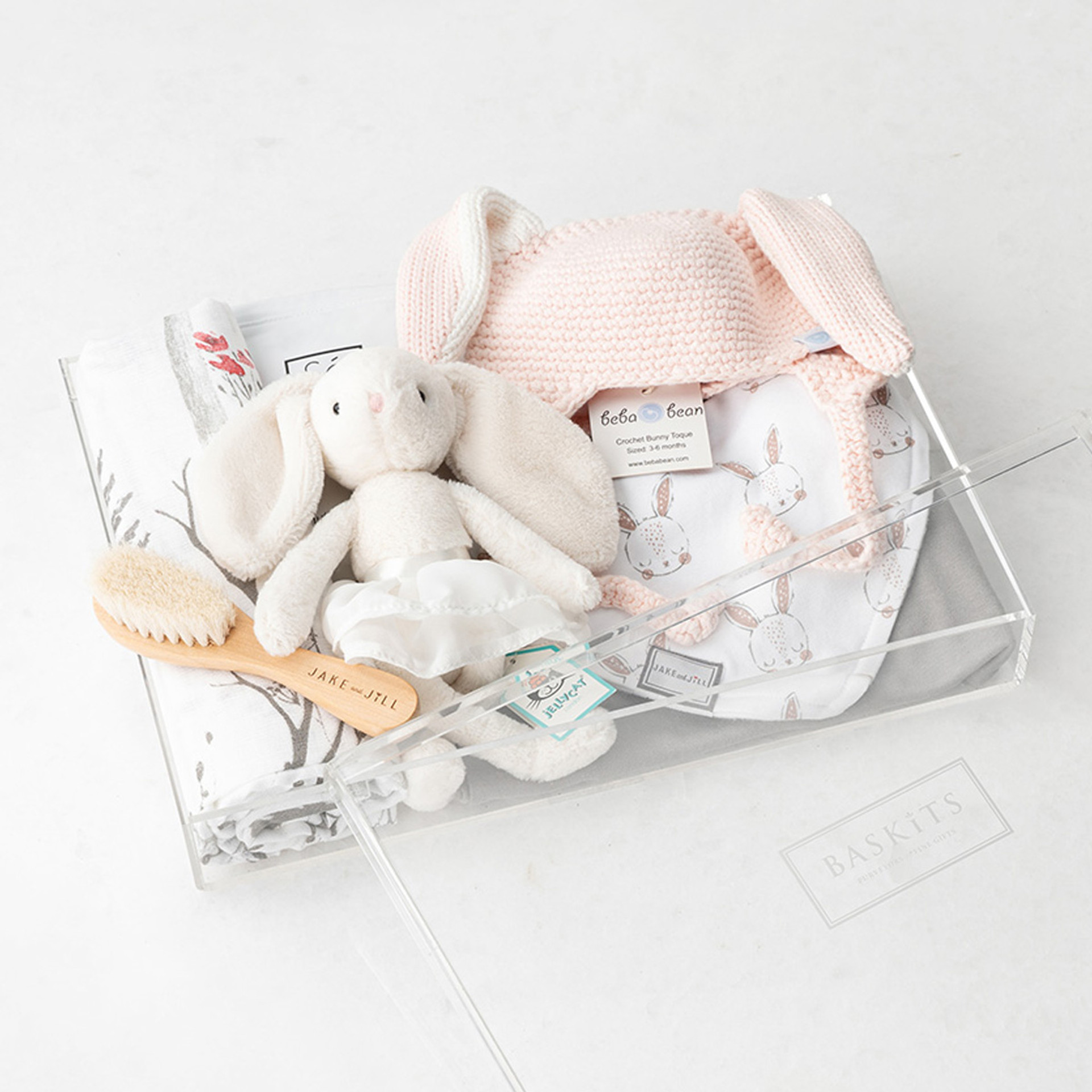 With an adorable bunny ear hat from Beba Bean, a grey cotton onesie, the cutest bunny bib and much more, the little one will be showered with the very best.
Baby Luxe: Our most exquisite gift for welcoming home baby.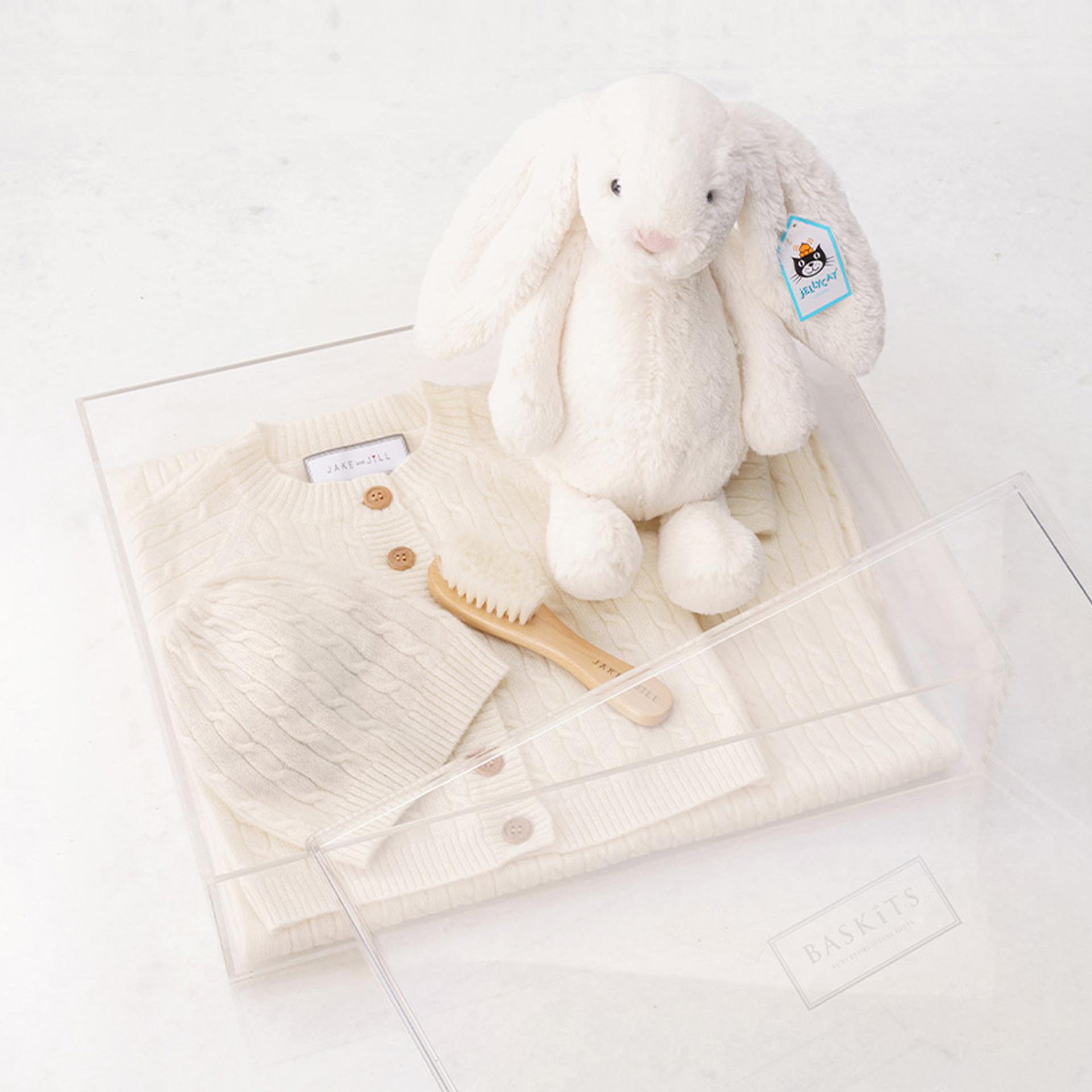 Showcasing a 100% cashmere cable knit blanket, cardigan and hat set, the little one will be bundled in the softest luxury from head to tiny toes. A luxurious baby gift box to spoil the little one!
We carry a wide variety of brands and collections. Everything we make is handcrafted with pride in Toronto, Canada, and backed by our gift guarantee. Delivery is available throughout the U.S. and Canada and we also have fully-stocked store locations in Toronto where you can pick up the products in person. We make it easy to deliver Baby gifts to Toronto, Baby gift baskets to Vancouver, Baby gift baskets to Montreal, and Baby gifts Canada!
Shop Baskits.com for the perfect baby gift baskets and baby gift boxes.
Baby Gifts Canada | Baby Gift Baskets Toronto | Baby Gift Baskets Canada | Baby Gift Baskets Vancouver | Baby Gift Baskets Montreal | Baby Gifts Vancouver | Baby Gift Basket Toronto