Finding gifts for someone with dietary restrictions can be challenging. However, there are plenty of thoughtful and delicious options available for people with different dietary needs. Learn some great gift ideas for people with dietary restrictions with our special dietary gift guide!
A gluten free diet consists of excluding foods that contain gluten such as wheat, barley, triticale, and rye. Common foods that include gluten are bread, baked goods, cereals, etc. For those with a celiac disease or allergy, we have gifts that suit gluten sensitivities and other dietary needs. Bursting with the best quality sweets and savories, our gluten-free gift baskets offer a great selection of quality treats you won't find anywhere else! If you are looking to treat someone special with delicious great tasting gluten-free products, you've come to the right place!
Meet our Goodbye Gluten gift box!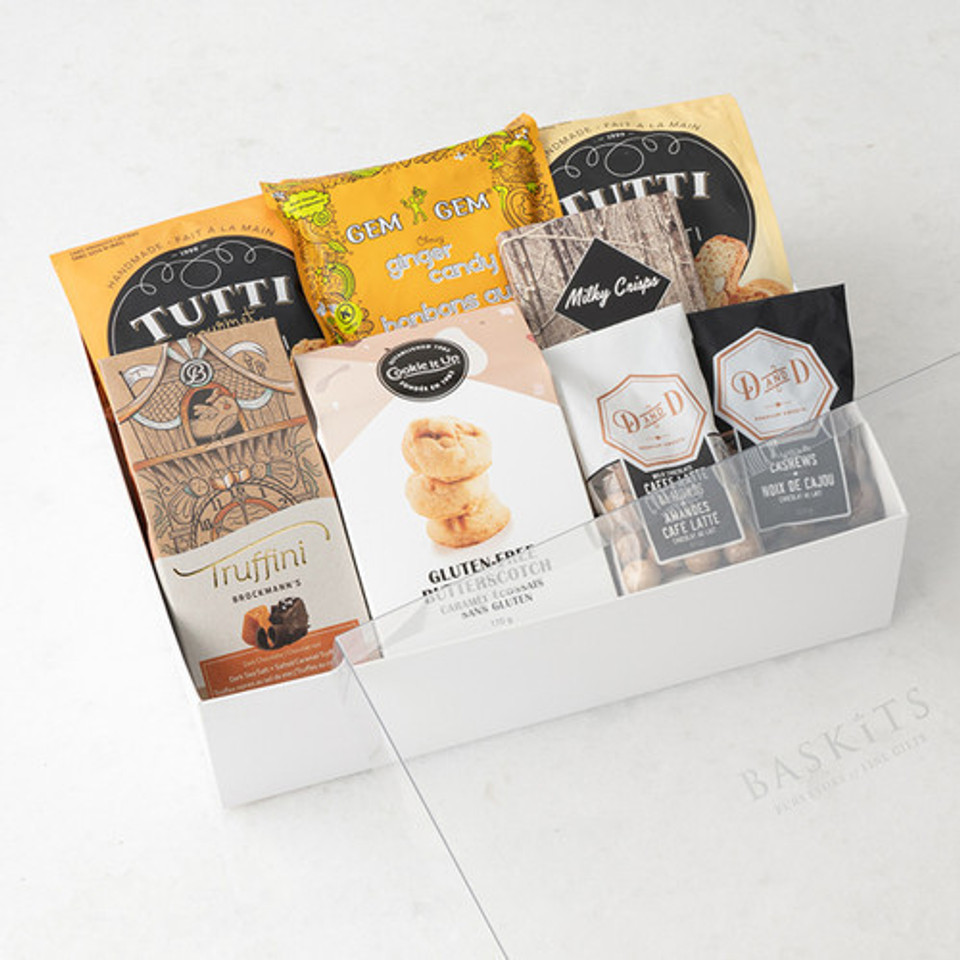 Certified gluten-free and oh, so delicious! This giftbox is filled with fantastic gourmet goodies perfect for those who prefer or are restricted to a gluten-free diet. This gift is overflowing with treats that have all the "yummy" without the worry. Many of the wonderful treats are not only great tasting but gluten free!
A Vegan lifestyle focuses on plant based foods and avoids eating foods that come from animals, including dairy and eggs. Our vegan-friendly gift baskets are an excellent gifting choice for vegans. They contain only the highest quality products without sacrificing on taste. All our gourmet vegan gift baskets have been hand picked and offer a great selection of delicious treats that anyone will enjoy. Shop the best selection of vegan gift baskets.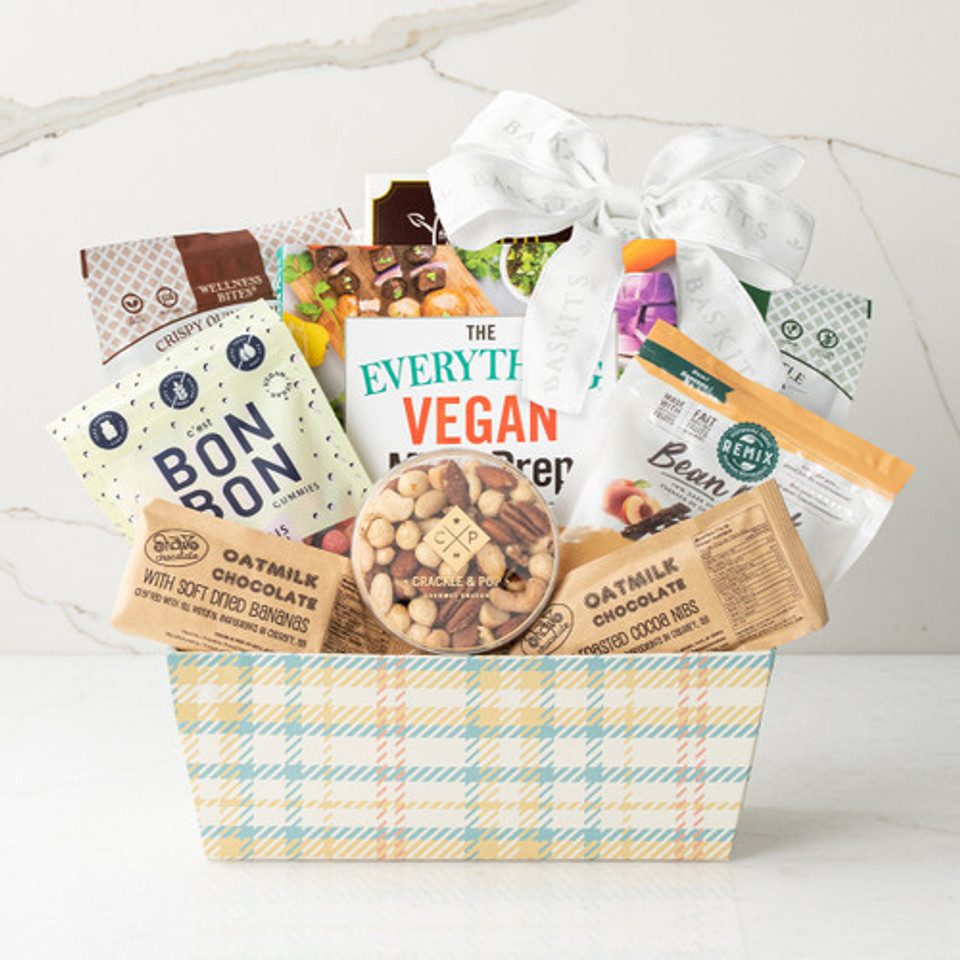 Our Vegan gift basket is beautifully arranged to include 100% vegan options from environmentally conscious Canadian companies that we love! From ShawZ Oat Milk Chocolate Bars to our signature Crackle & Pop Sea Salt Kettle Chips, this gift features not only vegan options, but gluten-free options as well. Perfect for those maintaining a preferred or restricted vegan diet.
When gifting for someone who has a nut-free allergy, you want to ensure everything in the gift is certified safe and the treats are made in a nut free facility. Whether you are looking to buy a gift for a nut-allergic colleague, family or friend, we have curated great nut-free gift basket ideas they are sure to love.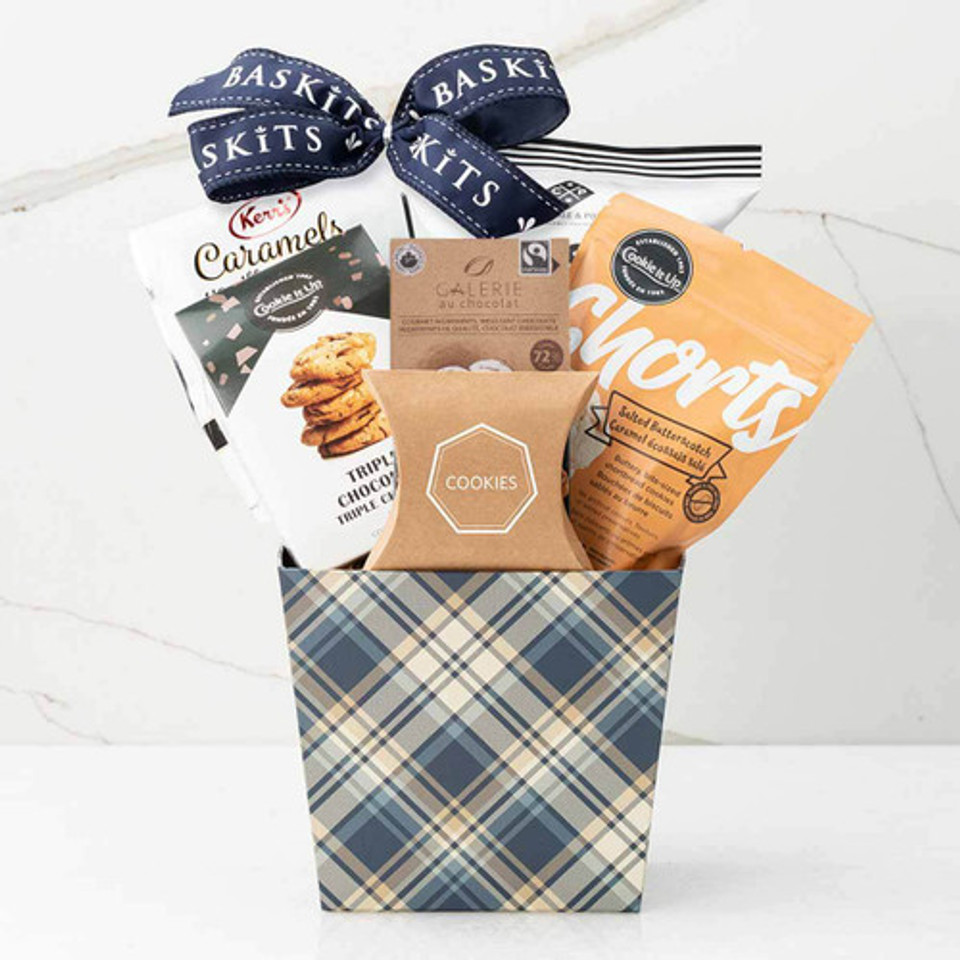 Delicious and nut-free gift baskets that include a variety of sweets and treats. All our nut-free gifts baskets are made in a peanut-free and tree nut free facility so you can safely send to anyone who is allergic to nuts. Elegantly wrapped and perfect for any occasion, shop our collection of the best nut-free gift baskets!
Baskits has a wonderful selection of kosher gift baskets. The kosher laws specify which items are acceptable for those who are Jewish to eat. This covers the types of animals ingested, the methods used to prepare the food, and even the manner in which it is served.
We offer delicious gourmet Kosher Gift Baskets for every occasion. We've curated the most delicious 100% certified kosher gifts so you can send the very best gifts without sacrificing taste or quality. These gift baskets are stocked with many gourmet treats that will delight everyone on your list.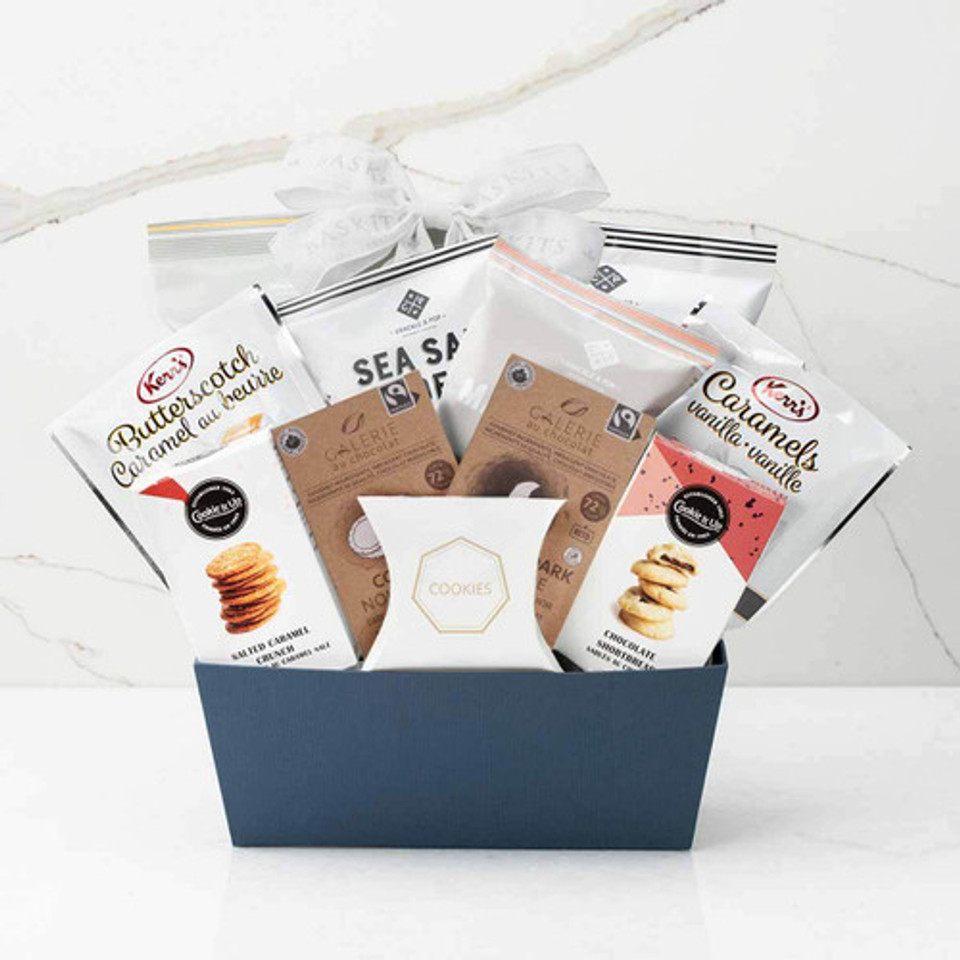 Our 100% certified Kosher gift baskets are perfect for any occasion or wanting to make friends, colleagues, and family feel special. Items included are Café Latte almonds, chocolate shortbread cookies, Sea Salt Kettle Chips, Truffles and more. *Available in 4 sizes
Our special dietary gift baskets features wonderful flavours and items that can be enjoyed by a group or a family. Filled with an assortment of mouth-watering treats, these wonderfully arranged gift baskets come in a variety of sizes and presentations and are suitable for a specific dietary restriction. From Vegan gifts, gluten free gifts, to nut free gifts, we have curated a line of gifts everyone is sure to enjoy.