At Baskits, there is a gift for everyone and that's why we come out with a new collection every year. When words alone don't say enough, a gift basket adds so much more impact to your message of thanks. There are many ways to create a special birthday without needing to throw an extravagant birthday. Surprise and delight the recipient with a beautiful gift from the heart.
Create a special birthday by designing your own birthday gift that is elegantly wrapped and delivered worry free across Canada and the US. Birthdays are a special occasion and call for unique and one of a kind gifts.

Send a gift for a friend or family member that will bring joy and excitement as they discover all the wonderful contents in their birthday gift basket or gift box. Design a beautiful and unique birthday gift they will love!
Make someone's birthday even more special with one of our thoughtful birthday gift baskets!
We made sure there was something special for everyone (from your partner to your closest friend) as we compiled our special list of the finest birthday gift baskets and birthday gift boxes. View our Ready to Ship birthday gift baskets and birthday gift boxes if you are in need of a birthday gift with a quick turnaround time. Our birthday gift baskets are filled with gourmet treats, candles, and more!
Happy Birthday S: The birthday gift for all ages.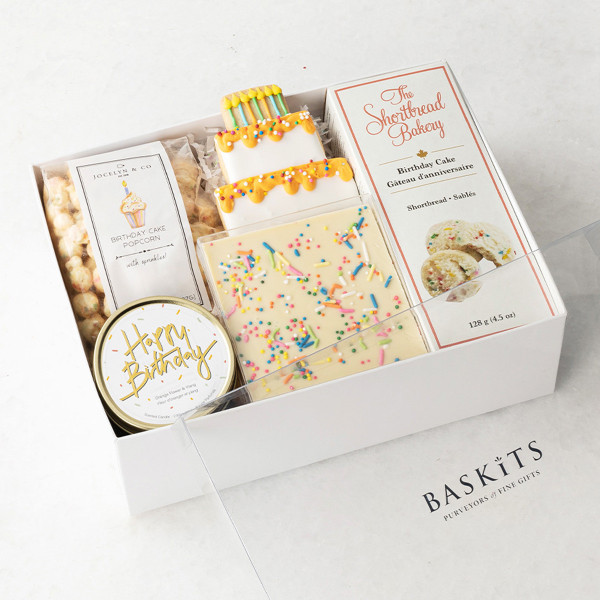 Create a special birthday and send your birthday wishes with this birthday giftbox that includes birthday themed treats to enjoy. They will be overjoyed for their birthday!
Cheers!: The perfect way to celebrate any birthday!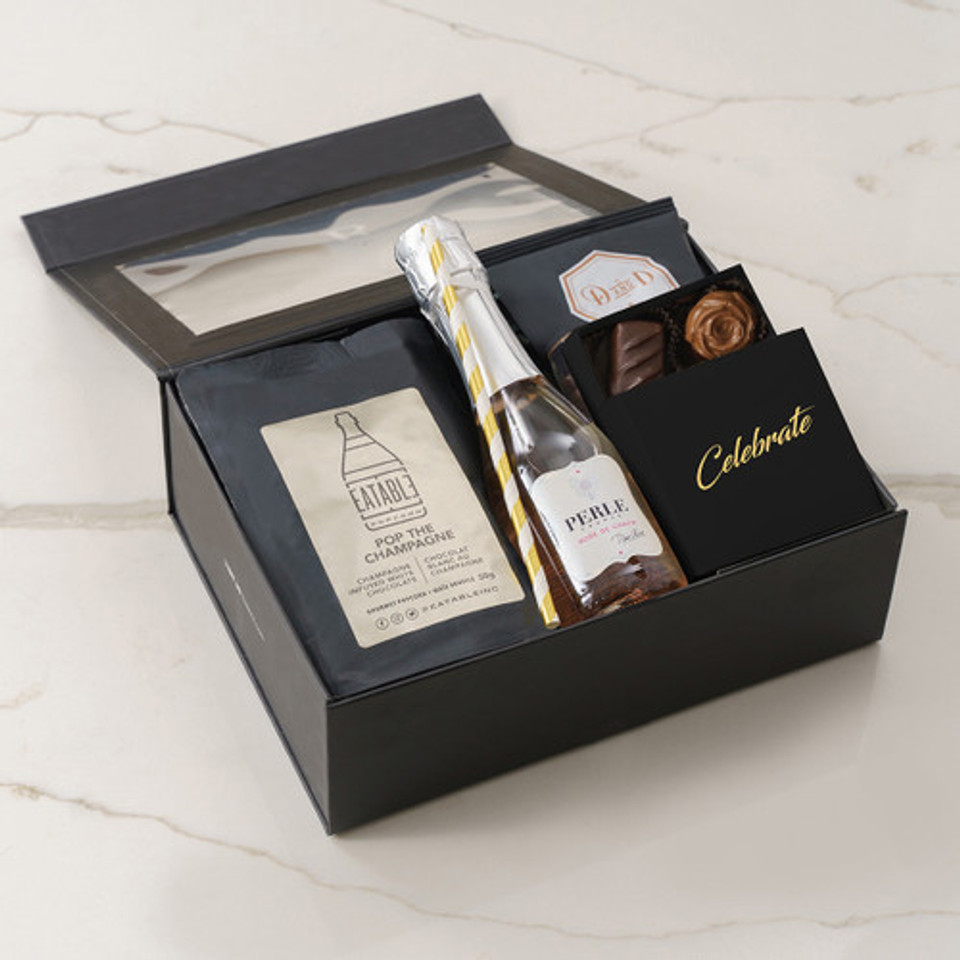 Cheers! includes Canadian crafted Pop the Champagne popcorn from Eatable, signature artisan Dabble & Drizzle chocolates, Friexenet Brut Cava for toasting and more! Also available in non-alcoholic version.
Celebration with Champagne: Let's get poppin'!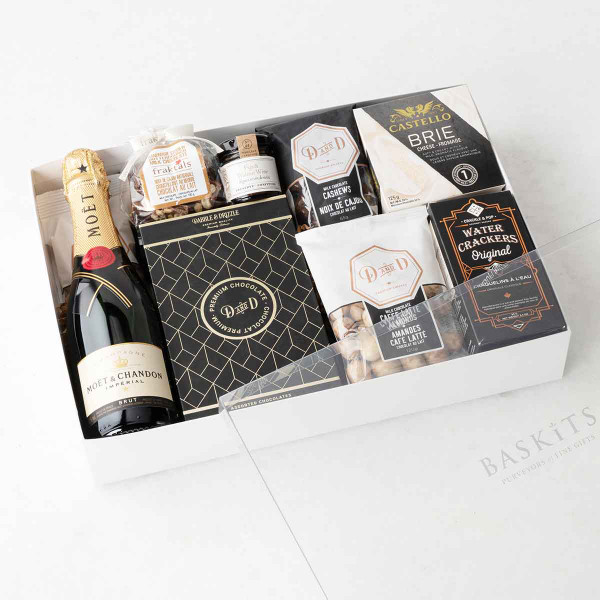 Celebrate milestone birthdays with the Celebration with Champagne Gift Box. This sleek handcrafted giftbox includes an elegant arrangement of champagne, brie cheese, crackers, truffles and more. Send your best wishes with this wonderful gift sure to delivery happiness and joy!
*Delivery available within Ontario only.
Heavenly Bites S: This beautiful gift features over a dozen of the most decadent assortment of milk and dark chocolates.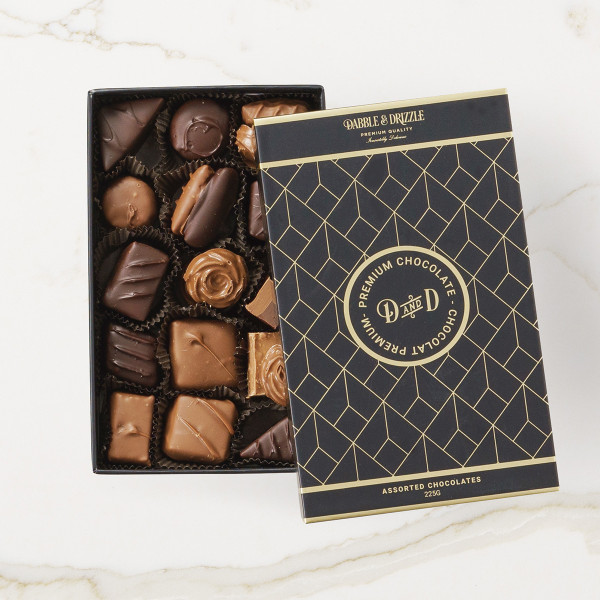 This affordable birthday gift is sure to satisfy all chocolate cravings.
Sweet Treats Tray: Looking to create a special birthday for kids? This tray is packed full of classic candies and chocolates that is sure to delight!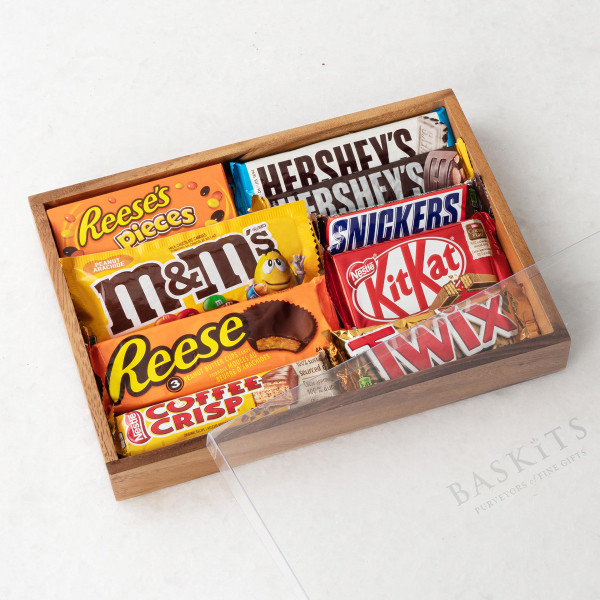 Packaged in a reusable wooden tray, we've carefully selected all the favourites, including Reese's Pieces, Hershey's Cookies and Cream, and Snickers Chocolate and more!
After viewing all of these special birthday gift suggestions, you might start wishing it was *your* birthday. Shop at Baskits.com to create a special birthday with a special gift.