What is Corporate Gifting and why is it important?
Corporate gifting is the practice of sending gifts to create a connection with employees and clients, whether it is to reward your employees accomplishments, birthdays, holiday, or hosting an event to impress clients. Corporate gifts do not need to be costly or extravagant. Sending a gift basket is an example of how easy it is to come up with corporate gift ideas.
Thousands of companies rely on Baskits to enhance their business development efforts and strengthen their connections. Baskits understands that these organizations trust us with their hard-earned reputations - we take that responsibility extremely seriously and it impacts everything we do. Corporate gifting is so important because it provides an emotional and positive connection that strengthens the recipient's engagement with the company.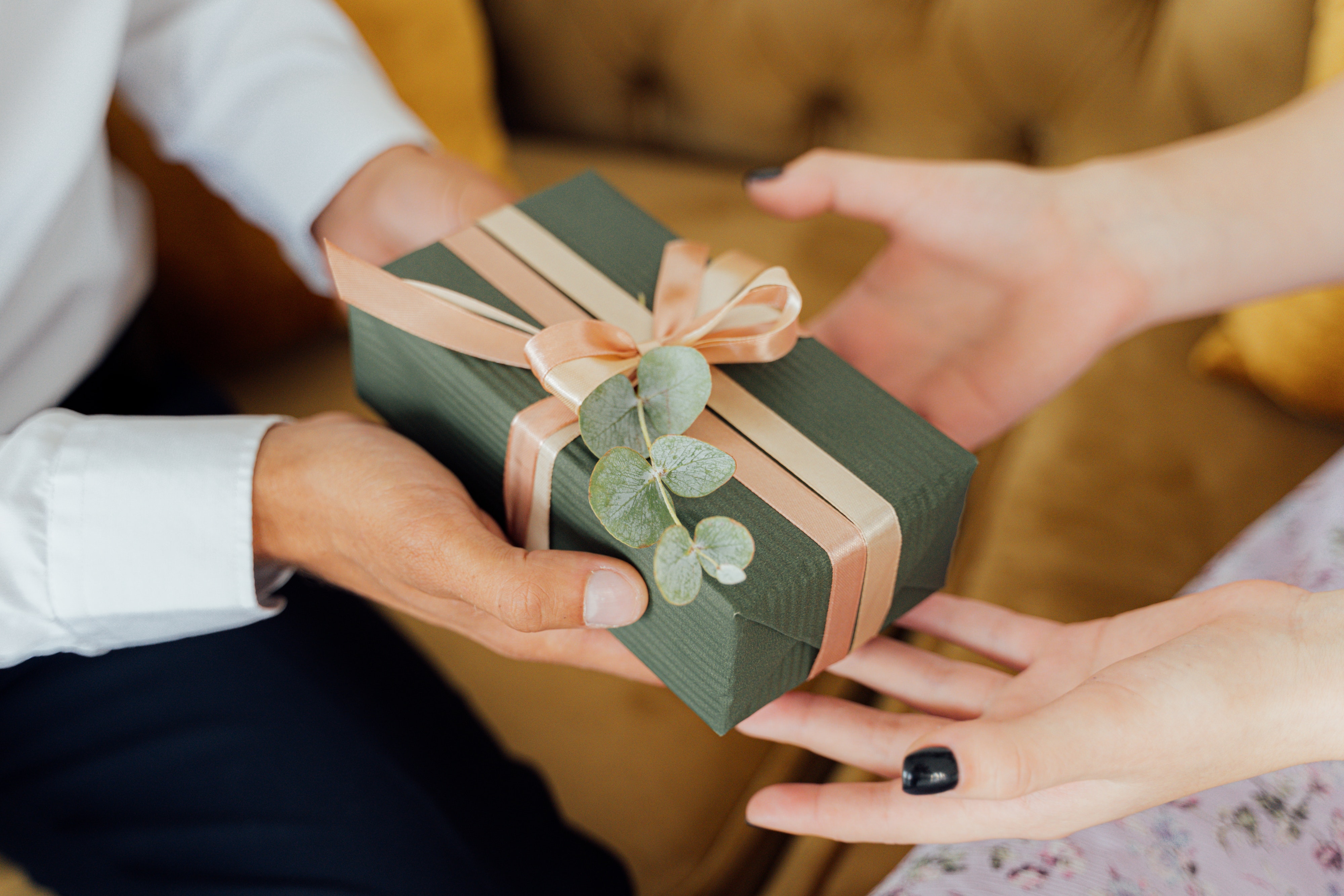 Benefits of sending Corporate Gifts
Send unique gifts to clients to say thank you or to build long-lasting relationships. Gift baskets have long been a popular option for corporate gifts. Baskits makes it easy to send client gifts and you can rest assured knowing you sent a meaningful gift that will have your clients feeling valued. "Over 80% of employers said gifts have improved relationships with employees and/or clients," says Pamela N. Danziger, Senior Contributor at Forbes Magazine. The pandemic has transformed corporate gifting where it "drove home the most meaningful effect of a corporate gift: to make the recipient feel valued" she continues. With corporate gifting, you can establish trust via sincere and important gift baskets that enhance your connections with your employees/clients.
Giving a gift is so much more than just a transaction; it's all about emotional connection. So whether you are looking to create a gift program or just finding a gift for an event, you want it to be special, meaningful and accurate. That's where we come in.
Tell us about your company goals and values, what is the occasion, who is the recipient and what are you aiming to achieve, and we can help you create the perfect experience for your budget. Our team of experts holds a wealth of knowledge and creativity and will always make sure to bring you the latest trends so your gifts will be innovative and fresh.
How Much Budget Should I have for corporate gifting?
You might not be able to provide a gift to everyone, depending on the size of your employees and clientele. In contrast to choosing which employees to offer presents to, you may use a little more diligence when choosing which clients to do so. You can choose your own budget and our expert sales team can create a beautiful gift that best suits your needs. Whether you are looking for a $100 gift with tax and shipping or a $50 gift, we can provide the best gifting experience for your corporate gifts.
How to start a Corporate Gifting Program
The top customer success teams put a priority on establishing trusting bonds with their customers in order to forge real-world partnerships. We also offer luxury corporate gifting - to give businesses the chance to choose a selection of goods that are specific to the recipient's interests. We keep up to date on gifting trends to ensure you are gifting the absolute best to your corporate clients this year. Get started today with Baskits Inc on learning more about Corporate Gifting
We keep up to date with the newest trends and here is how you can elevate your corporate gifting for 2023:
As an added feature, we offer hosted digital corporate gifting platforms for our clients. These private web pages can be customized with your corporate logo, customized designs and messaging. Our design portals are perfect for large and ongoing gift programs where ordering is decentralized. CUSTOM WEB PAGE INQUIRY
Add your logo to ribbon, cards and more for a bespoke and personal touch to all of your gifting! https://baskits.com/semi-custom/ Reach out to our sales team today to get started.
Our Semi-custom options are a great way to add customization with shorter lead times. Choose any gift from our Ready to Ship Collection and brand it with options like customized logo ribbon, logo belly band, logo branded cards or other additional items that perfectly reflect your brand. Our corporate gift specialists can advise you on the best gift options and help manage the entire process making it easy and stress-free.
Lead Time for Semi-Custom Gifts
Logo Ribbon
1-2+ weeks
The finishing touch to a beautiful gift!
Logo Cards
1 week | 25+ units
Make a lasting impression.
Logo Bands
2 weeks | 25+ units
Customized logo band that gets noticed.
Elevate your corporate gifting program and make a statement by choosing a fully customized gift that focuses on your brand. At Baskits, our mission is to provide you with the best gifting options while making it an easy and stress-free process. We are corporate gifting experts trusted by many companies across Canada and the US to create and deliver gifting options that strengthen and build your employee and client relationships.
Lead Time
Our fully custom design options are available for orders over $5,000 and requires 5+ weeks to complete. INQUIRE NOW
Check out a few fully custom designs we have created for top corporations!

Holiday Corporate Gifting
It's never to early to start planning your corporate holiday gifts! Tis the season to give thanks to your clients for their business through holiday corporate gifting. Our corporate gift specialists are here to advise you on the best holiday gift ideas and assist with every step of the process to make holoday corporate gifting easy.
This guide's presents Ready to ship gifts that can be bought in bulk or custom options, we've provided links to our corporate ordering form. Whether you're giving them a candle or a branded mug, some gifts can also be personalized with business colours, a logo, or a special touch that genuinely shows your gratitude for the entire year.
Our corporate gifting program specialists are here to make the process of ordering holiday corporate gifts smooth and easy! Whether you are looking for thoughtfully curated, ready to ship options or looking to customize gifts that reflect your brand, we've got the gift options that work for you. Get your holiday corporate gift shopping done all in one place!
Baskits makes it easy to send corporate holiday gift baskets and holiday gift boxes to clients all across Canada and USA. Wish your clients a happy holiday season with a gift basket or giftbox they are sure to love filled with the most premium treats.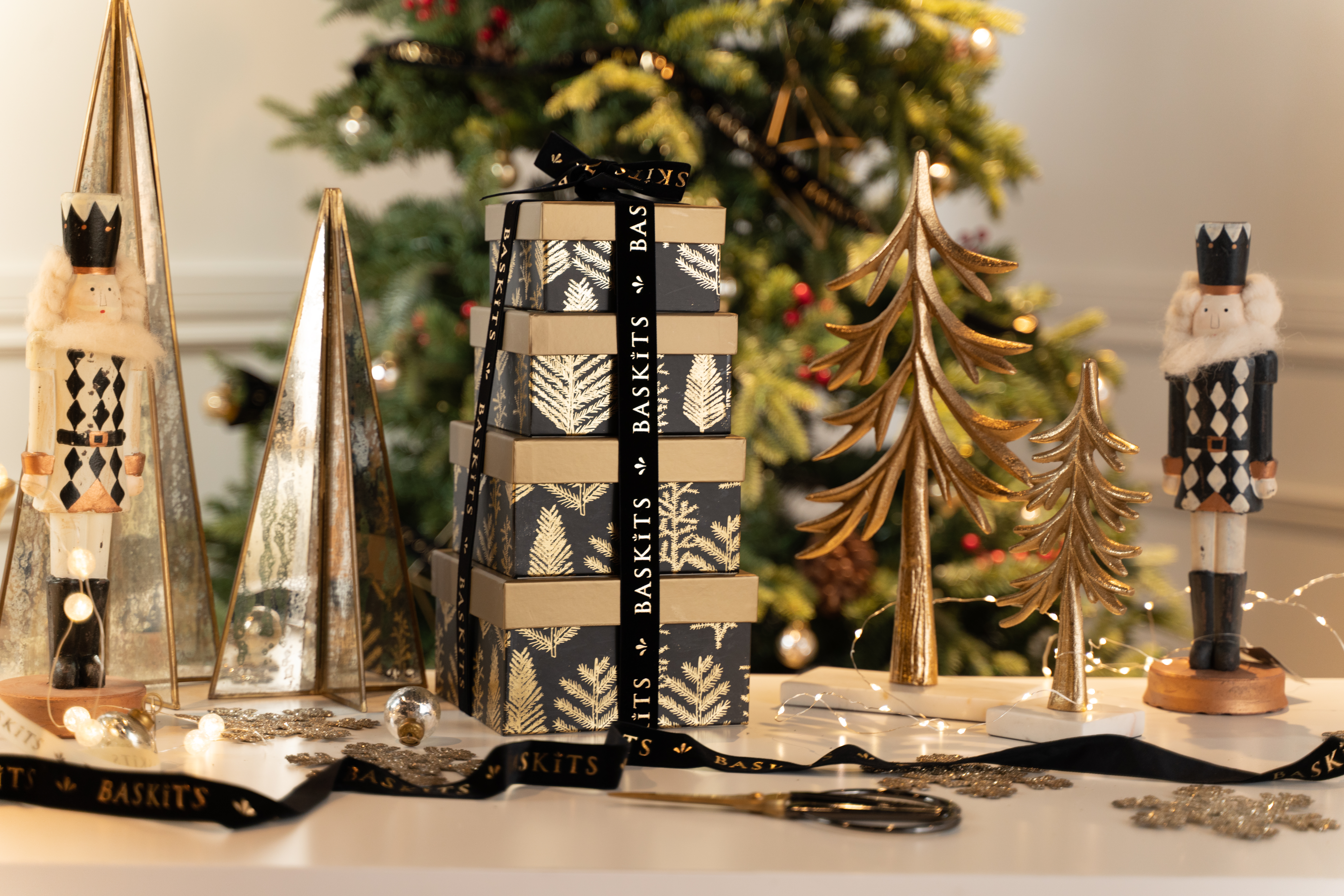 Popular Holiday Gifts
Sleigh & Noel: Our most festive holidays gift baskets, Sleigh & Noel come in beautiful wooden sleigh bases that are filled with the most delicious goodies. You can never go wrong with festive treats for the holiday season. Your corporate clients are sure to be pleased!
Holiday Corporate Gift Concierge
We offer holiday corporate gifting concierge services to make it quick and easy to send impactful gifts that will surprise and delight your employees, prospects and clients. Our corporate gift specialists can advise you on the best gift ideas and assist with every step of the process. We are experts in large and complex orders for the holiday season. For gift-giving programs as small as 10 units to large orders of 100,000+ units, you can be confident we will manage the entire process seamlessly. With over 35 years of experience, our expertise in large order fulfillment and our commitment to exceptional hand curated gifts delivered with unparalleled customer service, trust our corporate gifts expert to deliver a memorable gifting experience for you and your clients, all across Canada and USA.
Employee Corporate Gifting
Employee Gifting is an important strategy for any company. Corporate gifting can help motivate and inspire your team and let them know you appreciate them. Your employees are your most valuable asset, so going the extra mile with a thoughtful and heartfelt corporate gift can go a long way. Send unique gifts to new employees to make them feel more welcome and it can help relax the first day on the job nerves!
According to gifting trends:
Most popular business gift-giving occasions are: 51% holiday, 34% customer appreciation, 27% employee recruiting, appreciation, or milestone.
Research has shown that "Twice as many employees found gift boxes or baskets memorable compared to a charitable donation or a gift card".
And adding personalization was the leading component of success in a gifting strategy.
Gift baskets and gift boxes have become increasingly popular and are a great way to recognize your employees. Providing gifts to employees is a terrific way to increase their engagement and morale within the company.

Popular Employee Gifting
Office stationary gift: Create an employee appreciation gift with items they can use in their (home) office such as stationary pens, notebooks, water bottles, and more! Brand these gifts with the company logo to add a personalized touch.
Office goodies: Including the finest gourmet treats in an employee appreciation gift is always a great option! They exemplify elegance and luxury. Gourmet food gift baskets are a wonderful way to thank coworkers, clients, and business associates. Healthy snacks and treats make wonderful and original gifts ideas
Employee recognition is an important part of any corporate structure and culture. Baskits has many options for providing impactful gifts to employees that reflect their daily efforts. Baskits recently took on a massive gifting initiative for UHN that sent thoughtful packages to their healthcare workers in honor of all that they do.
"We worked with the UNH team to create and send out 17,000 custom thank you boxes for their healthcare workers as a small token of thanks for the dedication and hardwork they provide every day. Our send out included a beautifully printed box with "thank you" written in different languages and the gift included a delicious box of cookies and branded fanny pack. Baskits was able to deliver all 17,000 units seamlessly and truly enjoyed being apart of such a wonderful initiative."
Our corporate gifting specialists are ready to work with you to find the perfect gifts that will be impactful and create a memorable gifting experience. With over 35 years of experience, our expertise in large order fulfillment and our commitment to exceptional hand curated gifts delivered with unparalleled customer service, trust our corporate gifts experts to deliver a memorable gifting experience for you and your clients!