Baskits is your go to service to purchase and send gift baskets to all of your loved ones. No matter what the occasion may be, whether they are celebrating a birthday, anniversary, holiday or other, treat them with a special surprise from Baskits for every celebration or occasion.
If you want a gift that really makes your loved one feel special, choose a quality personalized gift from our selection of customizable gifts. We offer customization on items like personalized bathrobes, embroidered blankets or bunnies. With many unique and memorable gift options available, it's easy to find something to suit anyone's taste.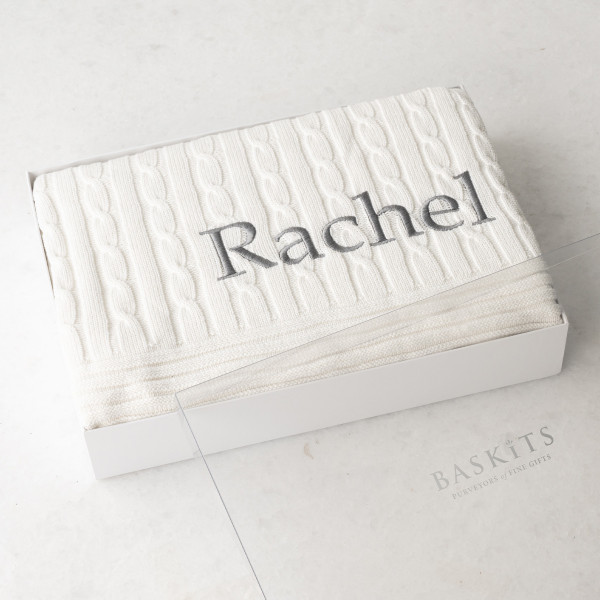 Our Empress & Co. Cotton Blanket is a stunning full size 100% cotton cable knit blanket that is soft, lightweight and breathable. The blanket keeps you warm and cozy and makes the perfect gift for your family and friends.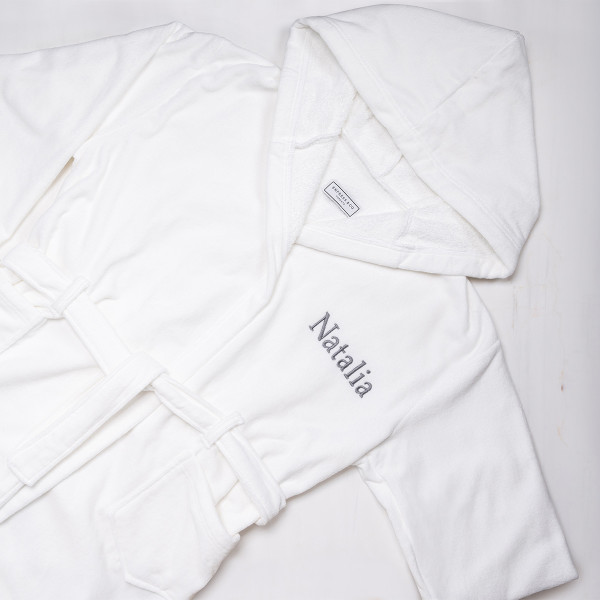 Get wrapped up in a personalized cozy hooded bathrobe, with 100% cotton terry inner lining and outer soft hydro cotton fabric – complete with a wraparound belt and pockets. Whether it's for a birthday, a holiday or just a necessity this special keepsake item will blow the them away. *Available in 4 sizes
Baskits has the perfect selection of gifts that are unique just like them. We hand-pick and create each gift basket, so it looks perfect every time. It's a great way to show that you care and that you're thinking of them, especially if you're unable to be there with them. Our themed gift boxes like Hot Stuff or Just For You make a great gift for anyone.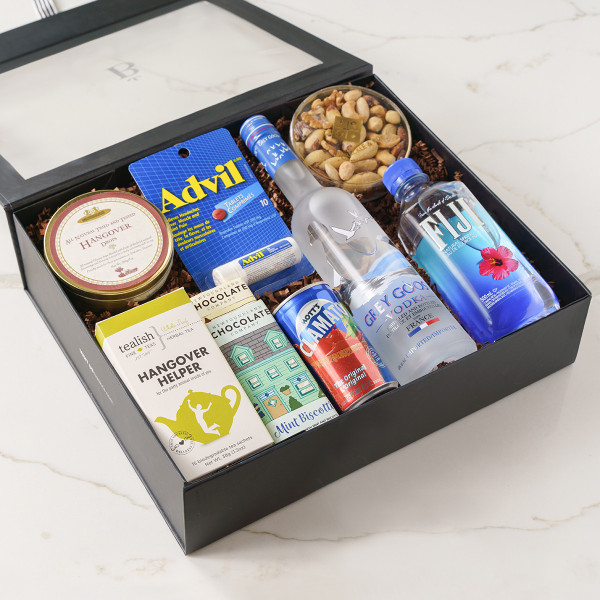 Give the partier in your life the gift of an easy recovery with Baskits Hangover Helper! Featuring Grey Goose Vodka, Fiji Water, Advil Tablets, Clamato Juice, Hangover Helper Tea and more, this is the essential gift for birthdays, weddings, bachelorettes or parties of any kind. *Delivery available within Ontario only.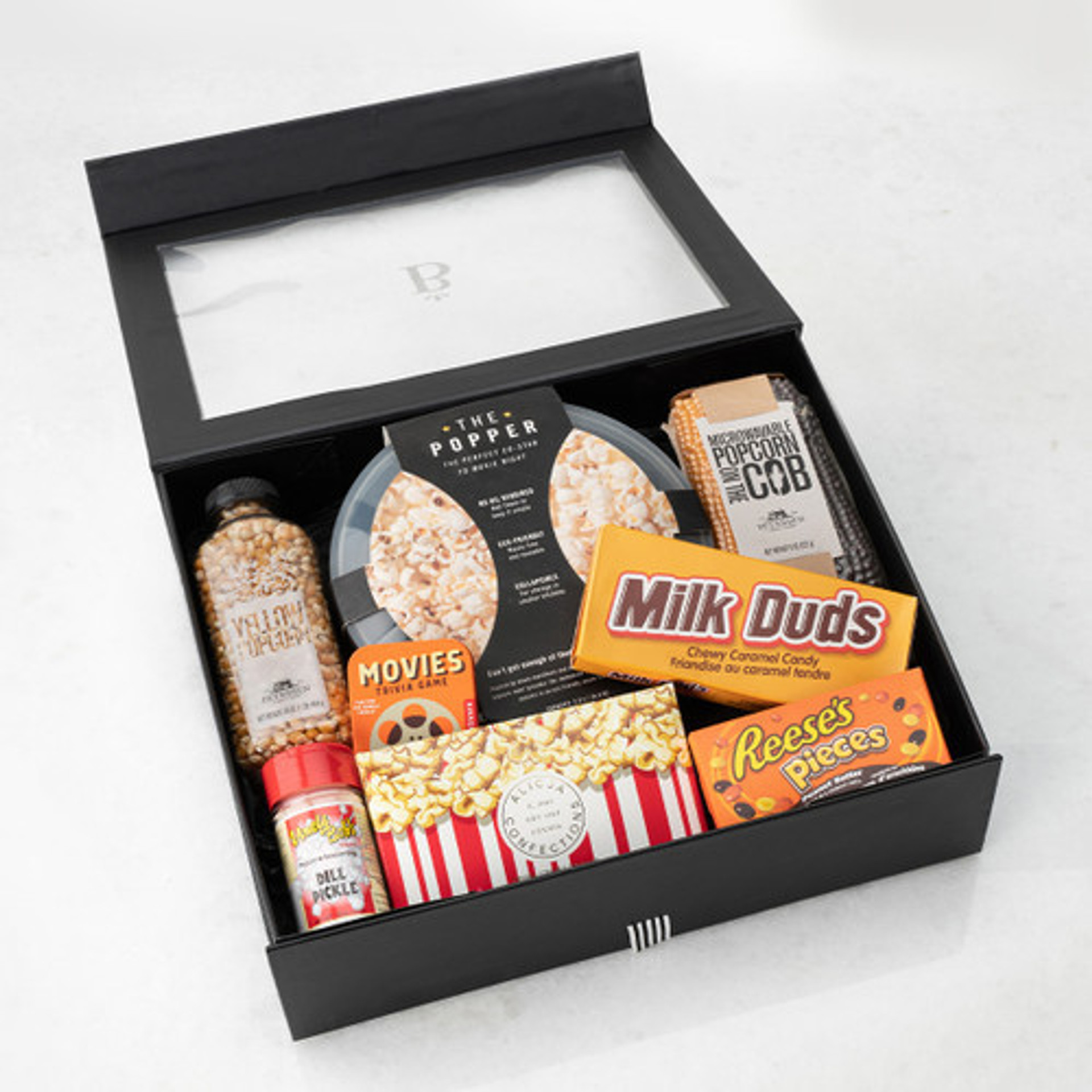 Jam packed with goodies for a night of family fun! Featuring all the movie essentials from microwaveable corn on the cob to Movie Night Trivia and lots of sweets, this gift is sure to leave lasting memories.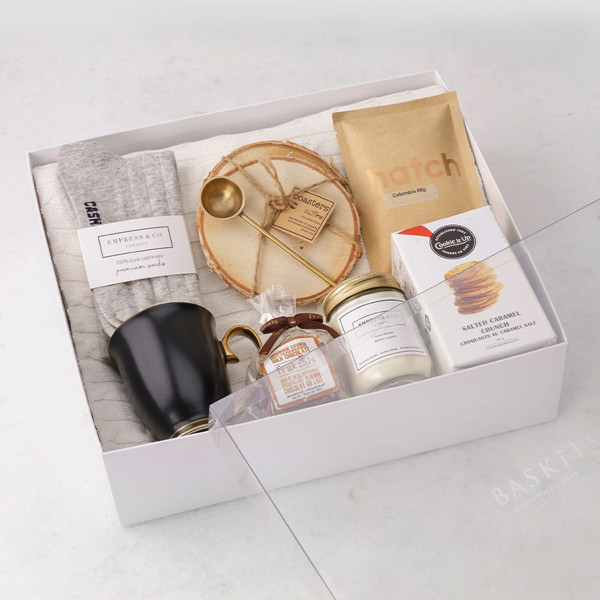 This gift box for them is filled with the most luxurious and relaxing products to make any stressful day fade away. Designed with 100% pure cashmere socks, Toronto's Hatch Coffee, a cream cable knit blanket to snuggle up in, and much more!
Looking for a unique wedding gift for them? Our Celebrate Love gift box features the most elegant Mr. & Mrs. keepsake mug set and brass spoon, a sleek authenic stovetop espresso coffee maker, Hatch Espresso Coffee, delicious chocolates and premium gourmet goodies. Send well wishes and joy for the newlyweds' with the Celebrate Love Gift Box. (Keepsake mug set is also available in Mr. & Mr. and Mrs. & Mrs.)
Discover our unique gift collection for them which feature personalized gifts, gourmet gifts, specialty wine gift box, delectable sweet treats, and more. Shopping for the special someone in your life has never been easier. Need a gender neutral gift basket delivered in Canada or the US?
Sending a gift basket has never been easier, and you can rest assured that your gift will be delivered on time and enjoyed once it arrives. Need a last-minute gift delivered in the GTA? We also offer fast same-day delivery within Toronto and the GTA!