Baskits has the perfect selection of gifts that are unique just like them. We hand-pick and create each gift basket, so it looks perfect every time. It's a great way to show that you care and that you're thinking of them, especially if you're unable to be there with them. Baskits offers a beautiful selection of gender-neutral gifts they will absolutely love. You are sure to find a gift basket that will perfectly match that special someone in your life. A collection of birthday gifts for them are ready for your choosing, as well as anniversary and holiday baskets too. All you need to do is customize the card and Baskits will take care of the rest
We have created a Gifting Guide for Them to make your shopping a lot easier for any occasion and celebration!
Happy Birthday - Send your birthday wishes to them with this birthday giftbox that includes birthday themed treats to enjoy!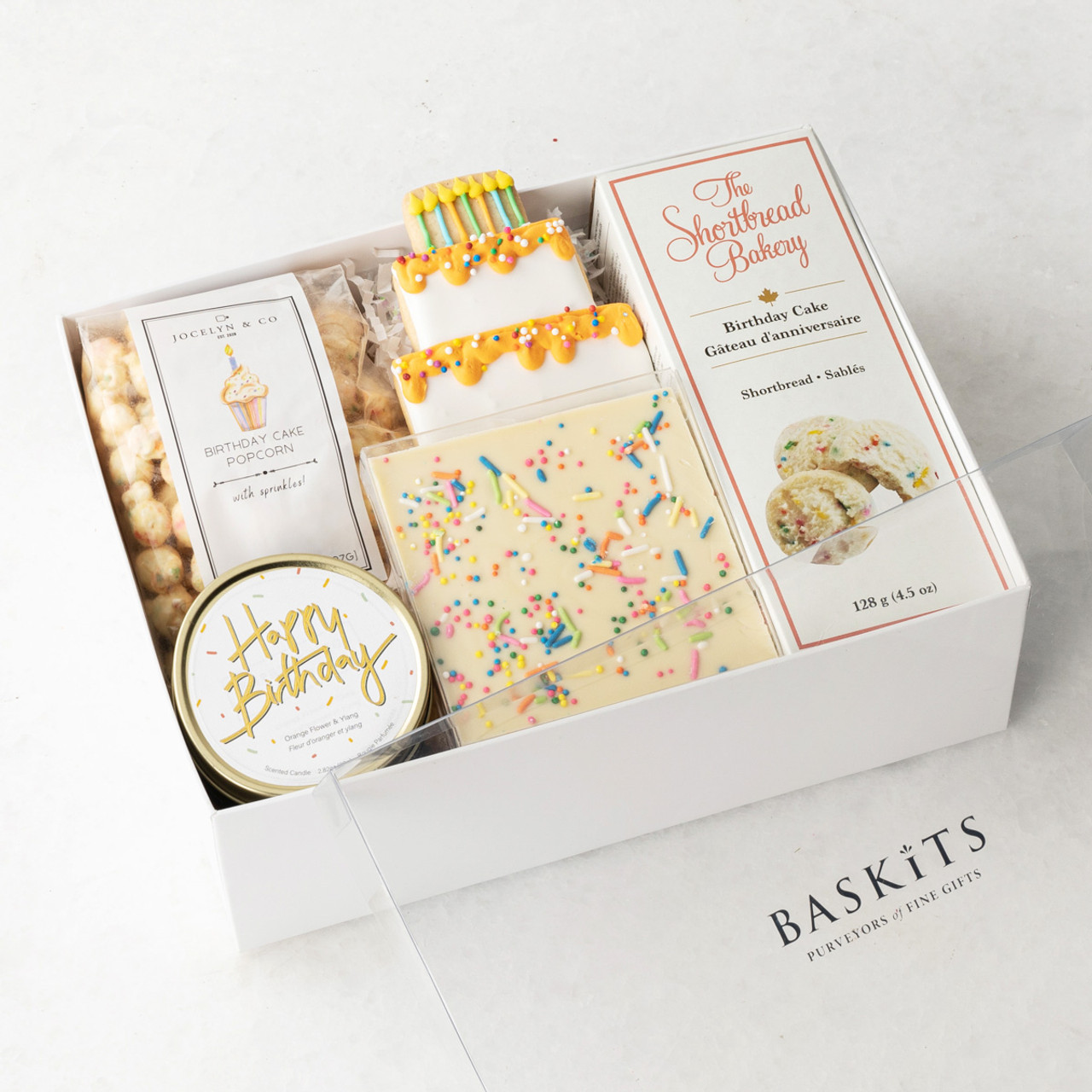 Cheers!- Cheers off to their birthday with this celebratory gift box! *Available in a non-alcoholic version
In today's society, we are coming to recognize how important it is to express gratitude for both the little and big things that contribute in making our lives better. When words alone don't say enough, a gift basket adds so much more impact to your message of thanks. We offer a beautiful selection of thank you gift baskets for them that they will absolutely love. Whether you are looking for a gift with cashmere socks, yummy snacks and treats or spa gifts, we've got you covered!
Just For You - A fantastic way to send your best wishes, thanks and more to them is to send our Just For You gift basket featuring, coffee, chocolates, and more!
Let's Do Brunch - Send your thanks with the gift of delicious breakfast! This gourmet gift for them features all the essentials for a sweet breakfast including coffee, pancake mix, a waffle mix, cookbook and more!
Are you in need of an affordable gift for them? Baskits has a wide selection of gift baskets for them including delicious treats, self-care gifts and beautiful faux flowers!
Heavenly Box - This exquisite gift showcases over two dozen decadent milk and dark chocolates and handcrafted in Ontario. A great affordable gift idea for them!
My Moment - Gift them a moment for themselves with the My Moment Gift Box. This perfect gift is ideal for birthdays, anniversaries, or any special occasion.
Rosa - With its colors of gold and apricot, this stand-alone stunner is the perfect addition to any space. It makes for a thoughtful gift for them!

When it comes to buying gifts to celebrate the special moments in life, Baskits' luxury gift baskets are the go-to choice! Whether you're celebrating a special anniversary, want to send a birthday gift to someone you love, or show appreciation to someone you're grateful to, this selection of premium gift baskets is the ideal choice.
Cashmere Blanket - An unforgettable gift for that special someone in your life. This 100% cashmere blanket makes a great luxury gift for them!
Bay St - Whether gifting to esteemed clients, commemorating cherished milestones, or expressing heartfelt appreciation, this extraordinary gift promises to captivate and enchant recipients of all ages and tastes.
When you are needing a gift to celebrate for them, make it a personalized gift from the heart and extra special just as they are. Whether it is for a birthday, anniversary or a gift to say "Just Because", they are sure to love a personalized gift that will make them feel special.
Embroidered Blanket - This stunning full size 100% cotton cable knit blanket is soft, lightweight and breathable. The blanket keeps you warm and cozy and makes the perfect personalized gift for them
Luxe Bathrobes - Give them the ultimate gift of personalized luxury with the Empress & Co. Luxe Bathrobe. Wrap them in comfort with this outrageously cozy hooded bathrobe, made with 100% cotton terry inner lining
Special Dietary Gifts for Them
Need a specialty dietary gift basket for them? We have peanut-free, gluten-free, and Vegan gifts available so you can send them a delicious gift basket and gift box to them with no worry!
Peanut Free- Treat them to a gift basket full of delicious, 100% peanut free treats! It can be difficult to find allergen friendly gifts for them but Baskits makes it easy!
Gluten Free - Bursting with the best quality sweets and savories, our gluten-free gift baskets offer a great selection of quality treats they are sure to love!
Vegan- Interested in finding incredible vegan gifts for them? Our Vegan gift basket includes a selection of gourmet vegan foods that are sure to impress!
Gluten Free & Vegan- Looking for a gluten free AND vegan gift ideas for them? Our gift box features the best gluten free and vegan treats for those with food sensitives.
Shop Baskits.com for unique and special gift ideas for them.