Whether you're a first-time visitor to the "Great White North" or searching for distinctive Canadian gifts to send abroad, it's likely that you've come here to locate the top Canadian goods to represent this stunning nation. You're in luck since we have a great collection of fantastic Canadian gifts that will suit your taste.
Our Canadian Gift Baskets are truly one of a kind and guaranteed to fit any occasion of gift giving! Looking for the perfect Canadian gift basket to send to your American friends? Look no further!
Maple syrup is one of the most popular Canadian souvenirs. You can find good quality maple syrups across Canada and are a great gift to bring back after your visit. A neighbourhood market or a gift store are the finest places to purchase maple syrup as a gift.

Looking for a high quality 100% pure Canadian Maple Syrup? Baskits has its very own brand of maple syrup from Slice of Canada! This artisan-made maple syrup is liquid gold! Created from the sweet sap of Canadian Maple trees with a warm, caramelized flavour, it is perfect for pairing with pancakes or French toast.
What better gift to give to Americans and Foreigners than a giant Canadian Loonie! Made of pure milk chocolate and in the likeness of the Canadian $1 coin in the year of 1987, which was when it was introduced to Canadian currency. A fantastic take away for business trips, travel souvenirs and gifts when adventuring abroad or for visitors returning home.
We therefore hope that our list of the best gifts made in Canada will serve as inspiration for you whether you're travelling for the holidays, sending birthday gifts abroad, purchasing business gifts for international clients, or simply seeking for some wonderful souvenirs. Our goal is that our list of the top souvenirs and gifts from Canada help you in finding affordable, luxurious, and authentic keepsakes and gifts that truly represent the Great White North.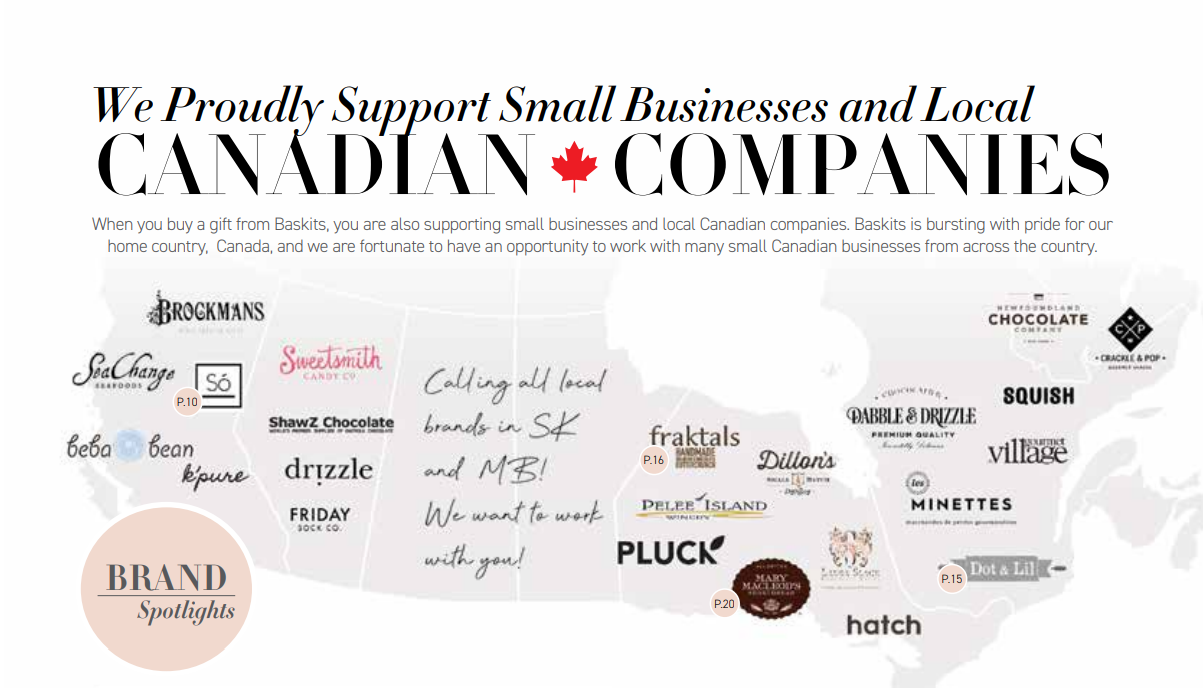 Get to know some of the local Canadian brands we use that make perfect souvenir gifts!
Mary Macleod's: Bite into the famous, hand-made, all butter shortbread cookies from Toronto, ON. Once you start, you can't help but devour them all! You can find these delicious shortbreads in our gourmet collection.
Dot & Lil: Woman owned and made by hand in Montreal, QC. Dot & Lil makes finely crafted goods for bath, body & home that are made with natural ingredients! Find Dot & Lil products in our Self-Care gift baskets.
Share the very best of gourmet Canada with our Canadiana line! Available in L or XL, our Canadiana collection includes the best Canadian treats and sweets that anyone will enjoy.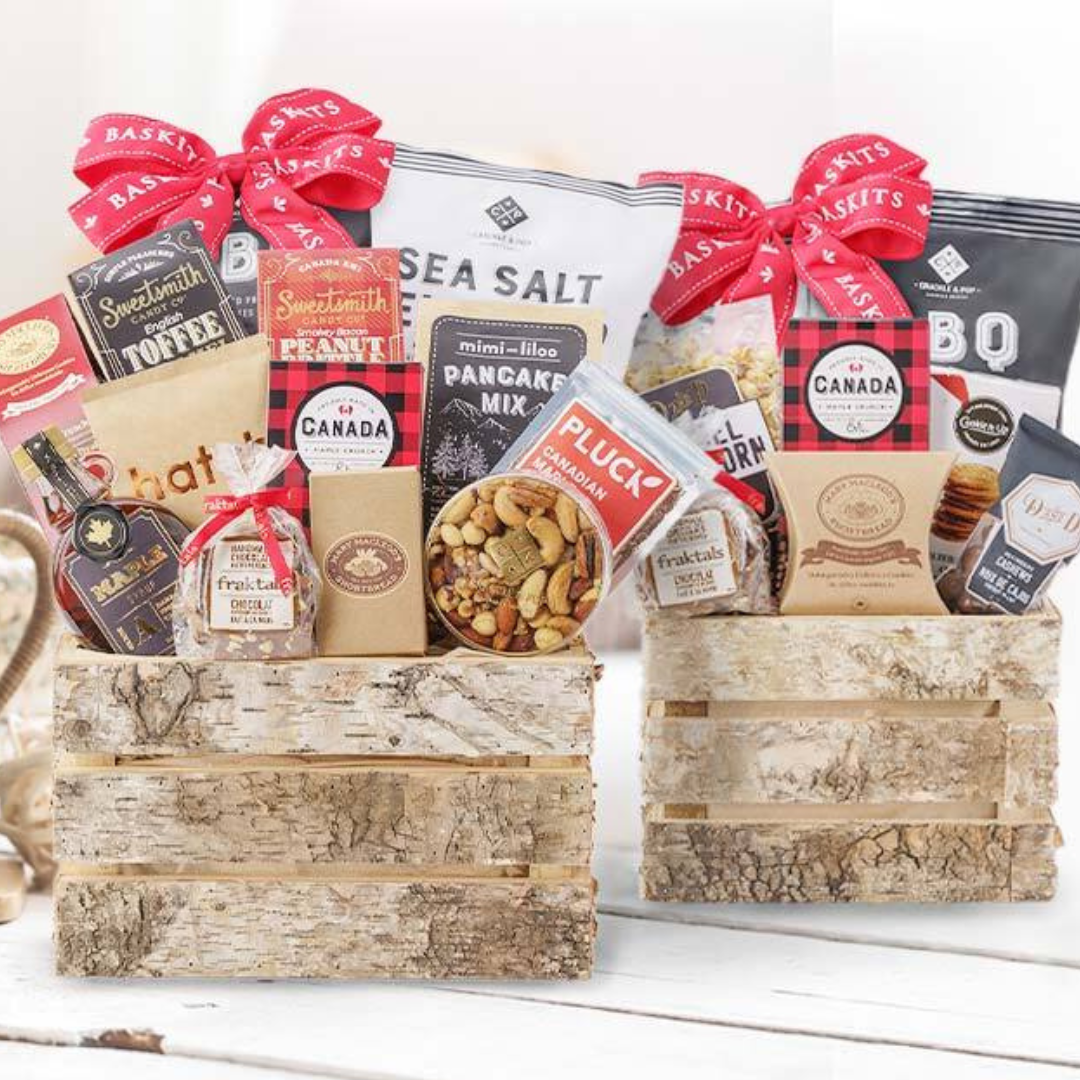 Arriving in a beautifully hand-crafted birch bark base and showcasing incredible gifts from Canada's own Crackle & Pop, Mary Macleod's, Hatch, Fraktals, Pluck Canadian Tea and many more. Perfect for celebrating the True North!
Looking for an affordable Canadian gift? Gift a box of Heavenly Bites!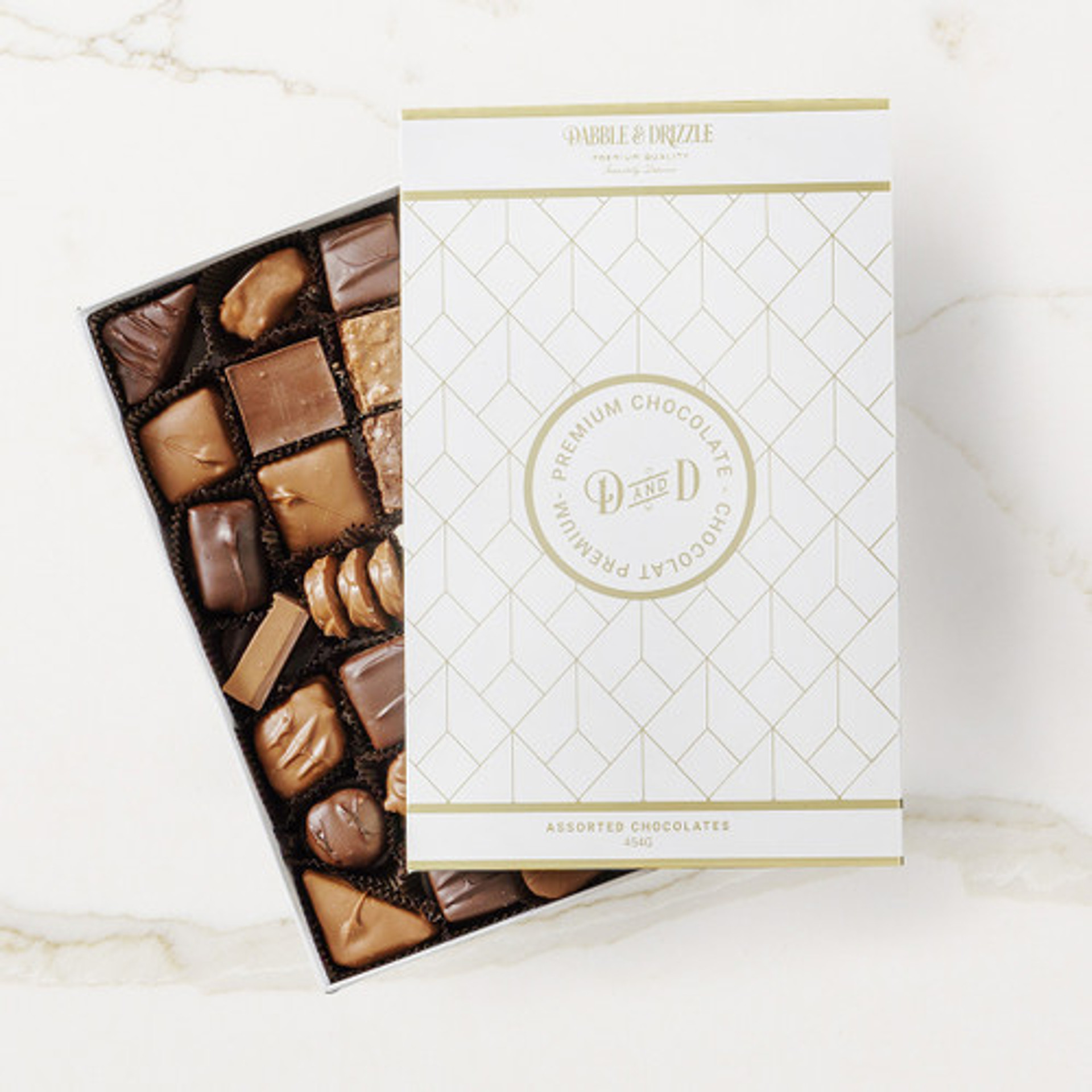 This beautiful gift features the most decadent assortment of milk and dark chocolates. Our exclusive Dabble & Drizzle Heavenly Bites are handmade in Ontario and are perfectly rich and creamy, sure to satisfy all your cravings. *Available in S & M
Rise and shine to the sweet smell of breakfast with this lovely trio of Canadian-made products.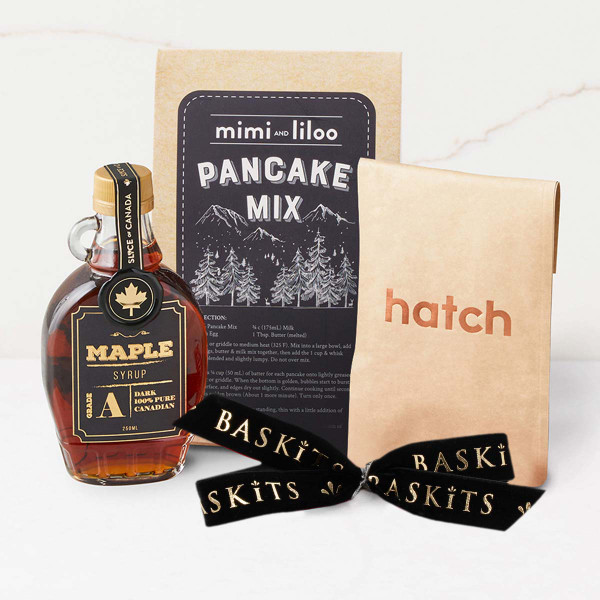 Featuring traditional pancake mix, 100% pure Maple Syrup and Toronto's Hatch coffee, Canadian Breakfast is the perfect Canadian gift to give a little taste of the great white North to your American friends.
We hope that our list has provided you with a bunch of Canadian gift ideas, from Canadian-themed items that include Canadian-made goods that can only be bought in Canada! Baskits Inc makes your shopping for friends who live abroad or for relatives back home as simple as possible. Happy travelling!
Shop Baskits.com for the best Canadian made gifts!