There are all sorts of occasions that merit a thank you gift. Perhaps a friend helped you move into a new house. Or a neighbour helped shovel your car out of your driveway after a heavy snow fall! Whatever the occasion, it's good practice to express your gratitude by giving a thank you gift.
There are many options for thank you gifts, and we know it can be hard to choose what to get for someone. Taking into consideration what they might like, versus what might be too personal. When in doubt, food is typically a good option. Which is why we have the best thank you gifts to suit people of all ages - and tastes!
If you want to stick with traditional flowers as a thank you gift, Baskits has got you covered. Our faux flower arrangements are so real-looking that no one will be able to tell the difference, and they make the best thank you gifts. Here are a few of our favourites: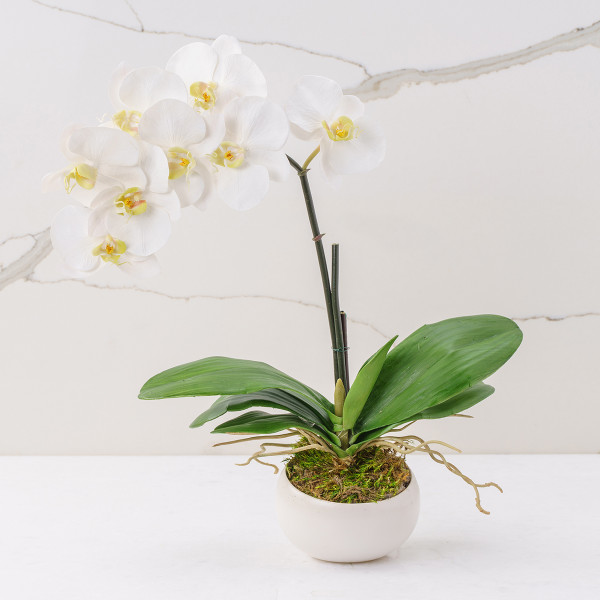 Grace is a faux orchid in full bloom. Enjoy the beautiful simplicity of a white orchid without all of the maintenance that goes along with it. Or, if you want a brighter orchid, try Coco.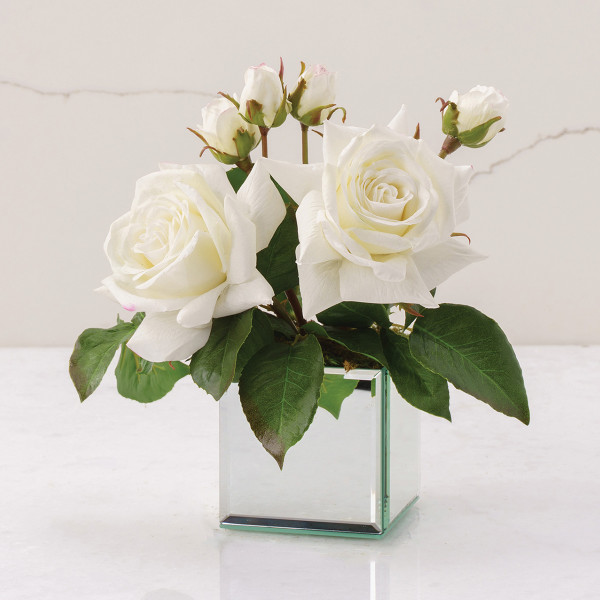 Audrey A whimsical vision of timeless beauty, our Audrey arrangement, features two colossal, white Tamora roses in dual stages of bloom and comes arranged in a classic metal vase. This stunning piece is sure to bring just the right touch of both style and grace into your room of choice.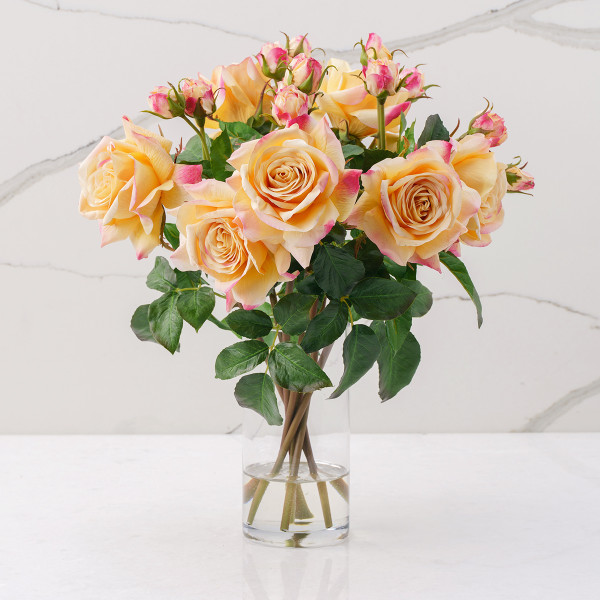 Prepare to take their breath away with our faux floral arrangement, Marilyn. Both enchanting and timeless, this long-stemmed bouquet of large Tamora roses is inspired by the Hollywood icon herself and will steal the spotlight in any room.
No matter what prompts the thank you gift, gift boxes are always a welcome choice. With a little bit of thought about the recipient's likes and loves, Baskits has a wide variety of gift options for everyone!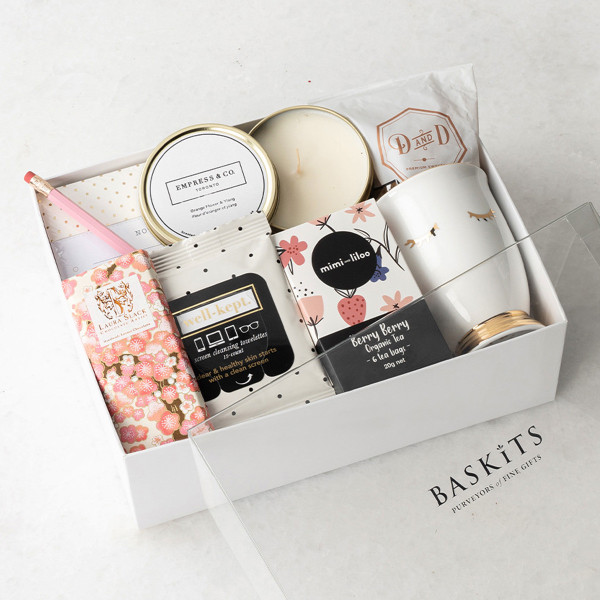 #Boss is sure to please any boss in your life. It comes in a sleek white box and contains all sorts of thank you gifts, including an elegant mug, handy notepad and pencil, and flavourful Mimi & Liloo Berry Berry Tea.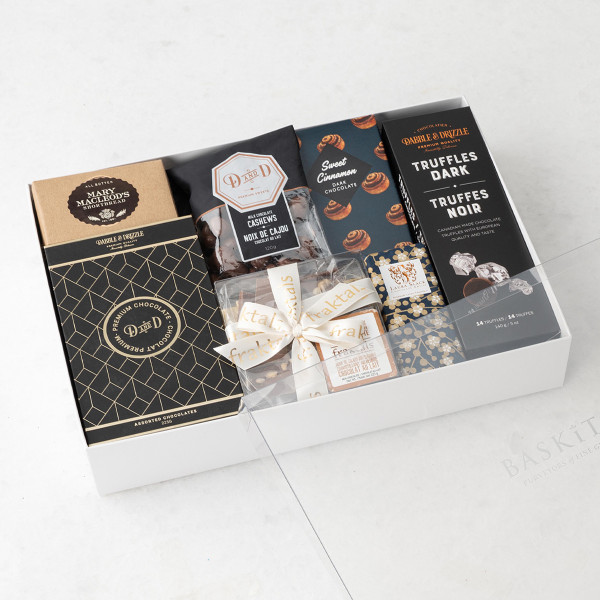 Art of Chocolate is perfect as a thank you gift for anyone with a sweet tooth. Some of the best Canadian chocolatiers are included in this sleek gift box including our signature Dabble & Drizzle Dark Chocolate Truffles, Toronto based artisan chocolatier and pastry chef, Laura Slack's Pure Dark Chocolate Bar and Fraktals Non GMO Milk Chocolate Buttercrunch. A great thank you gift box for any chocolate lover!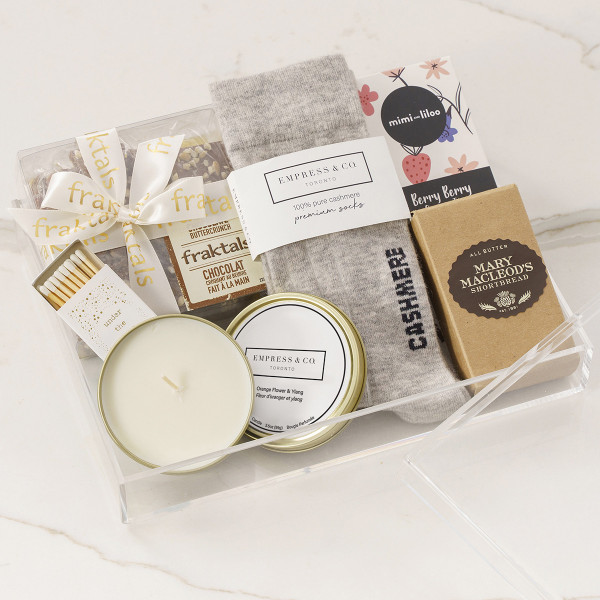 Simply the Best is perfect as a thank you gift for any gender. Its contents are carefully chosen to create a basket of relaxation products. It includes cashmere bed socks, Mimi & Liloo Berry Berry Tea, Mary MacLeod's Handmade, All-Butter Shortbread Cookies, and more.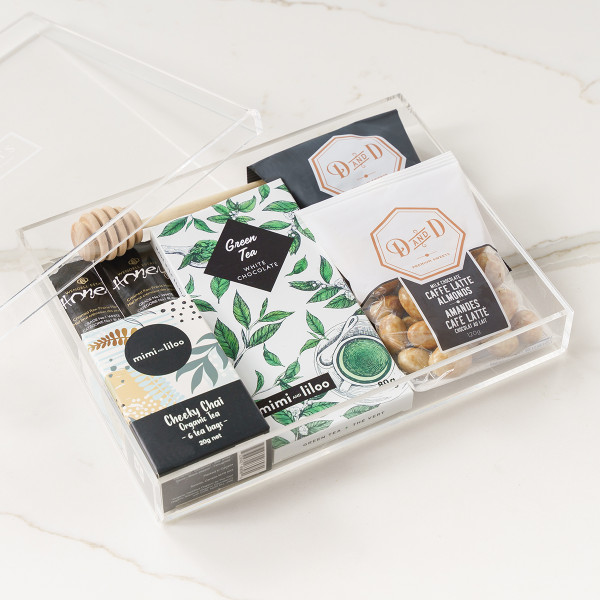 Just Tea & Me continues the relaxation theme of thank you gifts with this beautifully designed tea and treats gift box. Featuring items from our exclusive Baskits brands, Just Tea & Me includes tea-time sweets like Café Latte Chocolate Almonds, Green Tea White Chocolate and Milk Chocolate Cashews and cheeky chai tea.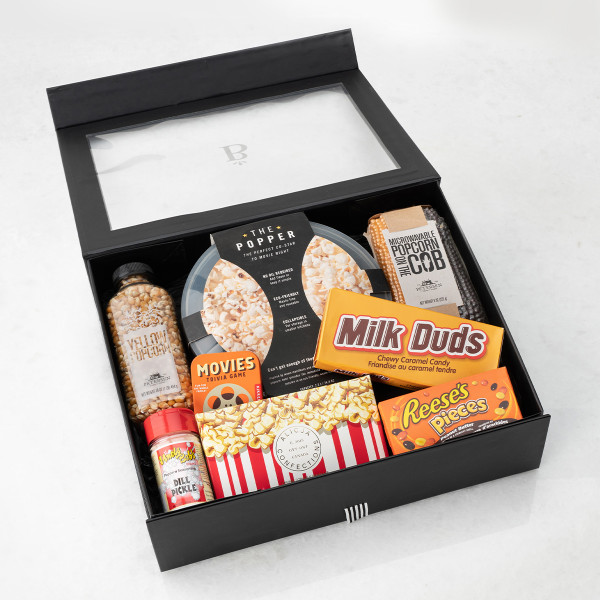 Movie Night is the best thank you gift box for families. Featuring all the movie essentials from microwaveable corn on the cob to Movie Night Trivia and lots of sweets, this gift is sure to leave lasting memories. The perfect gift to spoil the entire family or to encourage family bonding!
Thank You Gourmet Food and Drink

Food and drinks have always made the best thank you gifts. From traditional chocolate to alcohol to snacks, Baskits has a gourmet food, and drink option for every thank you gift. Here are a few of our favourites: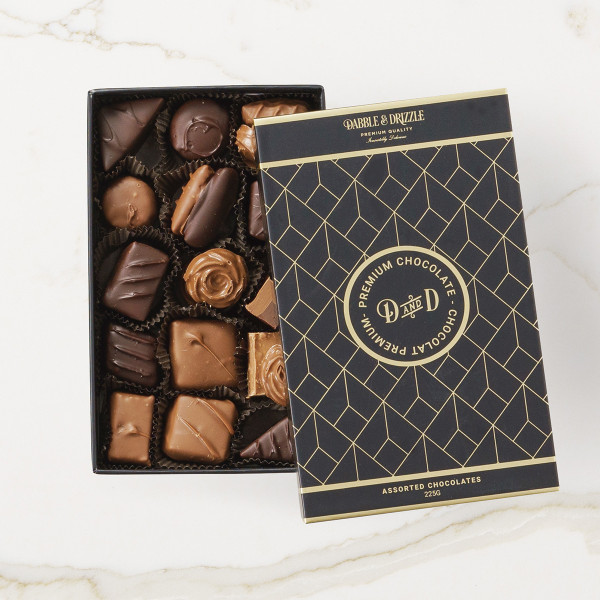 Looking for an affordable thank you gift? Heavenly Bites M features over two dozen Dabble & Drizzle Assorted Chocolates. These decadent treats are handmade in Ontario, so you can feel good about supporting a local business while giving a deliciously decadent treat. This box is also available in small and large sizes.
Not Too Sweet is a sophisticated and thoughtfully curated wine and cheese gift box that makes the best thank you gift for anyone. The ultimate charcuterie board gift includes LOLA wine, our exclusive Empress & Co. acacia wood cutting board and brass spoon, maple glazed smoked salmon, gourmet cheese, artisanal salami and more. This box includes white or red wine. *Delivery within Ontario only.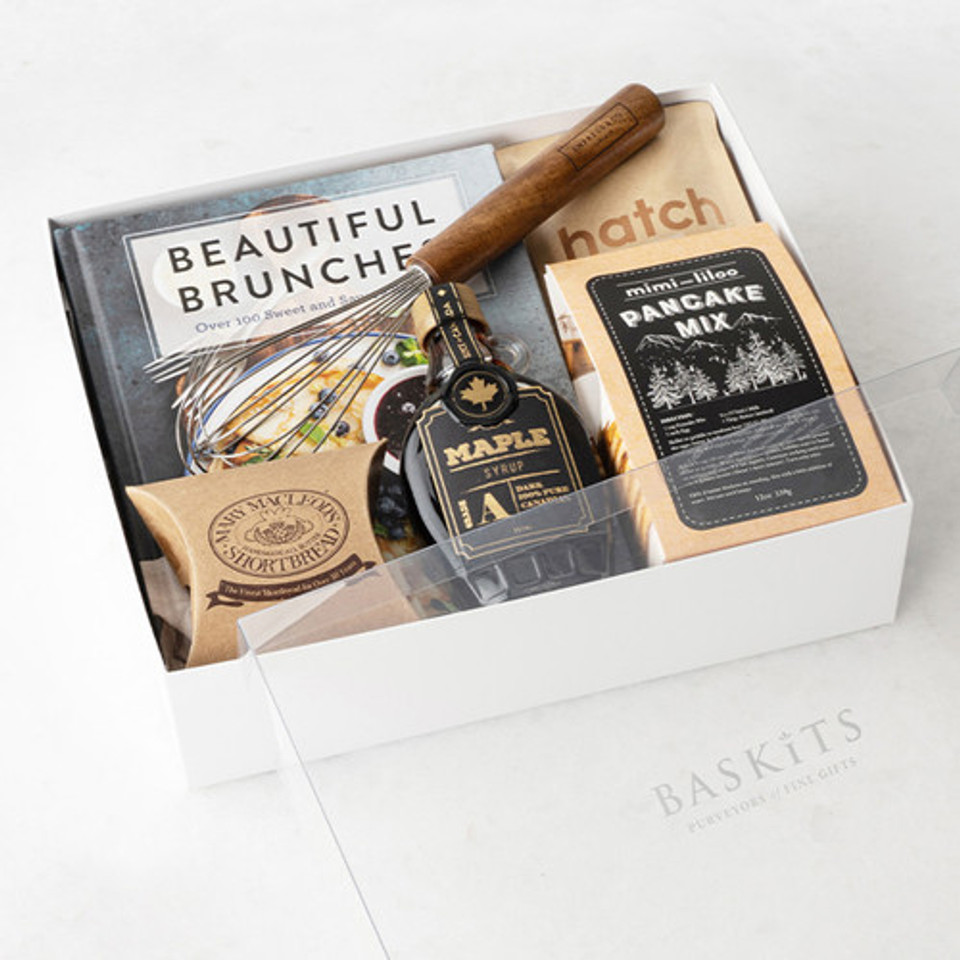 Let's Do Brunch is our breakfast-inspired gift basket. It includes everything one needs to make amazing breakfasts and brunches, such as the Let's Do Brunch cookbook, Canadian maple syrup, and delicious pancake mix. As far as breakfast thank you gifts go, this one can't be beat.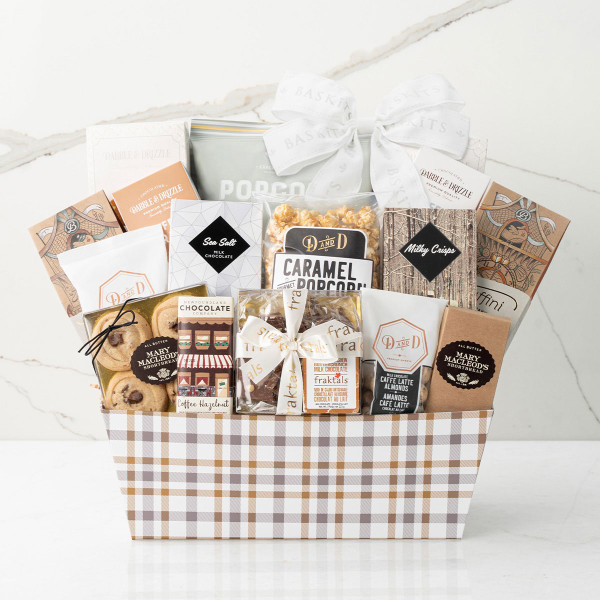 Champlain XL is overflowing with wonderful treats your thank you gift recipient will enjoy. From Mimi and Liloo's Maple Crunch Milk Chocolate to the enticing Truffini truffle flavors of Cappuccino Crisp and Dark Sea Salt & Salted Caramel along side our signature Dabble & Drizzle Café Latte Chocolate Almonds.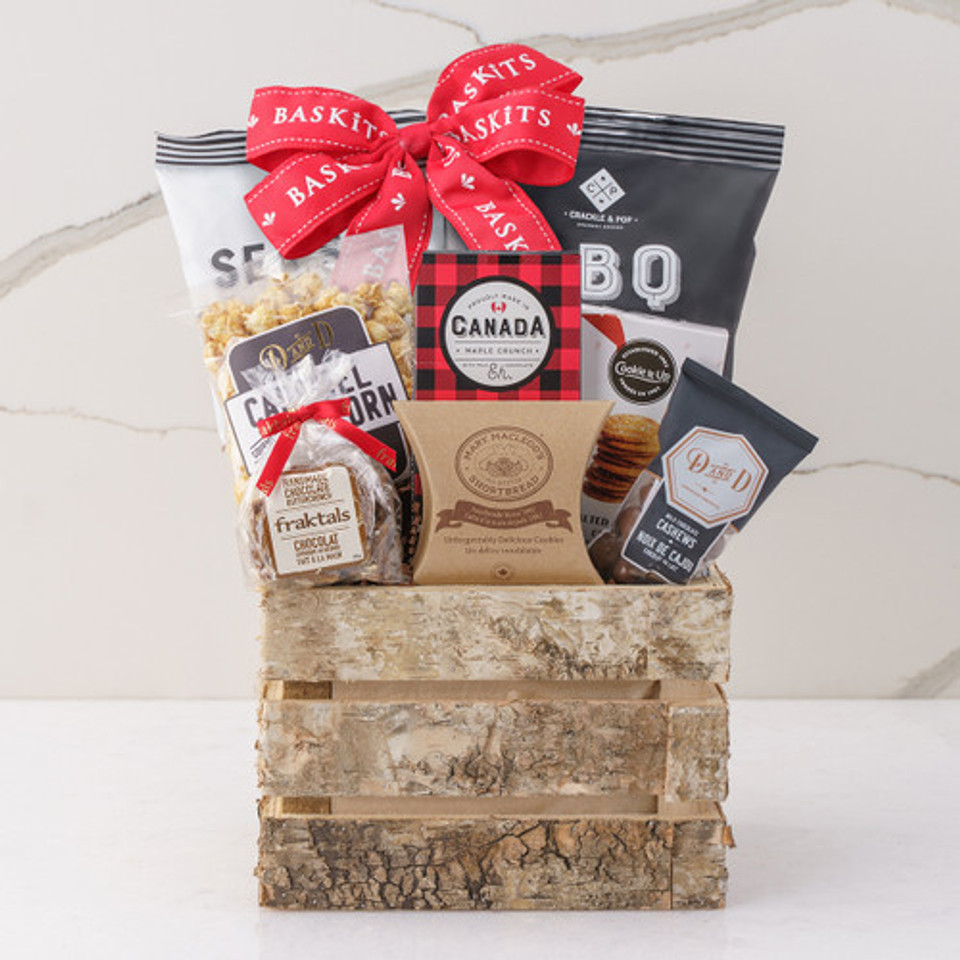 Canadiana L showcases a variety of treats from Canadian gourmet vendors and makes a great thank you gift for all occasions. It includes sweet treats like Dabble & Drizzle Caramel Corn alongside salty treats like Crackle & Pop Buffalo BBQ Kettle Chips, all in a Keepsake Birch Wooden Crate Base. This box is also available in extra large.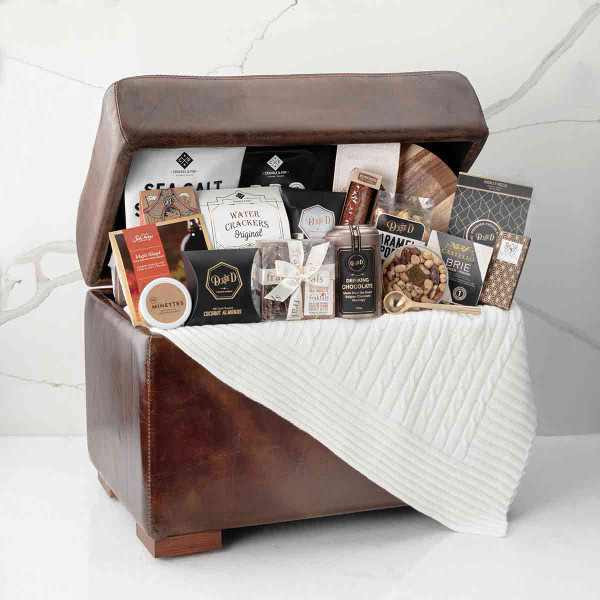 For the ultimate and best thank you gift, check out the Rosedale! Arranged in a gorgeous storage ottoman and brimming with fabulous items for the home and hand selected premium treats, this sensational gift will leave them speechless.
No matter what prompted the gift, there are many options out there to express your appreciation and gratitude for that certain someone you are thankful for. From flowers to self-care products to gourmet food and drink, choosing the best thank you gift can be challenging. But with a little bit of thought, you can give the best thank you gift that your recipient will be sure to love. Check out Baskits.com today, and get them a thank you gift they'll love to receive!