For over 35 years, Baskits Inc. has been trusted by Canada's top corporations, professionals and individuals to deliver impressive gifts on their behalf. Finding a reputable and trustworthy gift basket company in Canada can be a daunting and challenging endeavor. We focus on our customers needs to consistently exceed their expectations. Thoughtfully curated, high quality gift baskets delivered with the absolute highest level of customer service! Customer service and client satisfaction is at the forefront of our business. We work hard to provide the best experience for both the gift sender and the one receiving the gift! That is why we are Canada's #1, award-winning gift basket company!
As Canada's leading gift delivery company, our intention is to always send gifts as shown. What you see is what you get. If we do substitute an item, it will always be equal or greater value and will keep you updated on any changes that have been made. Our goal is to exceed your expectations and build a long term relationship with you.
Our baskets are delivered in a beautiful reusable gift bag that opens with a bow to reveal an incredibly thoughtful gift, complete with a personalized card message. When Baskits delivers a gift on your behalf, we know first impressions count…beautiful, high quality gift bags included for all gifts delivered in the Greater Toronto Area! Orders shipping to the rest of Canada and USA are delivered carefully in Baskits branded shipping baskets to ensure a safe delivery. Satisfaction guaranteed!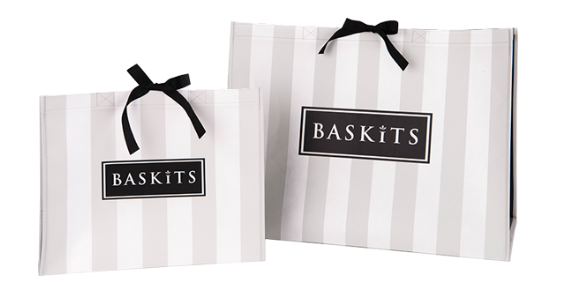 Baskits has over 35 years' experience delivering gift baskets and gift boxes containing only the highest quality products, delivered on time and with best-in-class customer service. We ship across North America and provide real-time tracking and proof of delivery as a part of the cost of shipping. If anything goes wrong, we'll make it right. The good news is the person receiving your gift will know that it came from the best and you can rest assured that you have selected a gift service company that won't quit until you are satisfied.
Shop confidently through a wide variety of gift baskets and gift boxes for any special occasion. We source only the best quality products to put in our collections and when you shop Baskits, you are also supporting small Canadian businesses across Canada.
Here are some of our best selling gift baskets!
Features delicious treats such as Dabble & Drizzle's mouth-watering Coconut Chocolate Truffles, Café Latte Almonds, Original Peanut Brittle, Mary Macleod's Shortbread Cookies and more!
Offering a combination of timeless favourites, both sweet and savoury! Avenue is a great choice for any occasion!
Champlain M is sure to impress! Packed with premium goodies, the lucky recipient will enjoy a variety of treats such as Sweetsmith Peanut Brittle, Dabble & Drizzle, and more!
Available in 3 colours, you can celebrate the arrival of the newest little bundle with a gift thoughtfully curated for them!
This adorable, baby bear inspired gift comes with a beautiful print swaddle, a 100% cotton bib, Jake & Jill goat brush and so much more!
My First Library is filled with inspirational and interactive storybooks from our favorite award-winning children's authors
Rosa:
Rosa, is a striking Tamora rose in dual stages of bloom and the true essence of all things strong, bold and beautiful.
A whimsical vision of timeless beauty, our Audrey arrangement, features two colossal, white Tamora roses in dual stages of bloom and comes arranged in a classic metal vase.
A stunning single stem white Phalaenopsis Orchid in full bloom - a vision of pure elegance and a thoughtful gift for countless occasions.
To see our entire collection of gifts, visit us online or one of our retail location today and see how we've been perfecting Gifting Since 1985!