MOTHER'S DAY GIFTS & MOTHER'S DAY GIFT BASKETS
Baskits Mother's Day collection has the perfect gifts that are sure to make any mother-figure feel loved, appreciated and oh, so special! Whether it's your own mother, grandmother, aunt, sister, daughter or someone who is just as important and close to your heart – this is the best time to show your love and appreciation to the maternal figures in your life.
Give a gift that will last a lifetime with our stunning faux flower arrangements or surprise her with a basket filled with treats and keepsakes.
Give a Mother's Day gift that will last a lifetime with our collection of Faux Flowers. These beautiful silk flower arrangements are incredibly life-like and come presented in stylish vases. Never worry about wilting or watering again!
We also want to give a special congratulations to all new moms celebrating their first Mother's Day! We know how important this day is for many, so we have hand-picked a list of our most luxurious and thoughtful gifts that any Mom is sure to love.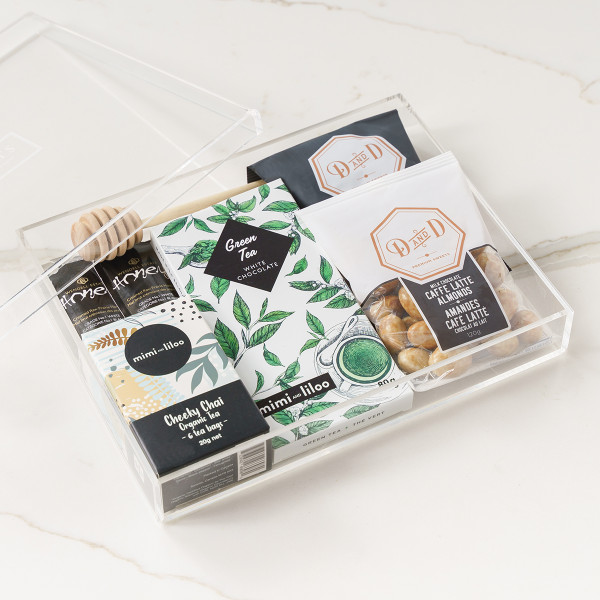 Just Tea & Me: Inspire a moment of warmth and relaxation for mom with this beautifully designed tea and treats gift box. Featuring items from our exclusive Baskits' brands, Just Tea & Me includes tea-time sweets like Café Latte Chocolate Almonds, Green Tea White Chocolate and Milk Chocolate Cashews and cheeky chai tea. This gift is perfect for mom, grandma or anyone else who enjoys a warm cup of tea.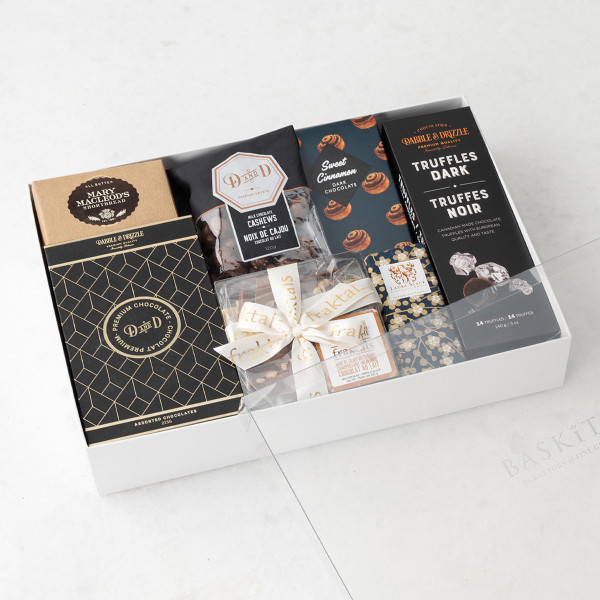 Art of Chocolate: If you're searching for the perfect gift for a lady with a sweet tooth, the Art of Chocolate gift box features a modern assortment of high- end, Canadian gourmet treats; quintessential for your connoisseur of decadent goodies. If you're looking for something more brunch oriented, be sure to check out our "Let's do Brunch" gift baskit, a great Mother's Day gift idea for any brunch-loving-Mom!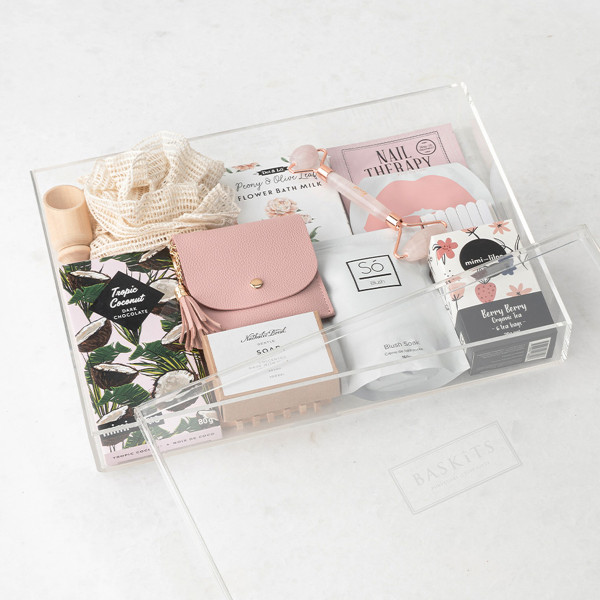 Luxe Serenity: The most luxurious gift in our spa collection, Luxe Serenity is a stunning assembly of self-care products to inspire moments of elevated pampering at home. This keepsake lucite comes filled with a lavish Rose Quartz facial roller, Berry tea, bath soak, artisan chocolate, lip masks and much more. The perfect gift if looking to "wow" the ladies in your life for Mother's Day.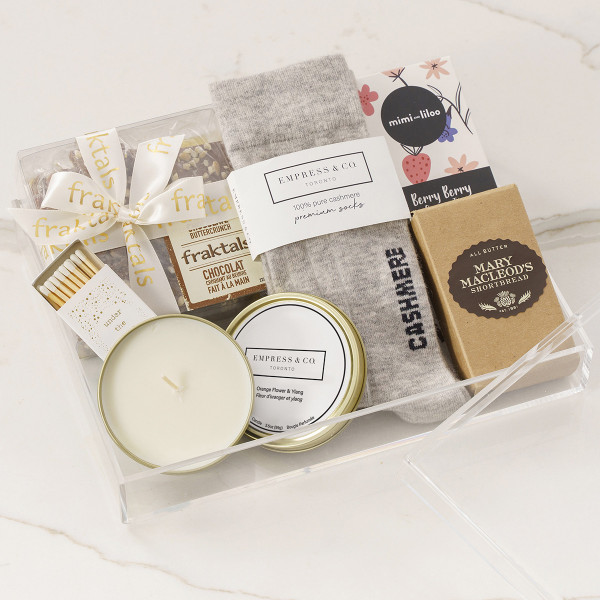 Simply the Best: This gift box simply IS the best! Filled with the best product for a day of rest and relaxation! Featuring cashmere socks, mouth-watering Mary Macleod's Shortbread cookies, Organic Tea and more. A show stopper for moms, grandmas and sisters alike!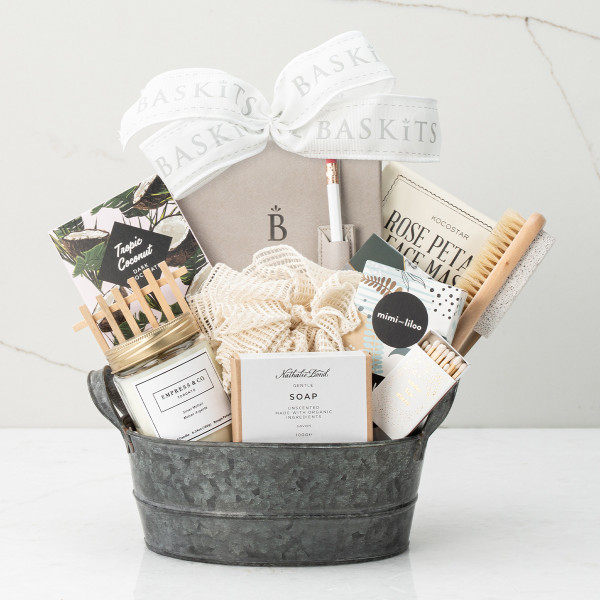 Spa Day: Give the gift of pampering from the comforts of home with Spa Day. Fun and modern, this collection is all about positive, relaxing vibes. Featuring the very best boutique brands including Latika, KocoStar, Natalie Bond and much more! A great idea for any spa lover and the perfect gift for mom to rest and relax.
New Moms are short on time, but doesn't mean they don't love blooms in the house! While we know mom would adore a fresh flower arrangement, a flower arrangement that doesn't wilt or require watering is even better.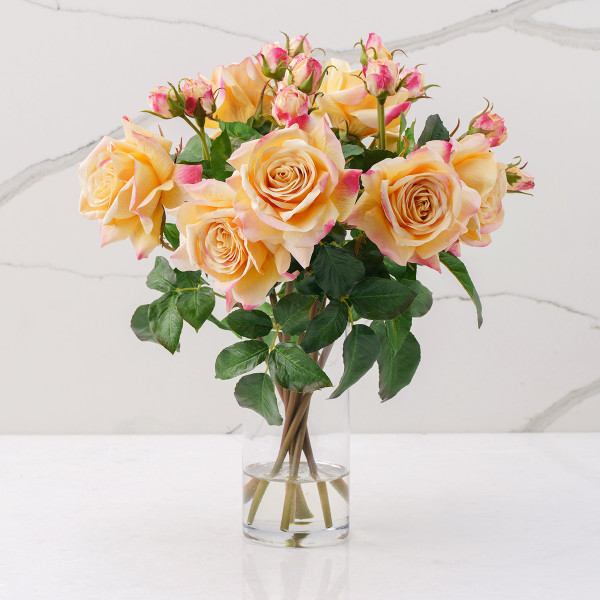 Give the gift of forever flowers with our silk arrangement, Marilyn. A beautiful statement floral containing long-stemmed, large Tamora roses An arrangement that Mom can have to cherish her first Mother's Day and for all other days to come!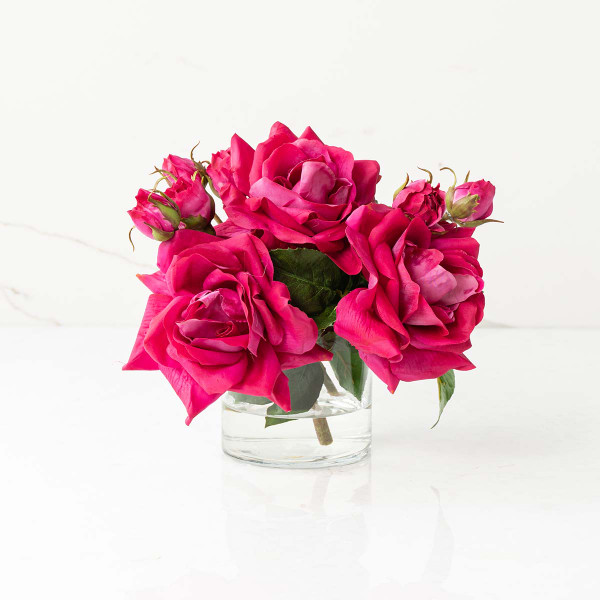 Beautiful blooming and fully bloomed dark fuchsia coloured roses are designed in a clear cylinder vase. The Elizabeth Arrangement of faux roses brings nature inside and adds vibrant colour to your home decor. Perfect for mom to display on her nightstand, a small table, end table or office desk! With no maintenance required, enjoy this beautiful arrangement all year round.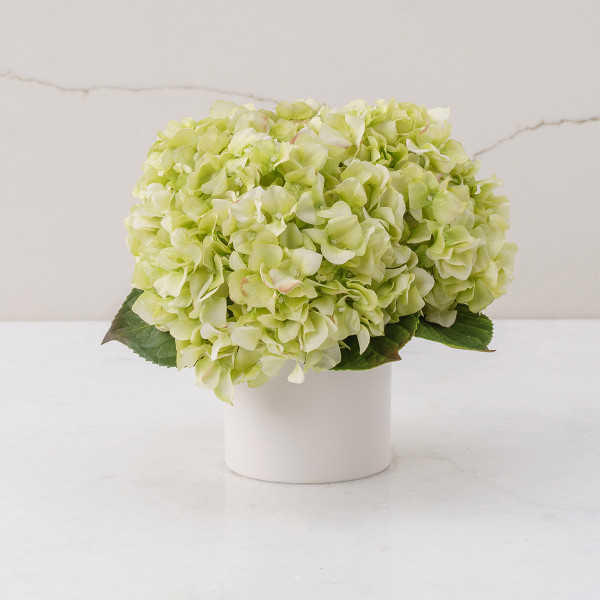 Want to send the wow factor to her? This stunning arrangement of Hydrangea's styled in a breathtaking goblet vase, Cheryl is the perfect bouquet for the star in your life to celebrate Mother's Day.
If you're looking for Mother's Day gift ideas, something from Baskits is always an elegant choice. Choose gifts every mom will enjoy and appreciate—even the mom who has everything. You'll find Mother's Day gifts like Mother's Day wine and gourmet food gifts, along with a beautiful selection of Mother's Day (faux) flowers, artisan-made chocolates, and more that are the perfect gift for Mom on her special day. A Baskits' Mother's Day basket, is sure to impress Mom this year.
Spoil Mom this year with a Mother's Day gift basket full of Mother's Day chocolates and food gifts, artfully arranged in beautiful gift baskets or Mother's Day gift boxes. A gourmet gift basket hand-crafted for Mom is all you need to make her day truly wonderful. Our Mother's Day gift baskets include all of Baskits most gourmet products, with Mother's Day gifts and treats sure to make her day even more special. A Mother's Day gift basket overflowing with delicious Mother's Day treats, food gifts, award-winning wines, and chocolates is the best way to spoil Mom this Mother's Day.
You'll find something to make her smile when you shop for Mother's Day gifts delivered only from Baskits. Nothing says "I love you, Mom" like a Mother's Day delivery.
Mother's day gift baskets with floral and plant gifts are another unique option. With our gift baskets for Mother's Day, adding radiant faux flowers is sure to delight Mom as a Mother's Day gift. Start her day deliciously with Mother's Day brunch delivery and ingredients, or a personalized Mother's Day gift basket. We have unique gift baskets for every type of mom. Continue celebrating Mom throughout the day with a variety of unique food gifts, specialty drinks, and Mother's Day treats she can enjoy anytime, from tea and cookies in the afternoon to wine and chocolates after dinner.
Personalized Mother's Day Gifts & Gift Sets
Give Mom a gift as special as she is. Our collection of unique Mother's Day gifts includes indulgent sweets, exquisite wine, beautiful faux blooms, and more. Choose from a variety of Mother's Day baskets brimming with all the goodies she loves and Mother's Day gift sets with pairings of her favorite treats. Discover all the wonderful Mother's Day delivery ideas that are sure to make her day extra special.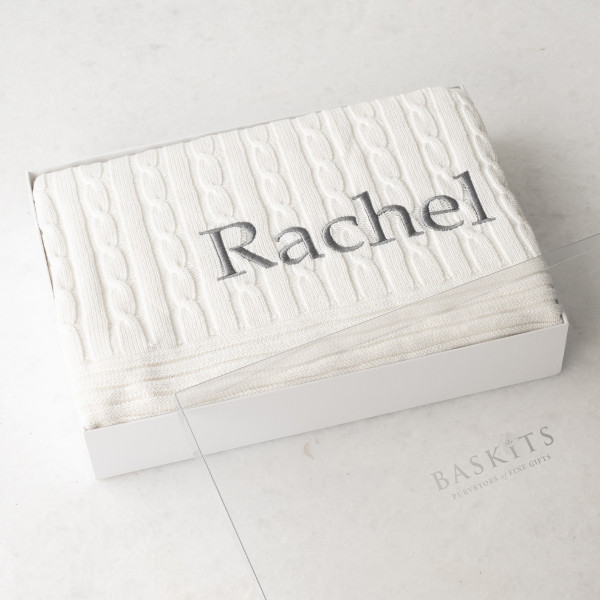 Embroidered Blanket: Gift absolute comfort with our Empress & Co. Cotton Blanket. This stunning full size 100% cotton cable knit blanket is soft, lightweight and breathable. The blanket keeps you warm and cozy and makes the perfect gift for her. Personalize the blanket to make this an extra special keepsake Mother's Day gift.
Show Mom just how much she's loved, appreciated and thought of with a stunning and memorable gift from Baskits.
Order now and ship later to have the perfect gifts arrive just in time for Mother's Day. If you need assistance with selecting the perfect gift for her, reach out to our team! We are here and ready to help you send the best gifts for mom.