We've made it to the end of February. The month of love is past us, but that doesn't mean that sharing and expressing love should come to a halt. Being in the business we're in, we've come to see the value in reminding people just how much we care. And, sometimes, when words are simply not enough - actions (in this case, gifting), help to spread kindness.
Every ending, yields a new beginning: Meet March! With the arrival of this new month, we are focusing on quite a few events. March brings House Closings, Birthdays, International Women's Day, St. Patrick's Day, March Break & the Spring Equinox. It's a packed month of events that deserve recognition, and even a small celebration!
With every celebration, comes the desire to gift those celebrating alongside you. For gifts to congratulate your clients - go above and beyond! Show your clients how much you appreciate their business with a premium & luxurious gift basket or box from Baskits. Moving is hard work, but gifting doesn't have to be. With a new key, and a new place, we've got the perfect Baskit for their new space.
Celebrate House Warmings with Gift Baskets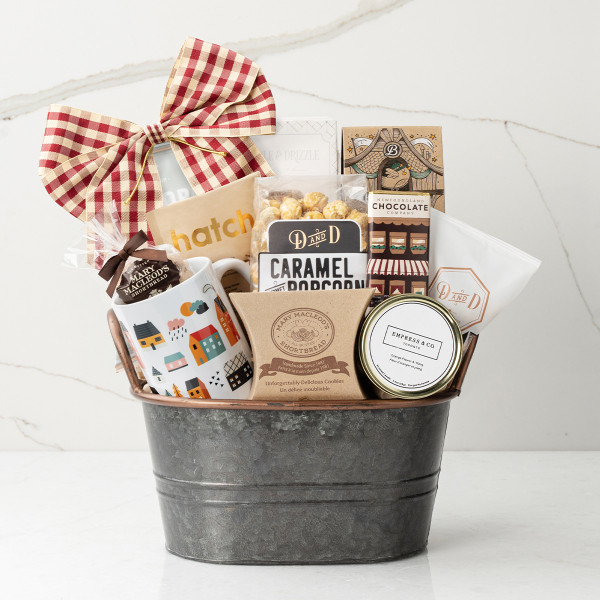 Gift our Home at Last gift basket designed to celebrate house closings and house warmings! A beautiful house warming, real estate closing or new home gift idea. Featured in a rustic reusable storage container, nothing says 'Welcome Home' than this wonderful assortment of cookies, coffee and treats.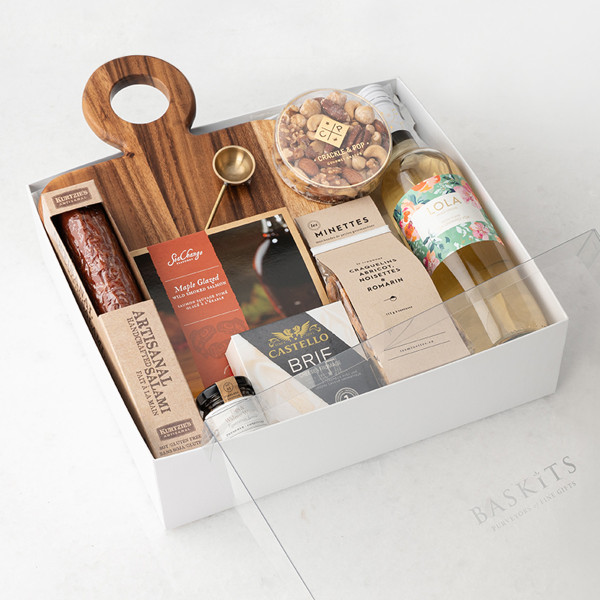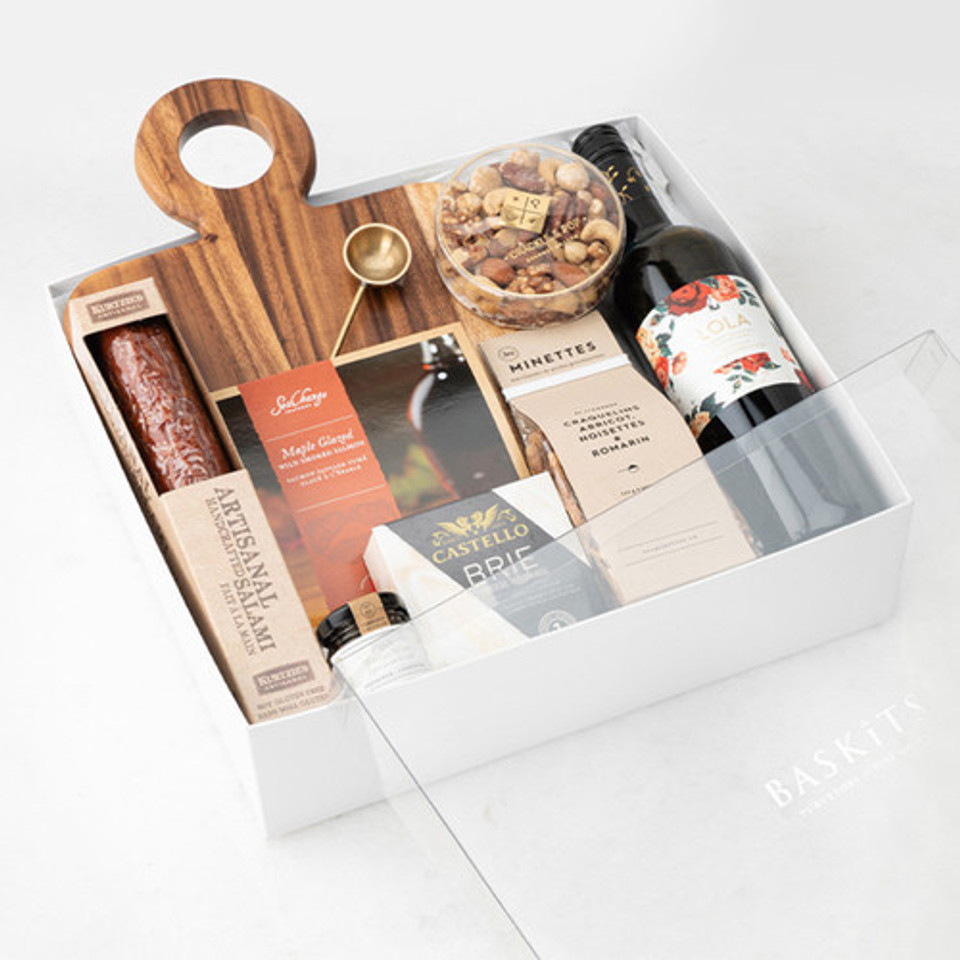 A sophisticated and thoughtfully curated wine and cheese gift box that will wow and delight family and friends. The ultimate charcuterie board gift includes LOLA Pinot Grigio wine, our exclusive Empress & Co. acacia wood cutting board and brass spoon, maple glazed smoked salmon, gourmet cheese, artisanal salami and more. Not Too Sweet makes the perfect gift to celebrate Housewarmings or Closings. *Delivery in Ontario Only.
Celebrate March with Faux Flowers
Celebrate the season of Spring approaching with gorgeous flowers that look so realistic, you'll want to water them! Our faux flower arrangements are hand designed in different bases and will brighten any room. From stunning orchid arrangements, to a gorgeous bouquet of roses or Casablanca lilies, you'll find the perfect arrangement to celebrate any occasion or decorate your space.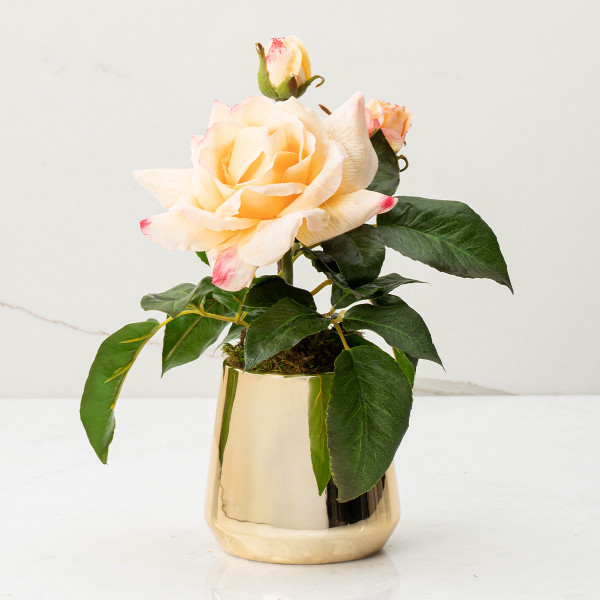 Our faux floral arrangement, Rosa, is a striking Tamora rose in dual stages of bloom and the true essence of all things strong, bold and beautiful. With colors of gold and apricot, this stand-alone stunner is the perfect addition to any space and a thoughtful gift idea for birthdays, anniversaries, a thank you and more. Or gift long-stemmed bouquet of Garden roses that will steal the spotlight in any room.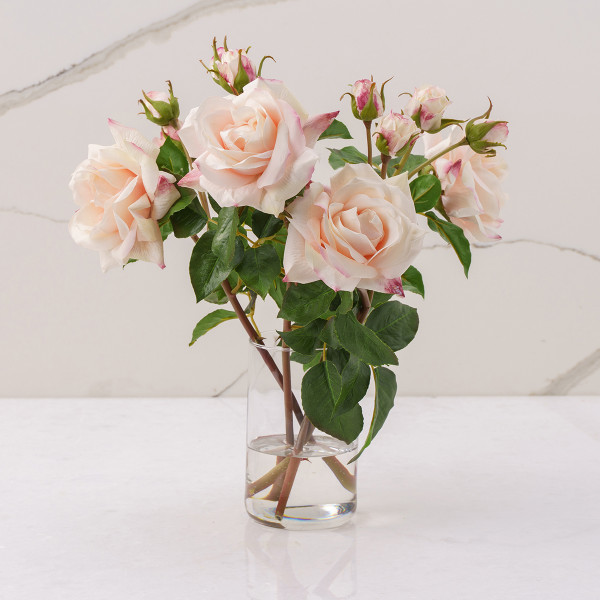 Celebrate any occasion with Serena! Both enchanting and timeless, this long-stemmed bouquet of Garden roses inspired by the sports star and power house herself and will steal the spotlight in any room. Gift a beautiful bouquet of faux florals and have it delivered across Canada and the US.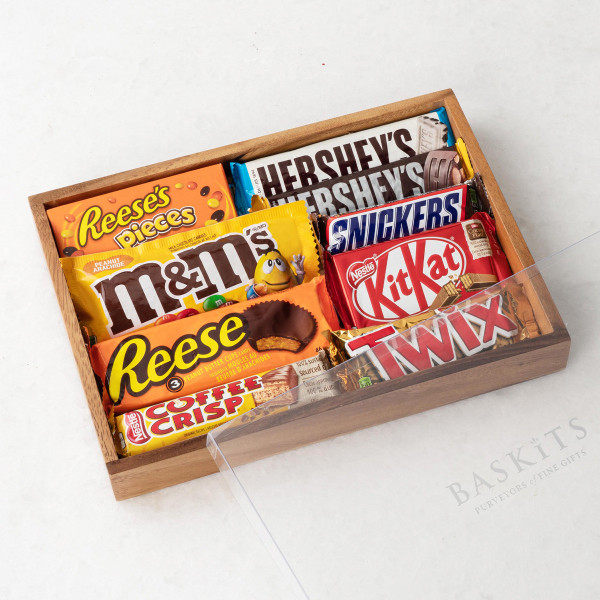 Gift our Sweet Treats Tray gift box for the kids to enjoy during March Break! This tray is packed full of classic candies and chocolates that is sure to delight, featuring Reese's Pieces, Hershey's Cookies and Cream, Snickers Chocolate and more.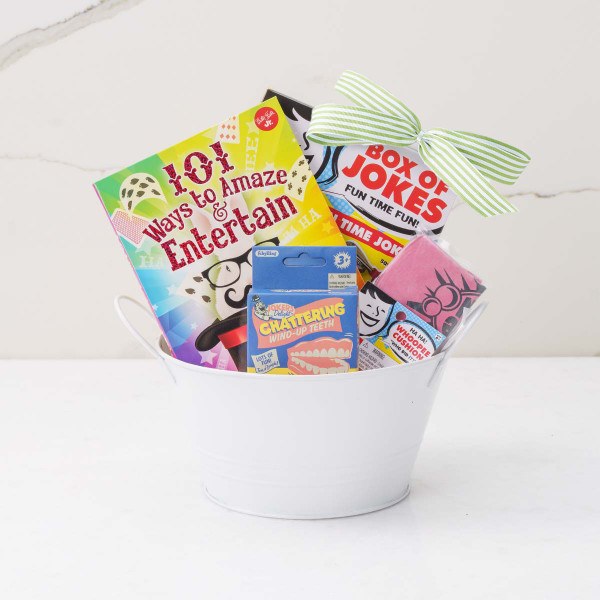 Or send a Box Full of Jokes gift basket! It is a fun-filled gift of mischievous toys sure to inspire laughs and hours of silliness. Perfect for birthdays or to have a good time with friends during March Break or to celebrate birthdays.
Gifts to Celebrate New Parents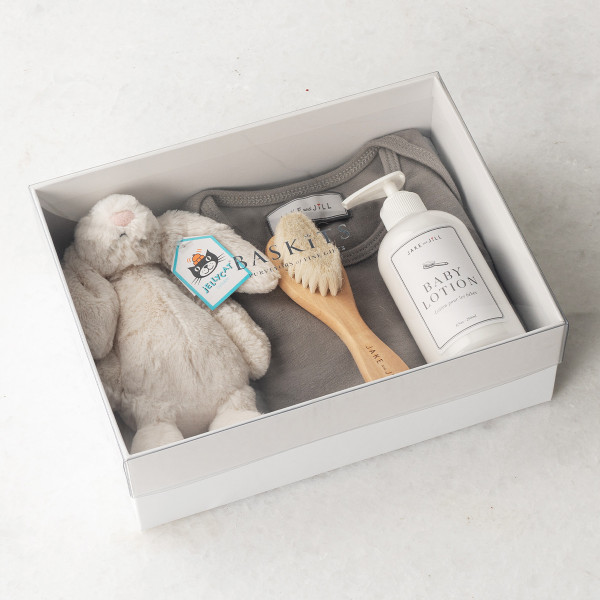 Oh Baby! If you're looking for a beautiful gift to shower a new mom or mom to be, this is the perfect option to welcome a little one! This sweet 4-piece baby gift box set is full of unique baby items and has everything you're looking for in one little box. This sweet giftbox includes a grey onesie, baby lotion, baby hairbrush and cuddly bunny.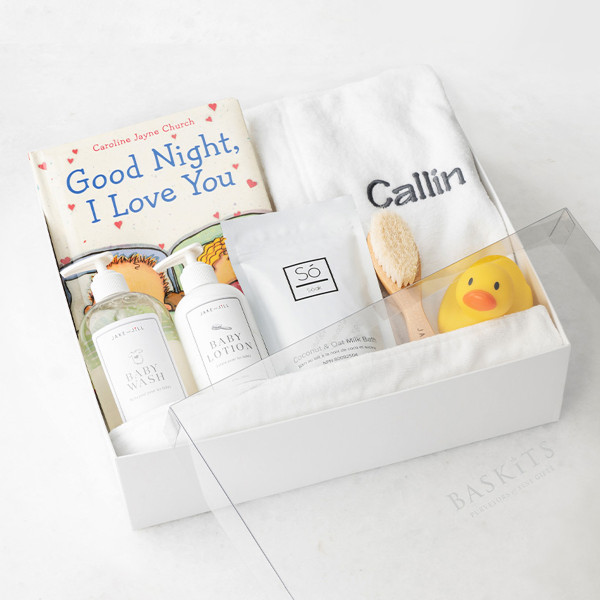 Wrap baby up for snuggles after bath time with the sweetest personalized hooded bathrobe presented in our Bubbles gift box! with Jake and Jill Body Wash & Lotion, washcloths, all-natural hair brush and a White Safety Bath Ducky that reveals when the water is too hot for your precious little one. This makes the perfect baby bath time gift set and a great Spring birthday gift idea!
Celebrate Any Occasion with Baskits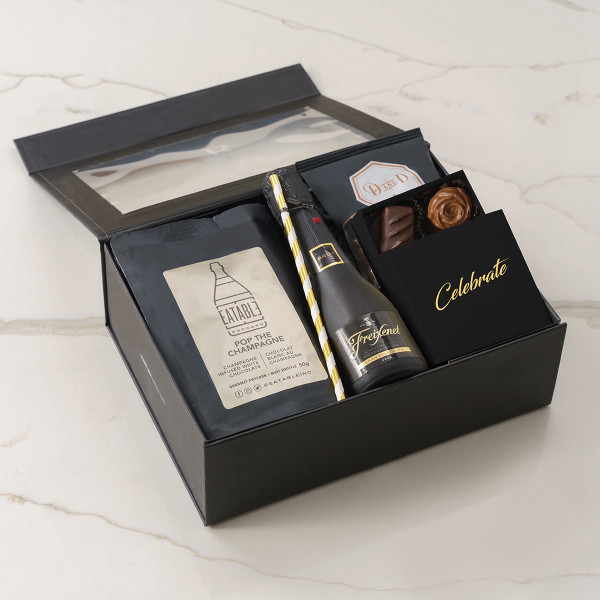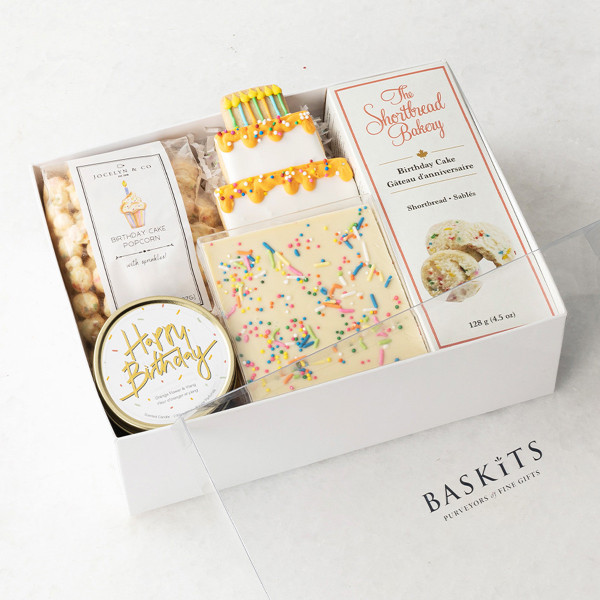 We've got a gift for every occasion that March brings. Celebrate with our Cheers! or Happy Birthday S birthday gift boxes for their birthdays. For March break, send something extra special for your favourite munchkins. Wanting to keep them entertained, whilst also ensuring their parents get a nice march break as well? We've got just the thing! Double the thought, with the perfect gift bundle.
Elevate your gifting this month of March with Baskits - sure to leave a lasting impression!