At Baskits, we believe in delivering the highest quality products; especially when it comes to your little ones. When the exceptional quality we are looking for in a gift just can't be found we take things into our own hands, creating in-house brands that embody our commitment to our level of standards.
JAKE and JILL is one of these brands that truly delivers the promise of impeccable quality for your youngsters. JAKE and JILL's Body Lotion was formulated through a passion for creating better, natural products for babies and toddlers. This all-natural lotion is soft, gentle and effective in keeping your little one's skin smooth and moisturized. Exclusive to Baskits and included in many of our gifts for baby, this product is now available to order on its own. For full benefits of JAKE and JILL's Body Lotion, use following JAKE and JILL's matching Body Wash for bath time.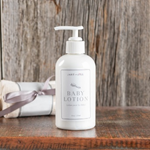 In addition to our Body Wash and Lotion, JAKE and JILL's line has now expanded to Luxe Bathrobes, Cable Knit Blankets and more.
You can find JAKE and JILL in many of our gift baskets For Baby. Visit Baskits.com for all gift options with this fantastic, exclusive brand.