For the first time in history, Canada is dedicating an entire month to Pride celebrations! While most of the festivities take place in Toronto, it is still recognized nation-wide.
Pride began with the ceremonial raising of the Rainbow Flag, the representation of the LGBTQ (Lesbian, Gay, Bisexual, Transgender and Questioning) community, at Queens Park in Toronto. What is special about this year in particular, is that alongside Queens Park, the flag was also raised at Toronto's Town Hall, and on Parliament Hill in front of Centre Block.
Prime Minister Justin Trudeau commented on the gesture by saying, "This is a great day for Canada and it [is a] part of a long series of milestones this country has hit over the years. It hasn't been easy, it hasn't been automatic, a lot of people fought for a long time for this day to happen," and that "Canada is united in its defense of rights." The Prime Minister wasn't the only politician in attendance, he stood among members from all parliamentary parties in honor of the celebrations.
What is even more exciting, is that Prime Minister Trudeau has announced that he will be marching in Toronto's Pride parade, taking place on July 3rd. He is making history as the first acting Prime Minister to take part in Pride festivities.
---
What is there to do during Pride?
As it grows every year, 7 days just wasn't enough when it came to the celebrations of Pride. Accompanied by the world famous Pride Parade, is a month filled with eccentric, saucy, and entertaining events taking place across the city of Toronto. Here are a few to look forward to if you are planning on joining in the fun:
June 23rd – Pink Flamenco. Starting at 7:00pm, and at no cost, you can party the night away on the Harbor Front pier with professional dancers!
June 25th – Nuit Rose Light Parade. Beginning at sunset in Norman Jewison Park, this art and performance festival is returning for its 3rd year in a row and is a must see!
July 1st-2nd – Katya 2.0. Join RuPaul, Russia's funniest lady, and her sister Jujubee for some late night laughs.
---
If you, or someone you know, is looking to send a cute and colorful gift in celebration or in support of Pride, Baskits' exclusive candy tray " Rainbow Treats" is perfect for the occasion. Filled with sweet indulgences in all colors of the rainbow, this thoughtful arrangement is sure impress.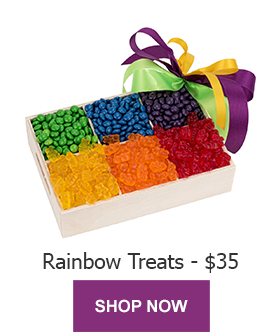 ---

Summer holidays are fast approaching! Attend your summer sizzler with a gift that your host will be raving about long after the party ends.