It's that time of year again! Weather is getting colder, slowly approaching the holiday season and time to start thinking of holiday gifting. Holiday cheer is not just for our families to enjoy at home. Spread the joy and happiness for the holiday season throughout work with employees and clients too! Holiday corporate gifting is a time to appreciate your employees and clients for all that they do throughout the year! It can be hard to find a right gift, especially corporate gifts, which is why we have created the perfect corporate gifting program to make holiday gifting easier!
Our corporate gifting program specialists are here to make the process of ordering holiday corporate gifts smooth and easy! Whether you are looking for thoughtfully curated, ready to ship options or looking to customize gifts that reflect your brand, we've got the gift options that work for you. Get your holiday corporate gift shopping done all in one place!
The best and unique holiday corporate gifts from our Ready to Ship collection.
1. Champlain XL: A bright and sophisticated selection of some of our most luxurious brands, Champlain XL has it all! Filled to the brim with the best tasting treats such as, Mary Macleod's shortbread cookies, Fraktals chocolate, Café Latte almonds and much more, that is sure to make an impression on anyone that receives it.
2. Heavenly Bites: The holidays are not complete without chocolate! Send a box of our Heavenly Bites filled with an assortment of decadent milk and dark chocolates that melt in your mouth. A classic and timeless holiday gift that is great to send to your employees and is budget friendly.
3. Richmond: One of our best sellers, meet Richmond! This basket includes an array of delicious and shareable gourmet treats such as Dabble & Drizzle chocolate covered biscuits.
4. Balmoral: This gorgeous basket is brimming with the most decadent treats such as Dabble & Drizzle, Newfoundland Chocolate, mouth-watering chocolate truffles and so much more. A great option when you want to impress a big client or would like to share with your employees.
5. Tribeca: Looking for a show-stopper gift basket? Tribeca is the gift for you. This extravagant basket is overflowing with rich and indulgent treats to suit every taste. A unique mix of salty and sweet treats designed to give this gift a wow factor. It's the perfect gift for large groups and says a hearty "thank you" from you to your recipient.
Our semi-custom gift options are a great way to add customization to your gift with shorter lead times! Choose any gift from our ready to ship collection and brand it with options such as a customized logo mug, logo ribbon, branded cards or any other items that reflect your brand. Easily swap a customized mug into any of our ready to ship gifts *lead time 3 weeks. Any logo branding needs 1-2 weeks lead time. Click here to learn more Semi-Custom Gift options.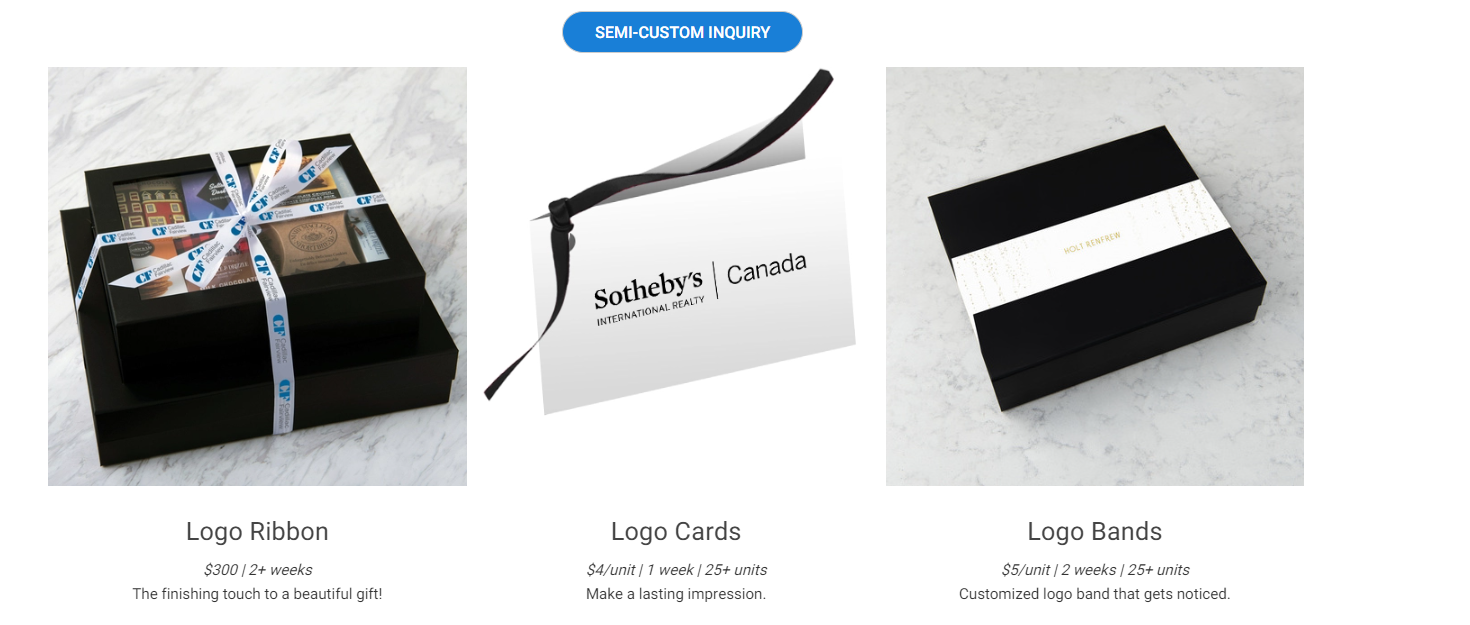 Elevate your corporate gifting program and make a statement by choosing a fully customized gift that focusses on your brand and reputation. At Baskits, our mission is to provide you with the best gifting options while making it an easy and stress-free process. Our fully custom design options are available for orders over $5,000 and requires 5+ weeks to complete. INQUIRE NOW

Holiday Corporate Gift Concierge

We offer corporate gifting concierge services to make it quick and easy to send impactful gifts that will surprise and delight your employees, prospects and clients. Our corporate gift specialists can advise you on the best gift ideas and assist with every step of the process. We are experts in large and complex orders for the holiday season. For gift-giving programs as small as 10 units to large orders of 100,000+ units, you can be confident we will manage the entire process seamlessly. With over 35 years of experience, our expertise in large order fulfillment and our commitment to exceptional hand curated gifts delivered with unparalleled customer service, trust our corporate gifts expert to deliver a memorable gifting experience for you and your clients, all across Canada and USA.