It's extremely important to our team that we are able to offer "something for everyone," especially when it comes to special dietary needs and restrictions.
Baskits collection features many fantastic gifts that are certified nut-free, gluten-free, kosher and even vegan!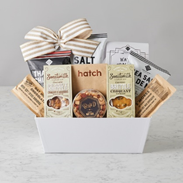 This beautifully arranged gift (above) was carefully curated to include 100% vegan gifts from environmentally conscious Canadian companies that we love! From Espresso Peanut Brittle from Sweetsmith Candy Co. and Fancy Nut Mix from Dabble & Drizzle to Crackle & Pop's Sea Salt Kettle Chips, this gift features not only vegan options, but gluten-free options as well. Perfect for those maintaining a preferred or restricted vegan diet.
Looking for more information on our special dietary gifts or the products therein? Ask our team!
We have a full team of gifts specialist ready to assist you via phone, or email us your inquiries at help@baskits.com
Happy Gifting!