Through a famous appearance on CBC's Dragon's Den, the Canadian-based Hardbite Potato Chips, owned by local BC Potato Farmers, is here to stay.
Craving that unbeatable crunch? Hardbite Chips come dressed in aromatic, natural seasonings and are always cooked in small batches. Here at Baskits, we love Hardbite because their chips are free from GMOs, trans fat, gluten, and cholesterol, using only the freshest ingredients. From a place where everyone lives, eats, and breathes nature, British Colombia is the inspiration for these great tasting chips made for active lifestyles. Named the "best gourmet chip in Canada" in 2005, Hardbite Chips continuously surprises us! With 11 unique flavours, these chips, produced in Maple Ridge BC, are deliciously irresistible.
Baskits is excited to be introducing Hardbite Chips into our new 2016-2017 collection! Find these delicious snacks featured in these Baskits, and more: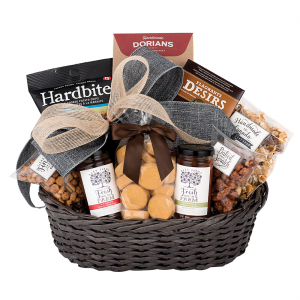 This Baskit offers a classic combination of flavours! A thoughtful gift filled with gourmet spreads, indulgent chocolate treats such as Hardbite Chips, Flagrants Desirs chocolate bars, and other delights that anyone at the office or at home would love to receive.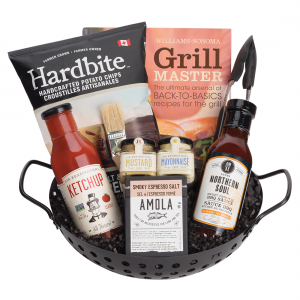 Hot off the grill! This best-seller packs the flavour and the essentials needed for a sizzling meal! Featuring Williams Sonoma's Ultimate Grill Master cookbook, all-natural condiments, Hardbite Chips, gourmet exotic salt and stainless-steel BBQ gear, it's a truly thoughtful gift.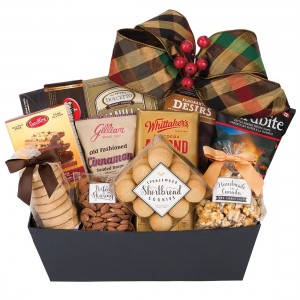 Send this sensational gourmet gift basket with a mix of premium chocolates from brands like Whittakers, Cupido, and Dolfin, buttery handmade shortbread cookies from Sprucewood and Mary MacLeods, Hardbite handcrafted potato chips, and flavoursome nuts: perfect for sharing with friends, family, and work colleagues!