Some believe that the secret ingredient to a full and happy life, is cheese!
For your cheese-loving friends, family, clients and colleagues, our Gourmet Food Collection contains the most elegant gifts that focus on a beautiful brie cheese from Castello and other complimentary, artisan charcuterie essentials that are perfect for celebrations, best wishes any more.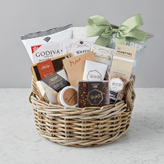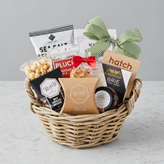 Forest Hill is a timeless gift baskit that always leaves a warm and welcome impression. Thoughtfully assembled with our cheese of choice are products such as Crackle & Pop's Water Crackers, Marmelade D'agrumes from Les Minettes, SeaChange Seafood Smoked Salmon and so much more - a savoury focused arrangement that is ideal for any occasion.
Country Lane (above right) is another fantastic gift baskit that offers an assortment of gourmet goodies that together, create a truly impeccable artisan spread. This beautiful rattan baskit comes filled with indulgences such as our Castello Brie Cheese, Fig & Walnut Wine Preserve, Water Crackers and more.
You can find both Forest Hill and Country Lane, along with many other great charcuterie-inspired gifts in our Gourmet Food Collection at Baskits.com.
Happy gifting!