In a world that has suddenly become disconnected, treasuring and maintaining our relationships with one another has never been more important – especially when it comes to the little ones in our life.
We all know that the smallest changes can have the biggest impacts on our children, so making them feel special, included and encouraged during challenging times is essential, and sure to be remembered for years to come.
Baskits has a fantastic gift collection for kids that offers interactive opportunities for learning and exploring new adventures through icon literature. My First Library (below) is filled with inspirational storybooks from our favorite award winning children's authors. This loveable selection of stories is a great way to keep the kids entertained during isolation and to let them know that while apart, they are still very much thought of and loved.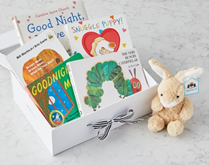 For more great gifts for the little ones we love, visit Baskits.com.