Valentine's Day is right around the corner and finding the perfect gifts for the special women in your life is now easier than ever! Our team of designers have carefully curated a fantastic line of elegant, luxurious and fun gifts that any woman is sure to love and enjoy.
From luxury bath and spa gift baskets to gifts for the lady boss, breakfast lover and more, our collection "For Her" is filled with countless, unique gifts that make it almost impossible to choose just one!
One of our favourite things about our 2019-2020 gift collection For Her is you can now order the perfect pairing of both a spa gift basket and a gorgeous faux floral arrangement; ideal for those moments when you just can't choose between a gift basket or flowers!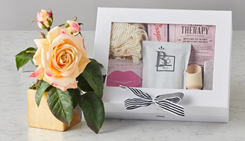 Rosa + Just Because is sure to add beauty and a smile to anyone's day. With a vibrant combination, this duo inspires self-love moments and adds forever beauty to any space. Other fantastic faux flower-gift + basket duos are the stunning Audrey + My Oasis and Amelia + Me Time.
This Valentine's Day, don't settle for a bouquet of roses that will quickly wilt and fray, send instead forever flowers and the gift of luxury pampering.