With a dedication to the philosophy that "less is more" comes the most beautiful, refreshing, chemical-free, moisturizing and above all else, better-for-you soap bars from Nathalie Bond.
Founded by husband and wife team, Andy and Nat, Nathalie Bond is one of our absolute favorite upscale brands featured in our For Her Collection. They offer a fantastic collection of organic skincare products using only ingredients that are proven to benefit your skin. The most amazing aspect of their gorgeous soap bars, is that they are free from palm oil, SLS, parabens and synthetic colours and fragrances, as well as cruelty-free and vegan-friendly.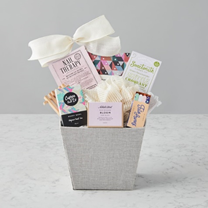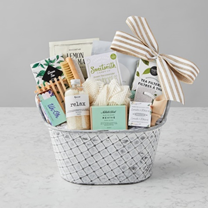 My Oasis (above left) features Nathalie Bond's "Bloom" bar. This bar's key ingredient is French pink clay, a gentle clay known for gently drawing our impurities without drying out your skin.
Overflowing with fresh, rejuvenating scents or lavender, lemon and more, Me Time (above right) is filled with the most luxurious and trending spa gifts and features Nathalie Bond's "Revive" bar. This bar is composed of activated charcoal intended to provide a gentle deep clean, draw out impurities within the skin and provide an overall refreshing detox.
For more great gifts featuring the top of the line gifts in spa, visit us at Baskits.com.