Looking for the perfect gifts to send to a group? Our Champlain gift collection was curated specifically with multiple recipients in mind!
With 4 fantastic size options, you can send a gift that is perfect for groups ranging from 3-5 people to 10-15 people!
Champlain Sm (below left) is a sensational gift is filled with a mix of premium goodies and something for everyone! Featuring kettle cooked chips from Crackle & Pop, Strawberry Shortcake Brittle, indulgent caramel corn, and more, Champlain is perfect for sharing among friends, family, and work colleagues for any occasion! Great for 5-6 people.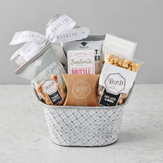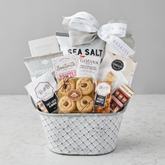 Champlain L(above right) is an even later selection filled with a mix of handmade shortbread, mouth-watering Peanut Brittle from Dabble & Drizzle, indulgent chocolates and much more, the perfect choice for groups of 8 or more recipients!
For all Champlain gift selections, visit the "Gourmet Food" collection at Baskits.com.