Give a loved one the gift of relaxation with one of our special spa gift baskets. You can shop the full collection at Baskits.com, but we've highlighted three customer favourites below to make things even easier for you!
Belle Spa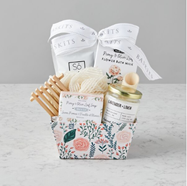 Belle Spa is a thoughtful collection of elegant spa gifts dedicated to some well-deserved relaxation time. Featuring the very best of Dot & Lil, Só Luxury, and a gorgeous 'Lavender and Linen' soy candle from Foxhound Collection, Bella Spa sure to have you feeling relaxed and pampered.
Luxe Serenity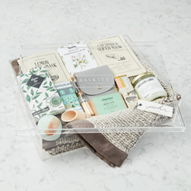 Luxe Serenity is a stunning collection of self-love products to inspire little moments of elevated pampering at home. Gifts include a lavish throw, Lemon and Cucumber Sliced Masks, bath bombs and more.
My Oasis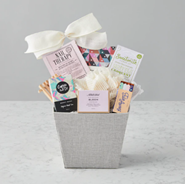 She will slip into an oasis all of her own when indulging in this extraordinary gift that is about her and providing those little moments just for her! My Oasis features Nail Therapy from Kocostar, a beautifully patterned journal, boutique soaps and more.
If you still need help choosing the perfect pampering present, our team of gift specialists are on-hand to advise. Call us toll-free at 1-800-561-9177 or get in touch via e-mail help@baskits.com.