Nothing says 'I love you' like a thoughtful act that reminds your significant others just how much you care. Valentine's Day is one of those charming occasions that gives people the opportunity to stop and take a moment to remember why love is so important. Having people to care for, and who care about you, is one of the greatest feelings in the world.
Here at Baskits, we are in the business of helping our customers show just how much they care. We make thoughtful gifting quick and easy and our collection of Valentine's Day Baskits will earn you major points with your loved ones. From playful and modern, to delicious and romantic, sending a thoughtful Baskit for Valentine's Day has never been easier! We also know how busy life can be and so were delivering up to and including February 14th in the GTA. Just make sure to place your order with us before Friday February 12th before 2:30pm.

Our 'To My Beau' Baskit is perfect for all the men in your life! Featuring a kitschy flask, a bottle of Grey Goose, and XO shot glasses, its a great gift filled with items he'll use right away!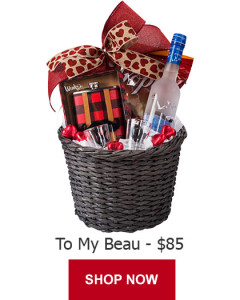 Our 'L'Amour' Baskit is a chocolate lover's dream. Filled to the brim with decadent chocolates, this Baskit is great for anyone. Your girlfriend, wife, or even someone you work with, will devour this gift, and will likely be willing to share!
Our 'My Heart Pops for You' Baskit is the most romantic of the bunch. Plan to spend the evening with your significant other enjoying delicious chocolates while sipping champagne.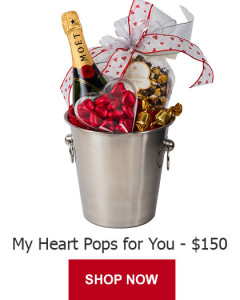 To shop our full collection, click below.