There is only one thing better than waking up to a beautiful sunny day - that's waking up and not having to put the kids on a school bus! Summer holidays have finally arrived, and the whole family is excited to spend some much needed quality time together.
Whether it be travelling, visiting friends, or attending events and festivities, the prospects for fun are endless; and without a doubt, you will be busy. Before you know it, birthday party invitations will be rolling in, along with cottage weekend invites, your cousin's wedding, and that charity event you forgot about. Soon enough, free time will be something of the past.
Our goal is to make sure that all of your gifting needs are met with ease. Let us do the running around for you, so you can use your time off for relaxing in that gorgeous, summer sun.
---
To Keep the Kids Entertained:
If you're anything like us, you feel guilty about handing the kids the iPad…again. Keeping them entertained is not always as simple as it seems. What about trying something new? Introduce your child [ren] to the journey of how caterpillars become butterflies with "Hungry Caterpillar." This adorable Baskit includes "The Very Hungry Caterpillar" book, puzzle, plush toy, and suitcase. After reading, have them draw pictures of what they themselves would look like as a caterpillar and what they would look like as butterflies. The activity possibilities are endless!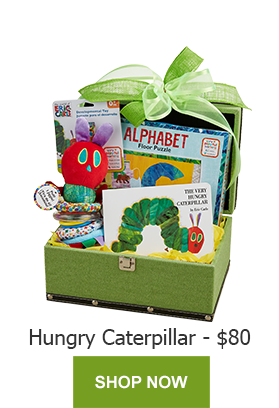 ---
For the Travelers:
Going on a long road trip? Keep the kids busy with "Busy Little Traveler." Filled with activity books and stickers, the odds of hearing "are we there yet," are slim to none! Including "100 Games to Play on Holiday," this is the gift that keeps on giving. With no shortage of games to learn and play, they'll be occupied long after they've jumped out of the car – the only trouble you'll have is getting them to bed!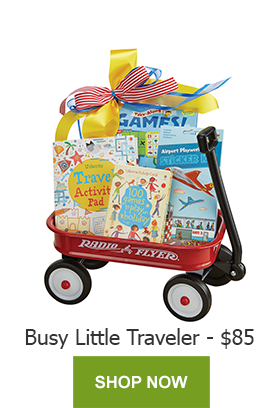 ---
For the Host with Kids:
The key to being a good guest is bringing a gift, the key to being a GREAT guest is bringing a Baskit that is not only fantastic for your hosts, but for their children as well. Featuring games and shareable treats, "All Fun & Games," is an arrangement that you don't want to show up to the party without!
---
We wouldn't dare offer up all of these amazing gifting ideas without including something for the 19+ crowd, as there will be many occasions over the course of the summer that require elegant and fun gifting. Whether you're attending a wedding, a BBQ, or a sizzling summer party, Baskits new summer collection is sure to impress.

Keep the party going with Canada's Cocktail!