We didn't realize "International Wear your Pajamas to Work Day" was TODAY! And here we were thinking it was all month long! With this international day of comfort upon us, we thought it would be the perfect opportunity to highlight our top 3 gift picks for those who are enjoying the majority of their days in the comfiest way.
Just Tea & Me(below left) is a lovely assortment of loose leaf tea and treats that pair perfectly with mornings lounging in our favourite comfies. Enjoy a warm cup of Cuppa & Co. tea, all the way from Australia and the Drizzle honey to sweeten.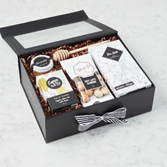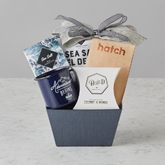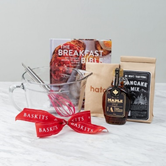 Just for You (above center) features a thoughtful assembly of decadent coffee, sea salt chocolate and treats as well as a fantastic "Adventure Awaits" mug. The perfect gift to anyone in need of brightening their day.
Who doesn't love whipping up a delicious breakfast in their pajamas? Perfect for anyone that you know will be spending their day in flannel and slippers, Breakfast Comforts features everything needed for the most decadent breakfast ever.
For more great gifts, perfect for anyone in need of a pick-me-up, visit is at Baskits.com.