We are proud to support and feature brands from across Canada in our gift baskets. We ship across North America so our baskits are a perfect gift for any Canadian living in the United States.
1. Canadiana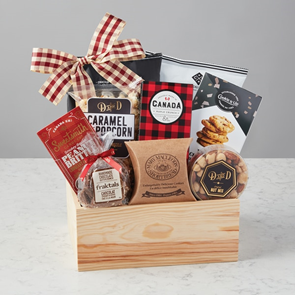 Available in sizes L and XL, the Canadiana is the quintessential all-Canadian gift for any occasion! This classic arrangement arrives in a rustic, hand-made wooden base and showcases beautiful, indulgent treats from Canada's own Crackle & Pop, Mimi and Liloo, Fraktals, Sweetsmith Candy Co., and more.
2. Muskoka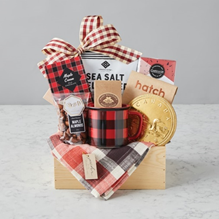 A Canadian classic and the sweetest escape featuring some of the best brands north of the border, Muskoka is the perfect gift for anyone who loves true Canadian flavors and the great outdoors! Enjoy some hatch coffee in a keepsake buffalo check mug, accompanied by Mary Macleod's delectable shortbread cookies.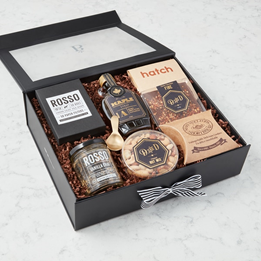 From Calgary's Rosso Vanilla Chai Loose Leaf Tea to indulgent selections from hatch, Mary Macleod and more, this beautifully assembled box is filled with rich and exquisite products from many of our leading, gourmet Canadian companies.
Looking for gift basket advice? Our teams of gift specialists are on hand to answer any questions, get in touch via help@baskits.com or dial 1-800-561-9177.