We are over the moon and SO excited to announce the launch of our brand new collection of silk floral arrangements! Our team of designers have truly outdone themselves with this undeniably stunning selection of flowers, perfect for any space or occasion.
Flawlessly life-like, our high end silk floral arrangements will never wilt, fray or die and defy the need for water changing, trimming, disposal as well as ongoing costs of replacement. A luxurious statement piece for any space, each silk flower arrangement is hand-crafted and set perfectly in a thoughtfully selected vessel for an everlasting display of beauty. Not only do our silk flowers last forever, they're affordable; comparable to purchasing real flowers many times over! What's even more astonishing to these silk arrangements looking undeniably life-like, with the latest technology, they actually feel real too! Fascinating, in all of their beauty, these pieces are perfect for interior design, room staging, weddings, special events, gifts and so much more - you truly have to see them for yourself!
Some of our new arrangements include, Diana, a charming and sophisticated ode to England's rose with soft tones and distinguished beauty. With the most stunning Westminster roses and two-toned hydrangeas, this piece is short stemmed and hand-set in a rustic wooden vase. As well as Grace, a stunning single stem white Phalaenopsis Orchid in full bloom - a vision of pure elegance. Simple, sophisticated and practical, this piece is a classic choice for a desk or office place, living area and much more.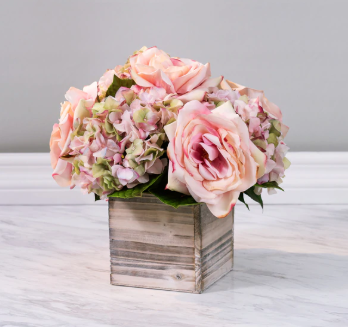 Visit our website for our full selection of the most astonishing silk flower arrangements.