The new Baskits catalog launched this month, and we are so excited to share our new gift collection with everyone! With new Baskits and brands for you to discover and enjoy, we have a luxurious gift baskit for all occasions. Whether you are looking for the perfect housewarming gift, or for a holiday gift for your business's employees, there's a Baskit that will delight any recipient.
For the 2016/2017 gift collection, some new and modern brands are featured. We love every unique brand that we partner with, and are grateful for working with some of the best local and national brands. Every brand we select for our Baskit collections is specifically chosen because of its captivating success story, or because it is a leader in its craft. We are pleased to share our new collection, featuring many new modern brands for you to discover and enjoy.
If you are looking to share something special with loved ones, friends, or colleagues, you can find the perfect gift with Baskits. Here is a sampling of our newest line of Baskits: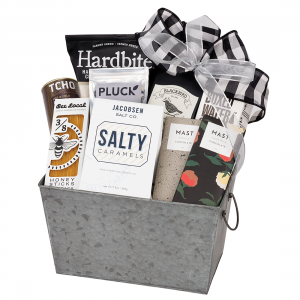 One of our newest and most modern gifts! Inspired by the trendy Dalston district in London, UK, this sweet-and-salty Baskit is filled with unique products and an artistic flare. With brands like Mast Brothers abstract chocolate bars, Bee Local honey sticks, Blackbird handcrafted granola mix, Pluck Tea loose leaf black tea, and even boxed water, Dalston is bang-on trend!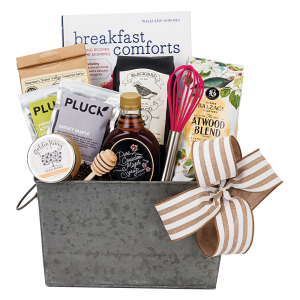 Ok, but first brunch! This whimsical Baskit is all about the most important meal of the day. Featuring a Williams Sonoma cookbook, pure Canadian maple syrup, Me Mums traditional pancake mix, delicious and hip Pluck Teas, Balzac's coffee, Jacobsen Salt Co. blackbird granola mix, and more.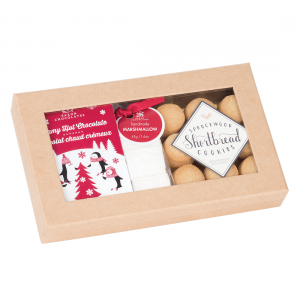 A caring way to warm up someone's day! This sweet gift set comes with three oversized fluffy white marshmallows, two packs of Saxon Chocolates decadent hot chocolate mix, and eighteen Sprucewood mini handmade buttery shortbread cookies, perfect for dipping!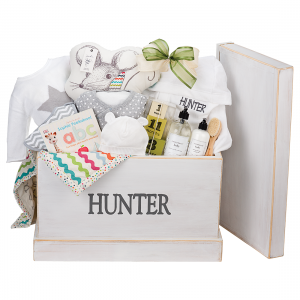 Our most luxurious baby Baskit! Lollypop is a treasured personalized gift that will blow them away. A gorgeous hand-carved white wooden trunk with a removable lid, this gift is designed with high-end baby brands from Petit Pehr Designs (pillow and blanket), a personalized cozy bathrobe, Lovefresh 100% all-natural baby skincare products, colourful age milestone blocks, Sophie's ABC storybook, 100% cotton patterned onesie and hat, and more. This is the gift to take their breath away!
The art of gifting is easy with Baskits! You can find our new catalog online here, and visit our website to see our full collection of luxurious gift Baskits.