Hand-selecting the perfect products for newborns, that parents are sure to love, is one of our biggest joys at Baskits! From 100% muslin cotton swaddles to the most adorable knit plush, our collection "For Baby" is overflowing with unique and trending gifts for celebrating new arrivals.
If you're in search of a personalized gifts for a new baby that is sure to wow, look no further than Munchkin. Arriving customized with the little one's name, this beautifully hand-crafted toy box has been a customer (and recipient) favorite for years.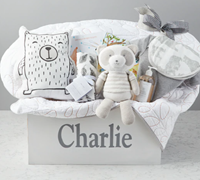 This sure-to-be-treasured keepsake features a baby safe panda plush, Jake and Jill's baby wash, a full-sized poplin duvet and so much more. What's even more fantastic, is that you can order the box on its own!
For big brother, big sister, or a child a little older than new born, the Munchkin is available for "box only" purchase.
Needing a little help selecting the perfect baby gift? Our team is happy to help!
Call us toll-free at 1-800-561-9177 or get in touch via e-mail at help@baskits.com.
Happy gifting!