KOCOSTAR is one of our favourite lifestyle and beauty brands that specializes in quality at-home, self-care through their fantastic hair-to-feet mask series. Their dedication to providing the very best products that make people of any gender and age feel reinvigorated and beautiful is something that we just had to share through our spa gifts, found in our "For Her" collection.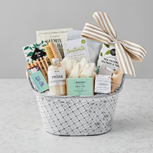 Overflowing with fresh, rejuvenating scents or lavender, lemon and more, Me Time (above) is filled with the most luxurious and trending spa gifts and features KOCOSTAR's Lemon Sliced Face Mask. This chic gift for her is the perfect selection for anyone deserving of some serious pampering and will leave her feeling refreshed after a little time for herself.
For more great gifts that feature the globally trending KOCOSTAR, visit Baskits.com.