Happy Monday Everyone!
With the holidays quickly approaching, we know that individuals and companies alike are shuffling to figure out quick and easy holiday gifts to place large orders with. Well, leave the heavy 'gifting' to us! We've got your corporate orders covered! With three customization services available, you can choose gifts from our Ready to Ship Collection for quick gifting solutions to our Semi-Custom Options or Fully Custom Designs for additional branding and personalization. Plus, our significant investment in systems and technology allows complex, multi-ship programs to be simple and user-friendly making it easy and worry-free for you to ship across Canada and the US. For gift-giving programs as small as 10 units to large orders of 100,000+ units, you can be confident we will manage the entire process seamlessly.
Helping to create a exceptional corporate gifting experience is what we do! See a quote from one of our Large Order customers!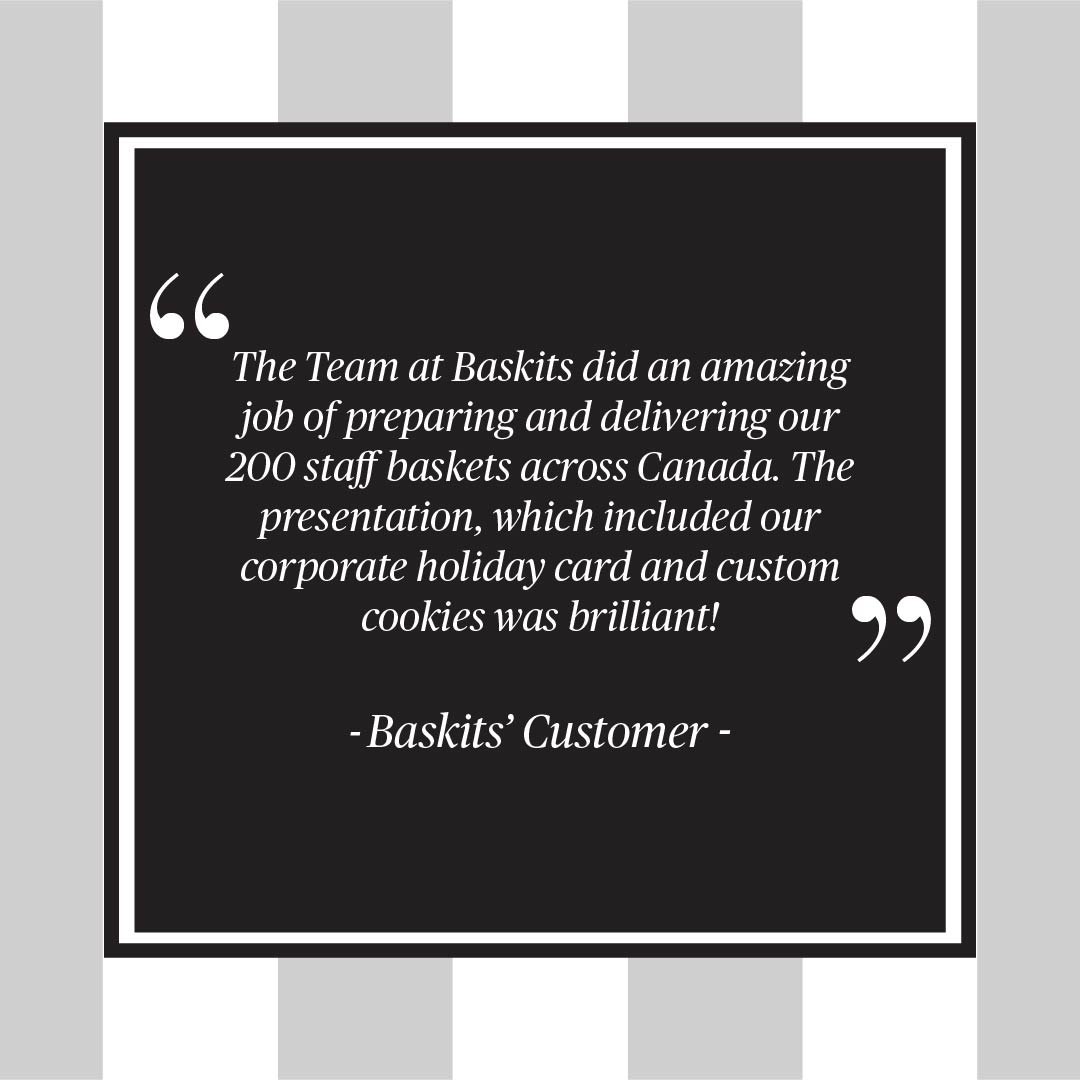 As a company, we know the importance of having your brand and logo on everything you give. Brand awareness is key. And with that in mind, we'd like to help you customize your order so your brand is remembered with every gift sent out. With over 35 years of experience, our expertise in large order fulfillment and our committment to exceptional hand curated gifts delivered with unparalleled customer service, trust our corporate gift experts to deliver a memorable gifting experience for you and your clients!
Whether you want to order 10 baskets or 200, we can fulfill all your gifting needs. And to ensure that your brand name gets the recognition it deserves, we have logo branding options available. Add your very own branded ribbon to the packaging, a belly band, custom stickers or even logo-branded cards.
Although we're providing the baskets, we want your name to be front and center. But we don't just stop there: our corporate gift specialists can advise you on the best gift ideas and help manage ongoing incentives and programs to fit any budget. From ordering to final delivery, our team has you covered.
Corporate, personalized annual gift programs - all wrapped up in one. Our gift to you, your gift to them!