With Family Day still fresh in our minds, we thought, what better time to highlight the best gifts to send to families?!
They say the most important meal of the day is breakfast, and our Breakfast Comforts gift baskit (below left) is all about bringing families together for the most delicious pancakes they've ever tasted! Featuring a Williams Sonoma cookbook containing the best breakfast recipes out there, 100% pure Canadian Maple Syrup, crave-worthy pancake mix and more, this selection is perfect for families who love breakfast!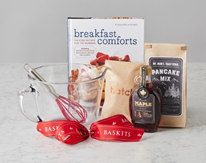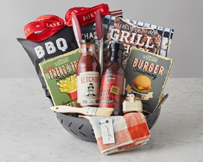 Do members of your family love to BBQ?! Our best-selling BBQ Sizzler gift basket (above right) comes loaded with all of the flavor and the essentials needed for a mouth-watering meal. From Gourmet du Village's Burger Seasoning to Neal Brother's BBQ Sauce and gourmet Ketchup, BBQ Sizzler is the ideal gift for any family who loves a good ole' cook out!
For more fantastic gift selections that are perfect for sending to families, visit our full collection at Baskits.com.