Send an impressive (and delicious) gift for any occasion, with a stunning baskit from our "Gourmet Food" collection!
Each baskit features the most premium, high quality treats from upscale brands within Canada and across the globe. From sweet and savoury to special dietary gifts and gifts of fresh seasonal fruit, you can find the perfect arrangement for every moment or milestone in need of a great gift and your best wishes.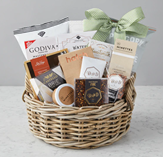 Forest Hill, featured above, is a timeless and elegant gift baskit that always leaves a warm and welcome impression. Thoughtfully assembled with the finest selections of brie cheese, water crackers, toppers and more, this savoury focused arrangement is ideal for those with less of a sweet tooth.
For our full collection of fantastic gourmet gifts, visit Basits.com.