Floral arrangements are a beautiful and thoughtful gesture for just about any occasion; and while it is lovely to have fresh blooms in the home, the time investment to maintain them and the inevitable outcome of wilting and eventually requiring disposal, makes the cost of fresh cut flowers tough to justify! Especially when the most stunning and flawlessly life-like faux-floral arrangements are just a click away!
Baskits' collection of faux floral arrangements will never wilt, fray or die and defy the need for water changing, trimming, disposal as well as ongoing costs of replacement. So incredibly life-like, each pedal is hand-made and crafted into the most stunning, flawless flower.
What's even more astonishing to these arrangements looking undeniably life-like, with the latest technology, they actually feel real too! Fascinating, in all of their beauty, these pieces make the perfect gift for Easter and will have just about everyone leaning in to "smell the roses."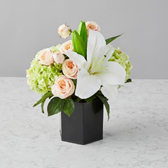 Our Amelia arrangement (above) showcases a gorgeous Stargazer Lilies in different stages of bloom and provides a fresh and vibrant feel to the home, just in time for Easter.
For more beautiful faux floral arrangements that are perfect for Easter, visit our "Faux Floral" collection at Baskits.com