It's that time of year again, when the cool wind blows and there's an eerie feeling in the air- it's Halloween! And, it's time to celebrate, with premium luxury gift Baskits! Whether you are looking to send a thoughtful gift to a loved one, or send a treat Baskit to your employees or clients, we have many great gift options. With a Halloween gift Baskit, you can elevate your gift game to a new level. Treat your clients with decadent chocolate, premium candy and gorgeous wrapping to top it all off.
Gift Baskits are a great gift idea for anyone on your list (or, to treat yourself to!) Every Baskit features only the best products, from well-loved premium brands, so you know you're getting the cream of the crop. Halloween gift Baskits offer a range of treats and snacks to suit any palate- making Halloween gifting thoughtful and easy. Here are some of our delectable options for your Halloween gifting:
Midnight Spell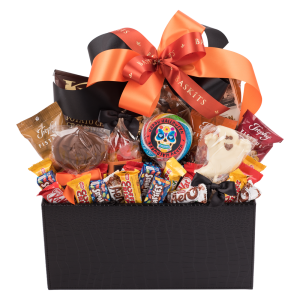 A delicious mixture of crunchy and sweet treats in a 10-pound Baskit, featuring delicious favourites, like mini chocolate bars, Kettle Brand sea salt chips, and a Swirl Pop Skull lollipop. It also includes Sweet Southern Heat Mix, and festive Halloween themed chocolate pops!
Sweet & Spooky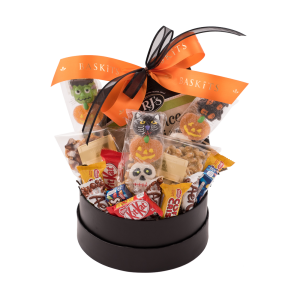 Includes an assortment of treats in a 5-pound Baskit. Delight your gift recipient with mini chocolate bars, spooky Gummy candy kabobs, black licorice, and wonderful white chocolate Poppycock!
Trickster Treats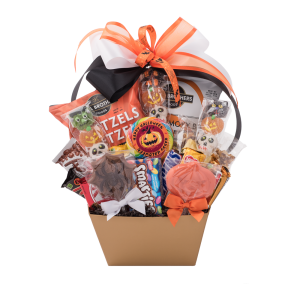 This Halloween Baskit features a great selection of your Halloween favorites in an 8 pound Baskit. With Gummy candy kabobs, a festive Swirl Pop Jack o Lantern, sweet and smoky BBQ chips, and more this Baskit will satisfy both sweet and savory cravings.
These luxury gift Baskits can be shipped across Canada and the United States- to arrive just in time for Halloween! When you want to do something spooktacular for the people you care about, consider a Baskit filled with a delicious assortment of Halloween treats. Our Baskits are available in different price ranges, so you'll be able to find something perfect that will fit your budget. Order yours in store or online today- it's easy, convenient, and fast. If you'd prefer to order by phone, please give us a call at 416-755-1100.