It doesn't take much to brighten someone's day, and I'm sure we can all think of someone during these challenging times who could truly use some words or a gesture of encouragement. Baskits is thrilled that we can help to ensure you remain connected with friends, loved ones, colleagues and contacts with thoughtful gifts for any occasion, anywhere across North America.
While it is wonderful to recognize important milestones and celebrate from afar, there doesn't always need to be a special occasion to send a thoughtful gift, sometimes the gifts of "just because" are far more meaningful and are the best way to show a special someone that you're thinking of them.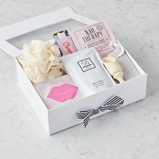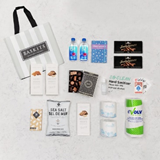 Just Because (above left) is the perfect gift for any woman in your life who could use a little self-love and pampering. This gift features a hair therapy mask, bath soak and more, all fantastic for sending positive vibes for the days ahead.
Thinking of You (S) (above right) is another great gift containing a mix of items that will be especially welcome to anyone isolating at home: games and activities to pass the time, savoury and sweet treats for any craving and even household items such as toilet paper, paper towel and hand sanitizer.
Furthermore, every gift baskit comes with a note in which you can personalize a message. Even if you're not quite sure what to say, sometimes the fewest of words say just enough.
For more great gifts that are sure to brighten anyone's day, visit us at Baskits.com.