At Baskits, we believe in the importance of carrying beautiful gifts for every need, and recipient! Our Gourmet Food Collection has something for everyone with a fantastic selection of gifts tailored to those who are restricted to, or maintain a kosher, nut-free, vegan or gluten-free diet.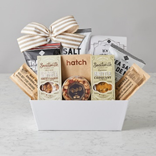 Vegan, (above left) was carefully curated to include 100% vegan gifts from environmentally conscious Canadian companies that we love! From Espresso Peanut Brittle to Sea Salt Kettle chips, this gift features treats are not only vegan, but gluten-free as well. Perfect for those observing a preferred or restricted vegan diet.
Looking for a great gift that is also nut-free? Our exclusive Cookie it Up! gift baskit (above right) is a cookie-lover's dream and arrives bursting with a variety of Cookie it Up!'s most popular flavours. All products within this colorful arrangement are certified nut-free, making this the perfect gift to send to a crowd!
For more great gifts that are perfect for those with special dietary requirements, visit our Gourmet Food Collection at Baskits.com.