There is nothing more relaxing and rejuvenating than a home filled with enchanting fragrances inspired by every-day adventures and wonders. Foxhound Candle Co. creates the most beautiful hand-poured candles that are strategically designed to allow scent and sense to have focus while complimenting any home, space or lifestyle.
Our "For Her" gift collection features the Lavender + Linen soy candle, which adds luxurious balance and calm to the air.
Belle Spa (below) is a thoughtful collection of elegant spa gifts dedicated to some well- deserved relaxation time. Featuring Foxhound Candle Co.'s Lavender + Linen candle front and center, this gift is sure to have you feeling relaxed and pampered.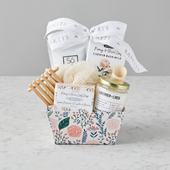 For more great gifts featuring luxurious home and spa gifts, visit our "For Her" collection at Baskits.com.
Happy Gifting!