Is anyone else missing fresh flowers perched vibrantly on the kitchen table, or sitting at your desk?! Baskits has just the solution for those who love fresh blooms and are looking to add a little life to their living and home office spaces.
Baskits' collection of faux floral arrangements will never wilt, fray or die and defy the need for water changing, trimming, disposal as well as ongoing costs of replacement. So incredibly life-like, each pedal is hand-made and crafted into the most stunning, flawless flower.
What's even more astonishing to these arrangements looking undeniably life-like, with the latest technology, they actually feel real too! Fascinating, in all of their beauty, these pieces make the perfect gift for anyone wanting to brighten their home office space.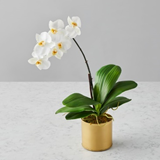 Often a sentiment for good luck or adding a little feng shui to a desired space, our faux floral arrangement, Grace (above) is a stunning single stem white Phalaenopsis Orchid in full bloom - a vision of pure elegance. Simple, sophisticated and practical, this piece is a classic choice to brighten any home office place, living area or other – also thoughtful gift for birthdays, anniversaries, thinking of you wishes, a many other special occasions.
For more fantastic faux floral arrangements for any space, visit Baskits.com.