Sapsucker is water harvested from mature maple trees. It's a natural pure alternative to bottled water, and is one of the best-kept secrets of country life. The taste of maple sap is remembered by generations of rural kids who drank this straight out of buckets during the harvest. Its hint of sweetness and soft roundness on the palate gives Sapsucker a refreshing and memorable quality. Not only can this substitute ordinary water, it is hydrating and contains its own nutrients and flavour.
Founded in 2014 by two lady bosses, the Chapmans and the McGlaughlins, they view Sapsucker as the taste of a slower, more authentic way to life. Sapsucker was born in Beaver Valley, a part of the Niagara Escarpment; home to some of the best preserved natural habitats in North America. Baskits loves Sapsucker; they're a women-owned business, and on top of that, Sapsucker is sustainable – their drinks are made from a sustainable source, they maintain healthy forests, and also use low impact packaging with a smaller carbon footprint than alternatives.
Be sure to look out for Sapsucker in these Baskits.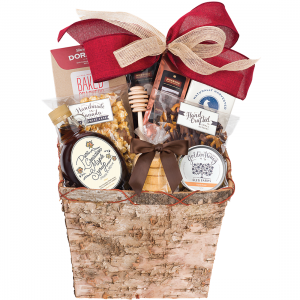 Looking for even more Canadian brands? Send this rustic natural bark Baskit featuring pure Canadian maple syrup, the smooth-tasting flavours from Musokoka Roastery Coffee Co., and handmade sweets drizzled in decadent milk and dark chocolate: perfect for cozy cottage mornings, eh!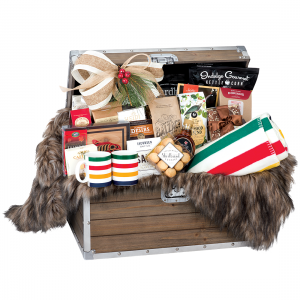 Our most exquisite Baskit! Overflowing with an abundance of savoury-and-sweet products, Mount Royal offers pure Canadian maple syrup, creamy brie cheese, decadent chocolates, handmade buttery shortbread cookies, and so much more. This magnificent trunk is inspired by Canadas breathtaking East Coast with staple items from Atlantic salmon, classic Hudsons Bay patterned gifts and a lavish throw for those cold Canadian nights.