Even though it's hard celebrating birthdays during this time, we're especially thankful for technology and delivery services for helping bring families and loved ones closer together.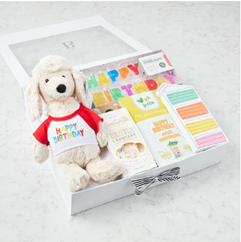 If there's an important birthday coming up, we've got three options of special birthday gift boxes for you. Happy Birthday L (pictured above) is packed full of birthday-focused treats including a plush Poodle toy, Birthday Cake Brittle from Sweetsmith and string lights.

Fancy some expert advice for picking out birthday gifts? Our team are on hand to help! Get in touch via email at help@baskits.com or by calling us 1-800-561-9177.